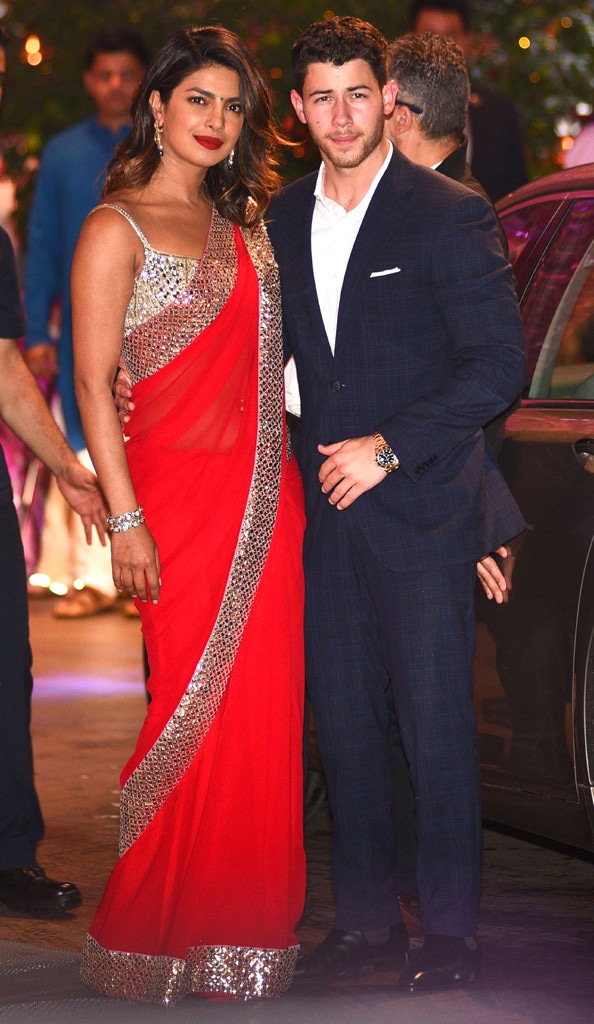 SUJIT JAISWAL/AFP/Getty Images
Chopras, meet the Jonases!
Priyanka Chopra and Nick Jonas will soon return to her native India, this time as an engaged couple, to attend an engagement party hosted by her family, which his loved ones will also attend. The 36-year-old Quantico actress and 25-year-old pop singer recently got engaged after dating for at least two months.
"Nick Jonas and his immediate family are traveling to India this weekend to attend an engagement party hosted by Priyanka's family," a source told E! News on Wednesday. "It's going to be the first time that their families intermingle and get to know each other."
"It's a tradition for them to meet before the wedding and Priyanka's family insisted on hosting the Jonas family in their country," the source said. "Priyanka wants everything to be traditional to respect her family's values, and definitely an Indian wedding. Priyanka and Nick are excited for everyone to meet and to celebrate. Everything is very secretive but guests are expected to head there starting tomorrow. All of the plans are moving quickly and Priyanka and Nick do not want to have a long engagement."
In India, engaged couples take part in many pre-wedding events, including an traditional engagement ceremony, where they exchange rings and their families exchange gifts before their wedding.
In June, Nick and Priyanka vacationed with her family in India and during their trip, they also attended a traditional pre-engagement ceremony and party for Akash Ambani, the son of billionaire oil tycoon and India's richest man Mukesh Ambani, and his partner Shloka Mehta.
In July, Priyanka and Nick spent the Fourth of July holiday with his family members, including Joe Jonas and his fiancée and Game of Thrones actress Sophie Turner, in New York City.