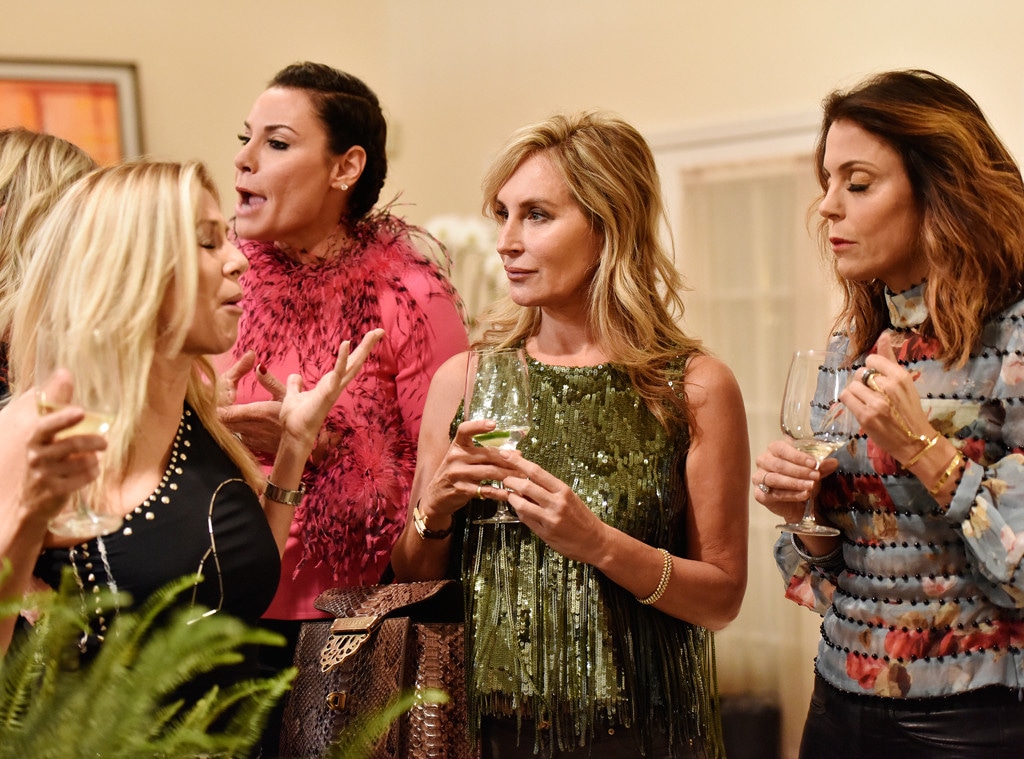 Bravo
The Real Housewives of New York City know a thing or two about drama.
For 10 seasons now, Bravo's Big Apple crew have delivered one unforgettable moment after the next, whether it's season three's Scary Island, season four's battle of the blondes versus brunettes in a very divided Moroccan riad, season five's St. Barth's (alleged) pirate booty call, season six's leg toss seen round the world, season seven's inaugural trip to the Berkshires (and every subsequent Bezerkshire trip thereafter), season eight's infamous "Please don't let it be about Tom"-"It's about Tom" exchange... The list goes on and on.
We've watched as these women, experts in their craft, have fought over men, prolonged the painful dissolution of their public friendships (never forget Bethenny Frankel and Jill Zarin's epic war in season three), and taken their drunken antics around the globe—and just when we think they can't possibly top themselves, they do.
And their landmark 10th season, wrapping up with tonight's season finale before parlaying into the highly-anticipated three-part reunion special, has been no exception. Before we say goodbye to Frankel, Carole Radziwill, Luann de Lesseps, Ramona Singer, Sonja Morgan, Dorinda Medley, and Tinsley Mortimer for the season, let's take a look back at their undeniably most dramatic year yet.
As has so frequently become the case with reality shows that reach a certain level of popularity, when RHONY returned for season 10 back in April, the show was already playing catch-up to the headlines made by de Lesseps during the course of filming—headlines that would come to define the season for the long-time star of the series. We're talking, of course, about her shocking Christmas Eve arrest in Palm Beach, Fla. on charges of battery on an officer, disorderly intoxication, resisting arrest with violence and crimes against a person. (She would later plead guilty to three charges—battery, trespass, and disorderly intoxication—as part of a deal that resulted in her being placed on probation.)
Fans watched as the former Countess, still reeling from her sudden divorce from Tom D'Agostino after their equally sudden wedding, found herself in a bit of a downward spiral. While she seemed in good spirits, showing up to Medley's Halloween party in a questionable Diana Ross costume and drunkenly serenading Frankel at her birthday dinner in the Hamptons, a storm was quietly brewing in de Lesseps' life. As she admitted to People in April, in those days leading up to her arrest, she was consuming upwards of seven alcoholic beverages a day. "I would start with a martini and maybe have two martinis, and then get into the wine at dinner," she told the magazine. "Then I'd have a little bit of vodka soda going out."
Her dubious decision to return to the scene of the crime (her wedding) exactly one year later did not help matters. "I couldn't put my finger on why I was feeling so anxious and why I was drinking more," de Lesseps added. "It makes sense now."
Through dash cam and courtroom footage, fans watched the aftermath of de Lesseps' explosive evening at the Colony Hotel, where she threatened police officers by shouting "I'm going to kill you" before somehow slipping out of her handcuffs, prompting a judge to advise her to "stop drinking" the following morning. Which is exactly what she did—for a time. After an immediate month-long stay in rehab, the "Money Can't Buy You Class" singer returned to NYC to resume filming with her co-stars and it certainly seemed as though she'd come out the other side.
With a newfound devotion to yoga, she managed to avoid (on camera, at least) the free-flowing alcohol at each and every event involving the group. As she sparred with Singer over unwanted press and whether or not her friend sought out an invite to D'Agostino's holiday party on the same yacht the couple celebrated their engagement and Medley over whether or not she, too, had a drinking problem, there was a sense that this was a new Lu, one who wouldn't hit the bottle during moments of tension and stress. Sadly, it wouldn't last.
Shortly before the ladies reconvened in July to rehash the season for the reunion special—and shortly after reports began circulating that her children and their father were suing her—de Lesseps checked herself back into rehab. "She was having a very hard time with the drama of lawsuit surrounding her, and has been reflecting on all of her bad mistakes recently and completely hit a wall," an insider told E! News at the time. "She definitely thought she could handle incorporating alcohol back into her life casually, but eventually spiraled out of control."
Sitting down with NBC's Megyn Kelly just this week, de Lesseps admitted that she "lost it" after finding out about the lawsuit in the press, prompting her to fall off the wagon and begin drinking with a friend. "She goes, 'I love making watermelon martinis.' I said, I'm in.'" The star spiraled as she consumed "two or three" of the martinis, followed by "two or three bottles of rosé" by herself and "probably a six pack of beer or something."
While she'll certainly be missed on the sofas alongside ringmaster Andy Cohen when the reunion special kicks off next week, de Lesseps is on her way to a happy ending after all. With nearly 30 days of sobriety under her belt and a renewed commitment to her well-being thanks to her second stay in rehab, she's returned to the stage for her hit cabaret show and is taking things one day at a time. "I'm feeling really good actually," she revealed to E! News. "Every day is a new day, right?"
While de Lesseps' journey towards sobriety certainly grabbed headlines this year, alone a season of The Real Housewives of New York City it did not make. Fans also watched as the once-unbreakable bond between Frankel and Radziwill dissolved in real time over, well, we're not sure what, exactly. When the season began, relations between the pair were noticeably cooler, as the Skinnygirl mogul had spent her summer vacation trying to single-handedly save Puerto Rico after the devastation caused by Hurricane Maria and the What Remains author turned her attention towards preparing to run the New York Marathon. 
Things only got frostier as each got word about what the other was saying behind their back, leading to face-to-face confrontations in the Berkshires (where Frankel accused Radziwill of only caring about clothes and selfies, in a subtle dig at her newfound friendship with Mortimer), Manhattan (where the two hashed out their text communications after Frankel accused Radziwill of becoming "cold"), and Cartegena, Colombia (where Radziwill seemed to have finally had enough of Frankel's panicked crying jags whenever the two shared the same oxygen). 
What actually happened between the two? Maybe the reunion will shed some more light, but it seems to have been a mixture of jealous feelings on Frankel's end (though she'll likely never admit that), hurt feelings on Radziwill's end (after Frankel accused her ex Adam of being "an operator" after he asked for his day rate to go along and photograph relief efforts), and the inability to just say "I'm not that into you anymore" on either side. Whatever the case, the broken relationship seemed to be enough to push Radziwill to quit the series. A week after filming the reunion, she announced her departure from the franchise after six seasons to return to "what I do best—journalism and producing."
"My original curiosity about reality television has waned over the years and I am focusing on TV and writing projects that better suit my more steady temperament," her statement continued. Will her "steady temperament" survive her final three hours on the series as she faces off against Frankel in the reunion? Stay tuned.
While it may have seemed, at times, that the other ladies were mere spectators this season as de Lesseps, Frankel, and Radziwill dominated the dramatics, that's not necessarily the case. Morgan and Medley repeatedly came to blows over Morgan's assertion that her divorce was like a death, something Medley took great offense to considering the fact that she'd actually buried a husband. That initial fight in the Hamptons carried them through the season, as Medley needled Morgan at every opportunity over the use of the Morgan family crest (a family she's no longer legally a part of) on her new shoe line and various other perceived offenses. Medley's drinking—or the way she tends to turn cruel when imbibing heavily, more specifically—found her in spats with Frankel and de Lesseps over the course of the season, possibly damaging her long-time friendship with the latter for good. And of course, there's Singer's never-ending feud with Frankel. The two just plainly don't like each other and never pass up an opportunity to remind the other of the fact, as evidenced by their remarkably petty arguments over what side of the street Frankel's new Hamptons home is on, whether Singer's business ventures are valid, and who had dibs on the speed dating guy in the red scarf. (As for Mortimer, well, she was certainly there this season. We promise.)
And what's a season of RHONY without an annual trip abroad? This year's jaunt to Cartegena, suggested by Mortimer—see, she contributed!—was a real doozy, what with that boat ride from hell that left the ladies fearing for their lives. You know things are bad when the camera crew is forced to put the cameras down, leaving us to only imagine the scene that involved Radziwill barfing in a bucket, Medley frantically trying to find the life jackets, an outpouring of smoke, a snagged anchor, a near capsizing, and a captain brandishing a machete to cut said anchor loose. And then there's the small matter of the tummy troubles that befell almost each and every woman while in South America. Never did we expect these glamorous women to discuss "poop smears" on national TV, but here we are.
As we head into the season finale, which promises to be as dramatic as the weeks preceding it as de Lesseps kicks off her cabaret act and all the women face off one final time, it's hard to imagine a way in which these women might possibly top themselves in season 11. But if there's one thing we've learned over the last decade, it's that with The Real Housewives of New York City, where there's a will, there's a way. And we can't wait to watch what happens.
The Real Housewives of New York City airs Wednesdays at 8 p.m. on Bravo.
(E! and Bravo are both part of the NBCUniversal family.)