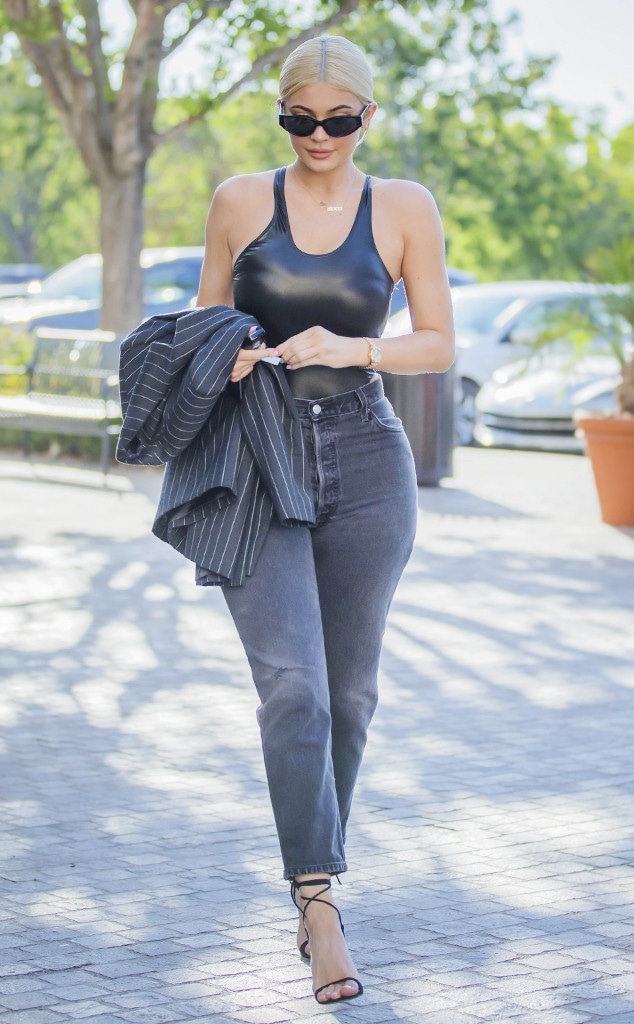 IXOLA / BACKGRID
Kylie Jenner is keeping her birthday celebration fashion show going with yet another epic look.
Today, the Keeping Up With the Kardashians star was photographed wearing a black bodysuit, pinstripe blazer, tie-up sandals and the jeans you need for fall: high-waisted, faded black boyfriend jeans. The day-to-night look is fit for a beauty mogul, yet her decision to swap tailored pants, which most would pair with her blazer, is the style that you should note. 
The waistline of her pants hugs her at the smallest portion of her waist—a flattering detail. However, the hips and legs of the relaxed cut reveal her curves without being constricting. Essentially, they're form-enhancing and comfortable. That's a win-win.
Beyond the fit, the faded black hue is a popular trend among the fashion obsessed. The grey denim is as versatile as a blue jean, allowing you to pair them with sultry black tops like the Kylie Cosmetics owner or lighter tones. They're a nice switch from your favorite pair of traditional jeans and a great color to incorporate into your fall wardrobe.
Here's the thing: If you have an old pair of relaxed, black jeans, now is the time to bring them back out. If not, get Kylie's look by shopping faded black denim below!