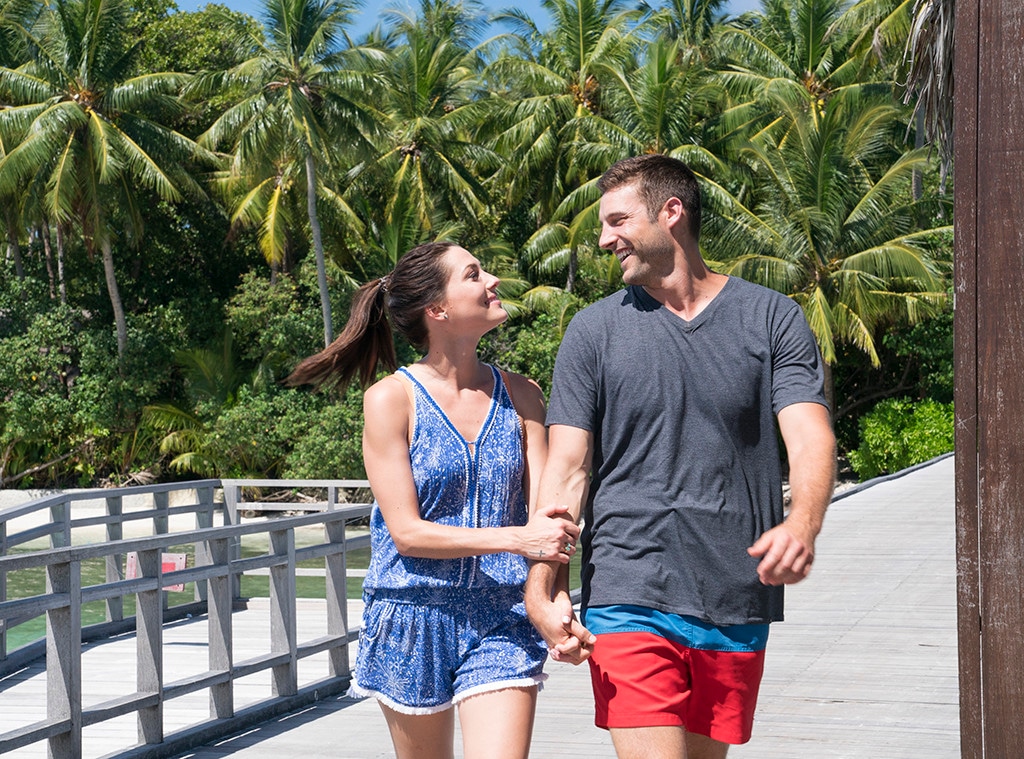 ABC
Becca Kufrin and Garrett Yrigoyen are happy as clams following the airing of their engagement on tonight's episode of The Bachelorette, but they still made sure to address the social media controversy that made headlines before the season even aired. 
In case you can't remember that far back, Garrett was found to have liked a handful of extremely offensive Instagram posts, including some that were transphobic and homophobic. At the time, Becca could only speak hypothetically about potential conversations, but Garrett did issue an apology on his new Instagram account, and that was the end of it until tonight. 
Now that the couple is out in the open, Garrett could address the controversy head on, first echoing his first statement that he didn't realize "the effect of a double tap or like on Instagram," and that he didn't mean to offend anyone. 
"When I was liking things, it was going against what she stands for, and that made it really hard on us as a couple, so when we started talking about that, we got through that together, and we're growing, we're progressing, and we're moving forward," Yrigoyen explained. 
Becca admitted that dealing with the social media issue was one of their major struggles as a couple so far, but she felt that she had gotten to see "his heart, his soul" as they got to know each other without social media and technology. 
"The Instagram situation, I don't condone that," she continued. "I know that he stands by his apology and he feels so bad for everyone that he did offend, and he didn't mean it, but I just want to move forward and to learn and to grow, and to continue to educate ourselves, and that's all you can ask for in another person, is that somebody who recognizes if they make a mistake and do something wrong, and want to learn and grow from it, and that's what he's shown me." 
Garrett said that he was worried he might lose Becca over the Instagram issue, but they both struggled with the public reaction and not being able to speak out about it without spoiling the end of the season. 
In happier couple news, Becca and Garrett revealed that they plan to spend some time in Minneapolis, some time in Reno, and then they might move out to California for a couple years, and that they have no wedding plans as of yet. 
As for kids, they have no plans for human children yet, but Becca's got her eye on four corgis that will sleep in their bed, perhaps joining the stray cat they probably shouldn't have brought into the house they were hiding out in on a happy couple weekend.
Now, we will be patiently awaiting the pictures of those four corgis, please and thank you. 
The Bachelorette airs on ABC.