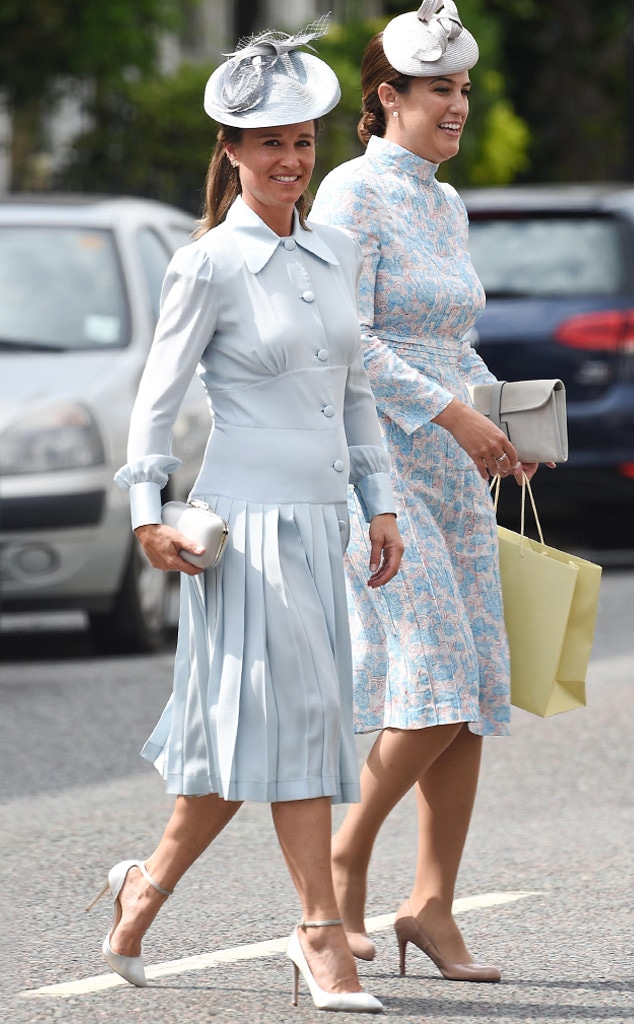 INSTARimages.com
It's been over a year since Pippa Middleton married James Matthews in a fairytale wedding and now the couple is starting a new chapter in their storybook lives.
In June, the sister of Kate Middleton confirmed she and her husband are expecting their first child.
And, unlike the Duchess of Cambridge, who suffered from Hyperemesis Gravidarum, Pippa's pregnancy has been free of complications. At the time the 34-year-old wrote, "I was lucky to pass the 12 week scan without suffering from morning sickness. That meant I was able to carry on as normal."
Not to say the socialite hasn't made changes to her lifestyle. The author revealed, "When I learned the happy news that I was pregnant I realized I needed to adjust my 4 to 5-day-a-week routine and find a way of continuing my exercise safely throughout the three trimesters." And luckily for all Anglophiles, the mommy-to-be is documenting her pregnancy.
Here's everything else we know about the Brit's road to motherhood:
She's Staying Active With Baby-Safe Workouts
On her monthly column for Waitrose, the fitness fanatic details the ways she has adapted her workout regime to the needs of her and her baby. In the first trimester of her pregnancy, the columnist explained that after finding there was a lack of information on the topic, "I decided to use my own initiative and adapted my current exercise routine, adjusting the weight and intensity to what felt right for me." Since then, the Brit has stopped running—"because I rather liked the idea of giving my body (and growing baby) a rest from pavement pounding"—taken up swimming and abstained from straining her abs. Throughout all of this, the Brit has been mindful of making sure she doesn't "overheat and keep well hydrated."
Working Out Has Helped Her to Relax and Unwind
Pippa is basically a pro when it comes to being pregnant. While some expectant mothers would have jumped at the opportunity to abandon their gym routines, Middleton was keen on maintaining her fit lifestyle. "Fitness gives me energy and helps clear my mind. I love the endorphins and the buzz factor that exercise gives," the 34-year-old wrote. Plus, it has helped the mommy-to-be manage the discomfort she is experiencing. In recent months, the author has started swimming, something she says "has been the most enjoyable and rewarding form of exercise since I found out I was expecting." Most importantly, it is the safest for the baby and helps to "keep your body cooler while exercising, something that is a relief in pregnancy, preventing swelling in the arms and legs."
Pippa's Pregnancy Style: Light and Bright
Since rumors of her pregnancy started swirling, the Duchess' sister has continued to wear colorful and flowing dresses, like The Fold's $695 floral gown, which she wore to Prince Harry's wedding to Meghan Markle. Not to forget the custom designed baby blue gown from Alessandra Rich that she wore to her nephew Prince Louis' christening. For the special occasion, the pregnant aunt wore a dashing fascinator, with a Jimmy Choo Ivory Satin Box Clutch Bag and Jimmy Choo Lucy stilettos, despite being well into her pregnancy.
She is Putting Family First
As she gets ready to start her own family, the mother is prioritizing spending time with the people closest to her and that includes the Royal Family. From attending Prince Harry and the Duchess of Sussex' nuptials, to Prince Louis' christening, the auntie is as involved as ever. An insider told E! News the mommy-to-be was in a "very happy mood" when she first met her nephew.
Another Baby Joins the Middleton Clan
Fans of the Royal Family have no doubt seen Prince William and Kate's adorable children and soon Pippa's little one will be joining in on the fun. The tight-knit family currently alternates between spending the holidays at Kensington Palace and the Middleton's Buckleberry estate, and luckily for the kiddos, this Christmas will be spent with Kate's side of the family. It is likely that Pippa's newborn will be showered with the same amount of love and gifts that she once gifted upon her own nephews and niece, like the rumored $11,000 she spent on Prince George's christening present in 2013.
It's safe to say Pippa's baby will live a life fit for a royal.