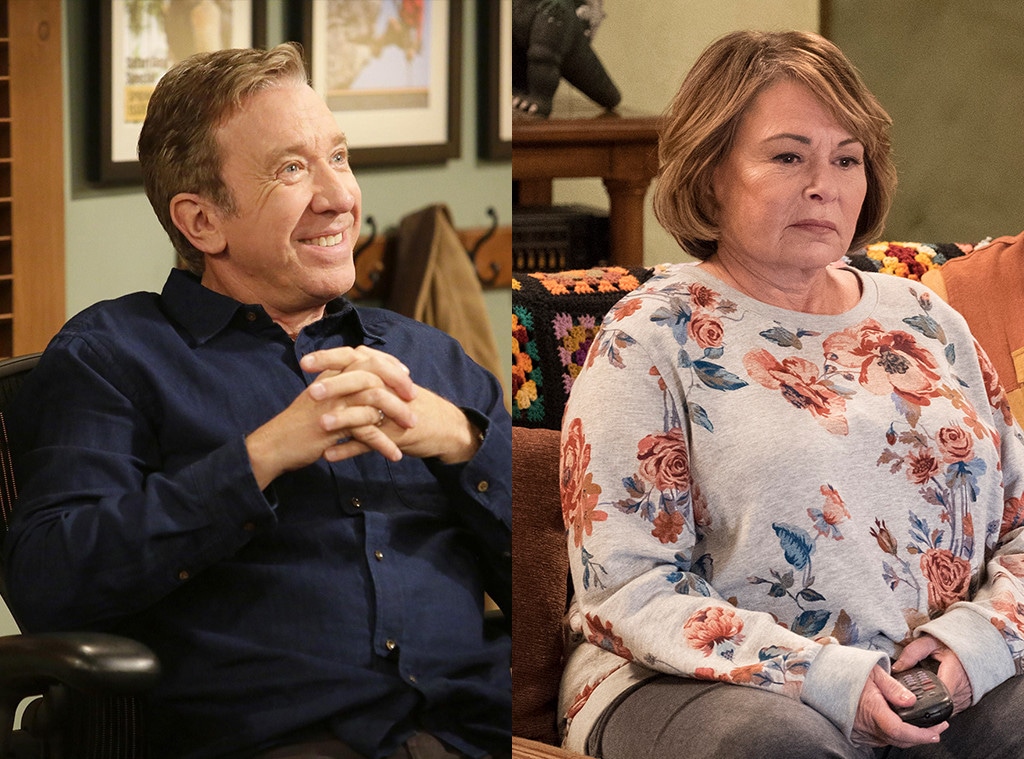 FOX; ABC
Sitcom dad Tim Allen is speaking out in defense of Roseanne Barr.
Roseanne the reboot premiered on March 27, 2018 to record ratings, but the celebrating didn't last long. 
Although Barr received a phone call from President Donald Trump himself after the season's first episode, ABC abruptly canceled the show hours after Barr tweeted about former President Barack Obama adviser Valerie Jarrett. In her now-deleted tweet, Barr wrote "Muslim brotherhood & planet of the apes had a baby=vj." ABC Entertainment president Channing Dungey called her tweet "abhorrent, repugnant and inconsistent with our values." Barr returned to Twitter to justify her first tweet: "It was 2 in the morning and I was ambien tweeting-it was memorial day too-i went 2 far."
A Roseanne spinoff minus Roseanne Barr is in the works, but that doesn't mean the show's cancellation and subsequent genesis isn't still a hot-button topic in Hollywood. 
So here's where Tim Allen fits in. Allen, who spoke at the Television Critics Association's panel and is touting his own sitcom revival of Last Man Standing, spoke up in defense of Barr: "I go way back with Rosie and that's not the Roseanne I know."
In fact, Allen probably owes his presence at the TCA panel to Barr. As previously reported, the Roseanne reboot broke records for ABC and showed that, despite Barr's overtly conservative political beliefs, audiences were still excited enough to tune in. Allen is a fellow staunch Trump supporter, which may have convinced Fox that if it worked for Roseanne, it might just work for Last Man Standing.
Barr was sharply criticized following the Twitter debacle, and Allen points a finger at 2018 and our current climate. "It's a very icy time," he said. "We've gone backwards. There's things you can't say, there's things you shouldn't say. Who makes up these rules?"
Maybe, just maybe, it's political. Just after Last Man Standing's cancellation, Allen spoke on Norm McDonald Live and said, "There is nothing more dangerous, especially in this climate, than a funny, likable conservative character. "
This very situation has put the actor between a rock and a hard place. "As a stand-up comic, it's a very dangerous position for me to be in because I like pushing buttons. It's very sensitive," he explained.
Despite what her tweets said, Allen endorsed Barr and her personality: "She is inclusive and tolerant...I know Barr and she's just not that person."