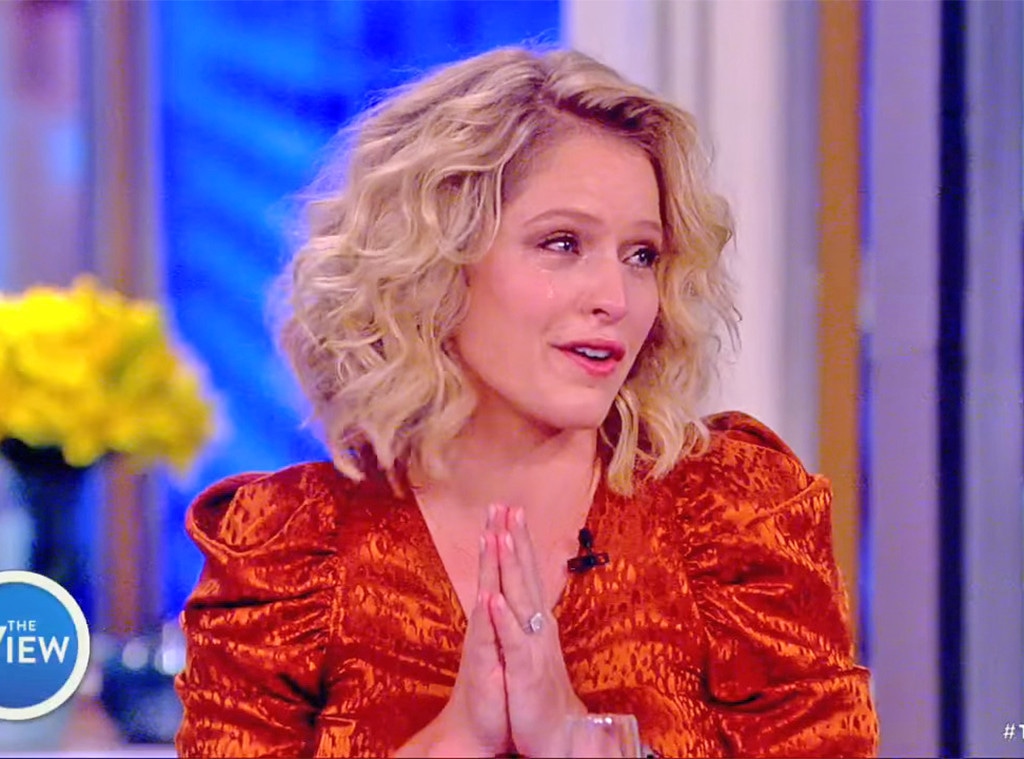 ABC
It was a tearful Thursday morning on The View as Sara Haines bid adieu to her co-hosts. The talk show host will soon team up with Michael Strahan for a new show called GMA DAY.
Fellow on-air personality Whoopi Goldberg gave a short intro before playing a highlight reel of some of Haines' best moments on The View. "I knew this one was meant to sit at the table since the first time she guest hosted—co-hosted on The View—and we wanted to show you a couple reasons why this breakup is so hard," Goldberg said. 
Before Goldberg even stopped talking and the short video started playing, Haines already had watery eyes and wiped away tears with a tissue. Clips of Haines ranged from discussing topics such as PTSD in veterans to announcing the sex of her baby to busting out some pretty sweet dance moves in front of dancing queen Jennifer Lopez herself. 
Throughout her tenure at The View, it's clear that Haines ran the gamut of emotions and stayed true to her own sense of humor and truths. While talking about postpartum depression, she admitted, "I think you hear all the time about postpartum depression. I've had a rough pregnancy and I think there are times where you feel guilty to admit it."
But it wasn't all heavy topics for these ladies. Take Haines' spot-on impression of Janice Ian from Mean Girls or cracking jokes with her co-hosts and accidentally using profanity on camera. She gives comedian Goldberg a run for her money.
As the video concluded and the audience shouted repeat chants of "Sara! Sara!" co-hosts Goldberg, Joy Behar, Meghan McCain, and Sunny Hostin all got up for a standing ovation. There wasn't a dry eye in sight.
Once the audience and co-hosts sat down, Haines gushed about her team and how she's loved working at The View over the years. "It has been an honor, a privilege, and an absolute dream to work here at this show," she said.
Haines acknowledged those who work behind the scenes who have "become lifelong friends" and also called her co-hosts "TV gold." The TV star praised her fellow morning hosts and said they were all "strong, empowered, opinionated women."
"For anyone who has ever played a sport knows that the best team members are the ones who lift you up and make you better. You guys did that for me," Haines said through tears.
Haines didn't just feel the love live from the studio. It's all over social media, too. McCain tweeted "I will miss you terribly @sarahaines - you are all sunshine and it has been an absolute pleasure working with you. Can't wait to watch you and @michaelstrahan on Good Morning America Day."
The View's official Twitter page posted a gif of Haines and said, "NOTHING BUT LOVE FOR THIS LADY!"
A highlight reel wasn't the only special clip for Haines. Strahan, her upcoming co-host, recorded a video while standing on a yacht somewhere in the bright blue ocean. "I know you're sad to leave The View because you are incredible at the table, but I'm excited because you and I are gonna kick off the new show GMA Day September 10. You're gonna be incredible there, too," he said as wind off the ocean echoed in the background.
Haines joined The View as a co-host for its 20th season, which aired in 2016.