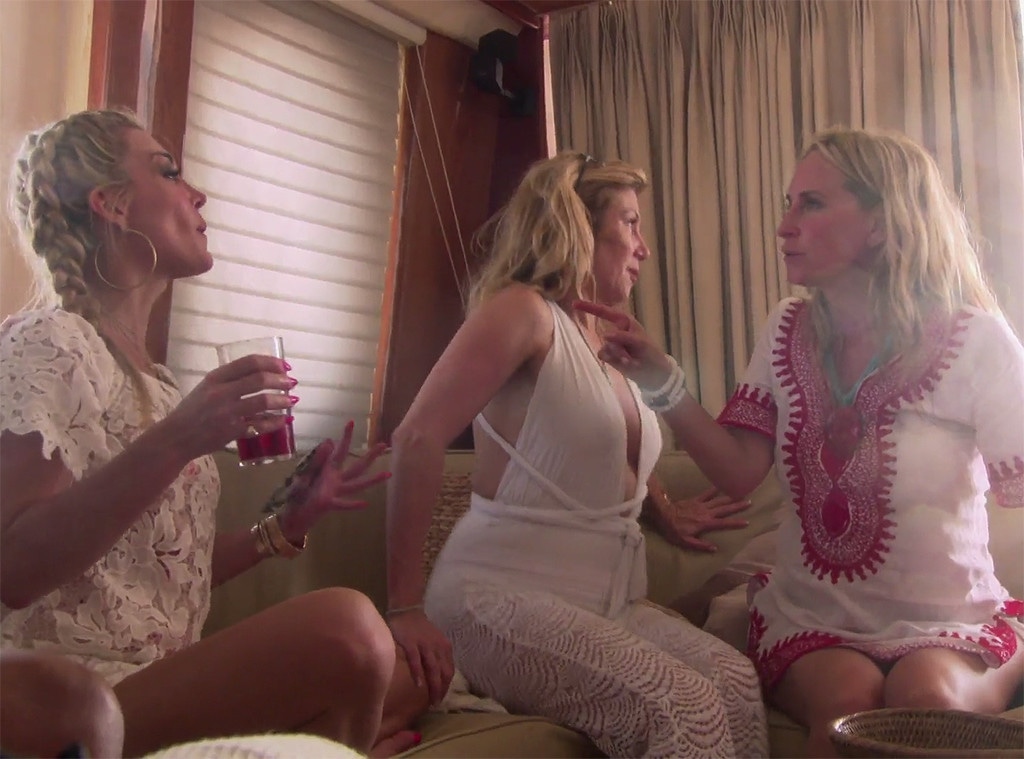 Bravo
Listen, nearly every episode of RHONY (this season, at least) is gold, but tonight was something else entirely.
We all knew the boat trip from hell was about to happen, so the rest of the episode felt like a brilliantly suspenseful countdown to that miserable high seas cruise. Everyone knew an hour and a half boat ride to an island was less than ideal, but no one knew quite how not ideal. 
"Can we just get to the island?" Lu asked when she didn't want to talk about "last night." 
"What's this boat gonna be like?" Carole wondered casually. 
"Not great. It's an hour and a half ride," said Ramona, who knew that, even if she had only just suddenly remembered the "highs and lows" of the disastrous argument the night before.
And then that argument from the night before basically just continued there at breakfast, with all the women drinking coffee and shouting in their ridiculously elaborate beachwear.
"Why don't we cancel the boat trip?" Carole suggested. 
Ramona, even though she knew it was going to be "not great," really wanted to go on the boat. 
"I wanna go on the boat. Why can't we go on the boat? We'll all go on the boat. We'll resolve this, we'll all go on the boat. It's a beautiful boat." 
"Go on the boat, and we go to this place, it's going to be nice," Tinsley promised. 
Dorinda was about to just not go on the boat herself, because of her fight with Luann, but then suddenly the two women were hugging and crying and they were doing OK, but back at the table, Bethenny was talking and talking and talking about Carole bothering her for getting into other people's business. 
She even obliviously kept talking (and talking and talking) as Carole sat down at the table, listening to every word. Everyone else got the hell out of that situation, leaving Bethenny and Carole to at least get to the point where they could joke about how they don't need to go to the torture museum, because they're living in the torture museum. 
Then, finally, it was boat time, after a quick chat in the car about how Bethenny hadn't pooped since they had arrived in Cartagena. 
That first boat trip actually went great, with Bethenny and Carole temporarily making up with a quick "I'm sorry, I love you." Sonja did some dancing, everybody except for Lu drank champagne, they all did normal boat things, and surprise, the boat made it to the small private island without incident. 
Tinsley drank from a pink glass and got her hair wet. Luann picked up a dead or dying crab with which to scare Ramona, then practiced for her Cabaret in her bikini. Sonja flashed and mooned everybody, and Ramona wondered what Tinsley meant by just wanting to spend her life as "a wifey." 
Then suddenly, it was time to go. The sea had picked up and the coast guard was demanding they leave, whether or not Luann had found her phone. This time, the ride was a disaster from minute one. It made us seasick just to watch. 
"This is normal!" Tinsley, still having the best vacation ever, yelled. "It's normal! You slap through the earth!" 
"Stop peeing and shut up!" she then yelled at Sonja, who had peed in her swimsuit. 
Suddenly, we were watching a found footage horror movie. Carole was puking in a bucket while Bethenny held her hair and fended off attacks by tables and chairs. Multiple people were screaming. Luann was falling on her ass. Dorinda smelled smoke. There were sirens! "Why are there sirens?" Bethenny asked.
Apparently they had to stop filming due to everyone's safety or whatever, depriving us of the full footage of the trip. But what we got was pretty good, and it did feel dramatically perfect to cut to the women "17 hours later," dejectedly packing their suitcases. 
In their talking heads, they explained that the smoke smell had come from the fact that the anchor had deployed, and couldn't be reeled back in. The captain apparently had to use swords to cut the rope holding the anchor, saving the entire cast of The Real Housewives of New York from death on the high seas. 
Tinsley, still trying to save face, tried to say she never feared for her life, but Carole claimed that the war in Afghanistan was "nothing" compared to that boat trip. 
And then we learned about the "diarrhea festival" most of the women found themselves enjoying after they survived the boat, except for Bethenny, who can't poop at all, and Tinsley, who had a VERY GOOD TIME on this trip and will never admit otherwise. Luann even had an accident in her bed, which brought us the final moments of the episode: a woman with a bucket of soapy water and a rag, scrubbing away at a mattress. 
At this point it feels very safe to say Tinsley will never be in charge of another vacation. 
The Real Housewives of New York airs Wednesdays at 9 p.m. on Bravo.
(E! and Bravo are both part of the NBC Universal family.)