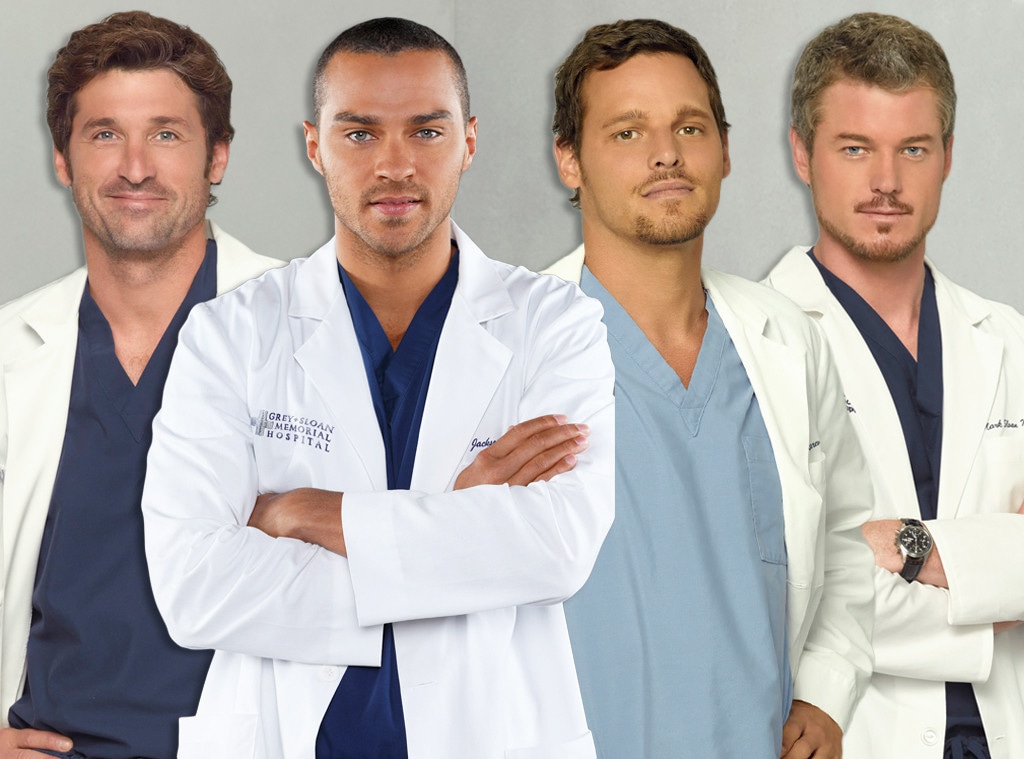 ABC via Getty Images
There's a new doctor in town and he's a looker!
Come season 15, Grey's Anatomy is adding a new doctor to their roster with Nashville alum Chris Carmack and we're already trying to think up nicknames for this cutie.
When he arrives he will be known as an "Ortho God," so perhaps his nickname will in fact be "Ortho God," or something a little more fun like McBlondie or McMuscles?
While we don't know how Carmack's character will play into the storyline this season we do know that he will be heating up the OR, but he's not exactly the first actor to do so.
Over the past 14 seasons of Grey's there have been a lot of handsome men who have performed surgeries and won over the ladies of Grey Sloan Memorial...not to mention all of the fans at home.
There was the original dreamboat Dr. Derek Shepherd AKA McDreamy (Patrick Dempsey) for example, who from episode one had fans swooning and falling for him. He was super smart (the top neurosurgeon if you remember correctly), so nice and quite a looker.
Beginning in season two there was another handsome fella to ogle over...Dr. Mark Sloan AKA McSteamy (Eric Dane) and while we didn't think we needed another hot doc we were mistaken.
Sure, Sloan was a little rough around the edges, but his hardcore approach to plastics and chiseled abs were a welcome addition in our mind.
There was also Dr. George O'Malley (T.R. Knight), who was shy, sweet and at times too nice, but in the end he was a great doctor and friend and he is missed around the hospital. 
One of the most memorable and handsome doctors from the original cast was Dr. Preston Burke (Isaiah Washington) who romanced Dr. Cristina Yang (Sandra Oh). He lost his ability to be the top cardiothoracic surgeon when he got shot and then went a little off the rails, but we never stopped rooting for him. 
Even though Grey's has lost a lot of handsome faces over the years, their current lineup of male doctors is full of eye candy.
Take Dr. Jackson Avery (Jesse Williams) for starters. His eyes alone make us go weak in the knees. Plus, he is pretty skilled as a plastic surgeon.
What about Dr. Alex Karev (Justin Chambers)? He's been around since day one and we just love everything about him, especially when he shadowed Dr. Addison Montgomery (Kate Walsh) in the neonatal unit and held premature babies to keep them warm.
ABC via Getty Images, Charles Sykes/Bravo/NBCU Photo Bank via Getty Images
Newer doctors like Dr. Andrew DeLuca (Giacomo Gianniotti), the former EMT hottie, hooked us in from his first appearance back in season 11 and it's probably in part due to his perfect hair and gorgeous face.
Dr. Owen Hunt (Kevin McKidd) might not be a new kid on the block anymore, but he remains one of our favorites. When he first arrived as a trauma surgeon who was messed up from his time overseas he was lovable because he was vulnerable, but as he grew comfortable with the hospital and Dr. Yang, he became even more alluring and attractive.
Of course it wouldn't be Grey Sloan Memorial without the head honcho and everyone's favorite boss, Dr. Richard Webber (James Pickens Jr.). Even though he is basically the dad of the show his age, wisdom and badass persona make him super attractive. 
Clearly, Carmack's character will have a lot of sexy male counterparts to compete with this season on the ABC drama, but we think based on his good looks and great acting skills he will rise to the challenge. 
We know there are more doctors who have come and gone that might've been your loves at one point or another, but these guys stand the test of time...or at least pass the Grey's Anatomy hotness test.
Vote for the doctor that makes you swoon whenever you think about them below!
Grey's Anatomy premieres Thursday, September 27 at 8 p.m. on ABC. 
Grey's Hottest Doctors Poll