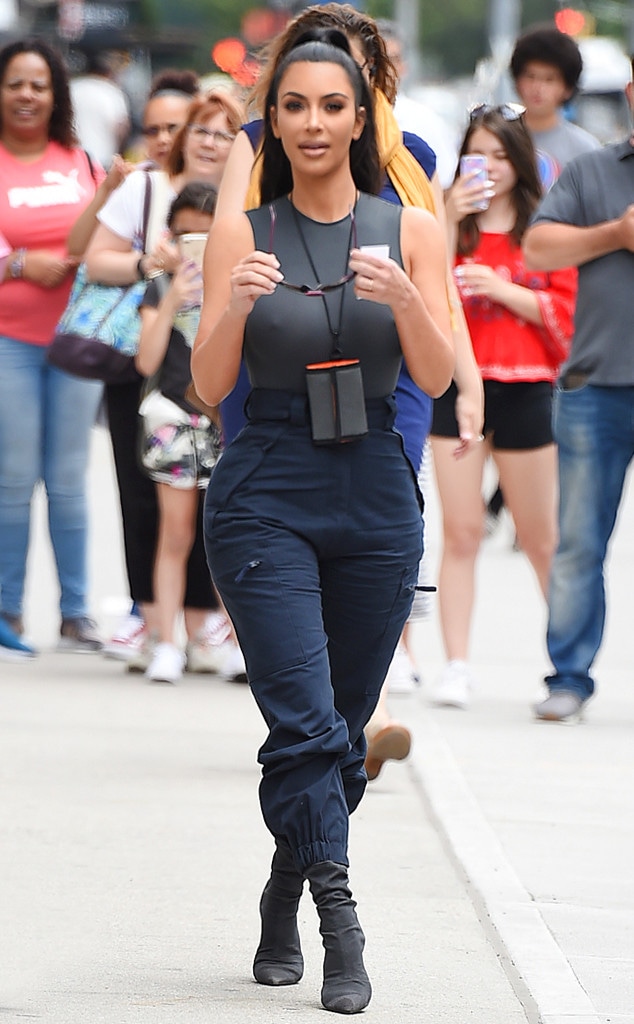 Josiah Kamau/BuzzFoto via Getty Images
Bodysuits aren't going anywhere soon.
There's no doubt that it's a summer staple, but did you know the one-piece is versatile enough to wear to different types of occasions year-round? Despite its basic form, it's really quite useful in establishing a particular vibe.
For example, a crisp, classic version in a luxe material like Kim Kardashian West's iteration, can provide the perfect foundation for more casual pieces (read: here's your chance to wear sweats, joggers or cargo pants in public). Throw on a pair of stilettos or heeled booties (and maybe a Velcro-wallet necklace?), and you have a street-style look that tourists and style savants would approve.
The Trick: It's all about balancing the refined with the super casual. A snatched pony makes a throwback wallet look cooler. A simple top makes textured pants look more elevated.
Then there's the classic way to wear a bodysuit: with a high-waist denim skirt or jeans. You've probably seen this look so many times on celebs and off-duty models, especially on Bella Hadid. The wardrobe combination is simple, which is why the trend has had such a strong response in mainstream fashion. But to truly elevate this look, it's all about pairing the combo with the right details and accessories.
The quilting in Bella's bag, the satin ribbon on Bella's shoes and the circular shape in Bella's gold earrings, sunglasses and necklace…it all comes together to make a statement.
The Trick: Think about texture! While you may be sporting a simple bodysuit and straight-forward denim, your accessories and jewelry can feature so much more dimension (like quilting paired with satin sheen).
David M. Benett/Dave Benett/Getty Images for Mulberry
Believe it or not: You can wear a bodysuit to more formal affairs as well. Take inspiration from Jourdan Dunn, should you lack the confidence. OK, it may not be HR-appropriate to show midriff in the office, but here's how to wear a one-piece in the boardroom: Pair it with loose silhouettes or suiting. Opt for wide-leg trousers and an oversize jacket or trench coat in the same color. While choosing a bodysuit in the same color for a monochrome look is all the more professional, try a contrasting shade and match it with your heels for more impact.
The Trick: Tailoring is everything here. The proportion of the jacket must complement your pants, so it looks like you're wearing the clothes and it's not wearing you.
Ready to try these styling tips?