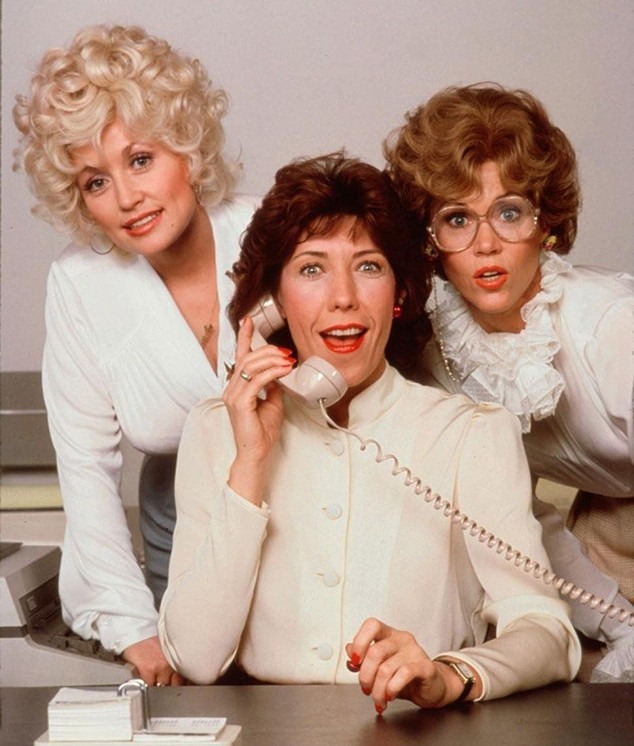 20th Century Fox Film Corp.
Jane Fonda confirmed Wednesday that a 9 to 5 sequel is in the works.
A long-awaited follow-up to the beloved 1980 workplace revenge comedy, which co-starred Dolly Parton and Lily Tomlin, has been in development since earlier this year, when Rashida Jones became attached to co-write the script with Patricia Resnick, the original screenwriter. "My role is as an executive producer, and I'm working with the writers, with Lily, and talking to the writers," Fonda told reporters at the Television Critics Association panel for her new HBO documentary, Jane Fonda in Five Acts. "Right now, Dolly, Lily and I are all intending to be in it." Fonda also revealed the film will be set at Consolidated Companies, just as it was in the original.
Fonda believes sexual harassment is "worse" for women now than it was then. "Today, a lot of the workforce is hired by an outside company, so if there's a problem, who do you complain to? Who do you fight with? Plus, with social media and the internet, you can be spied on very easily," she said. But, "I do think sexual harassment will tend to drop, because guys are scared."
In a Nightline interview in March, Parton said the time for a sequel is right, given the current cultural conversation about equal pay and sexual harassment in the workplace. "All these years we've talked about doing a sequel to 9 to 5 and it never made any real sense until just recently. We decided that we are going to do another one," Parton said. "We are trying to get the script and all that. Everyone is very interested and we've all agreed that we'd love to do it if it's right."
As the film is technically still in development at 20th Century Fox, no release date has been set.
9 to 5 remains one of the highest-grossing box office comedies of all time, with a $356 million adjusted haul ($103.3 million in 1980). The movie spawned a short-lived TV comedy at ABC, starring Valerie Curtin, Rachel Dennison and Rita Moreno, which ran from 1982 to 1988. In 2009, it was adapted into a Tony -nominated Broadway musical, featuring a score from Parton.
Fonda and Tomlin, of course, currently star in Netflix sitcom Grace and Frankie.