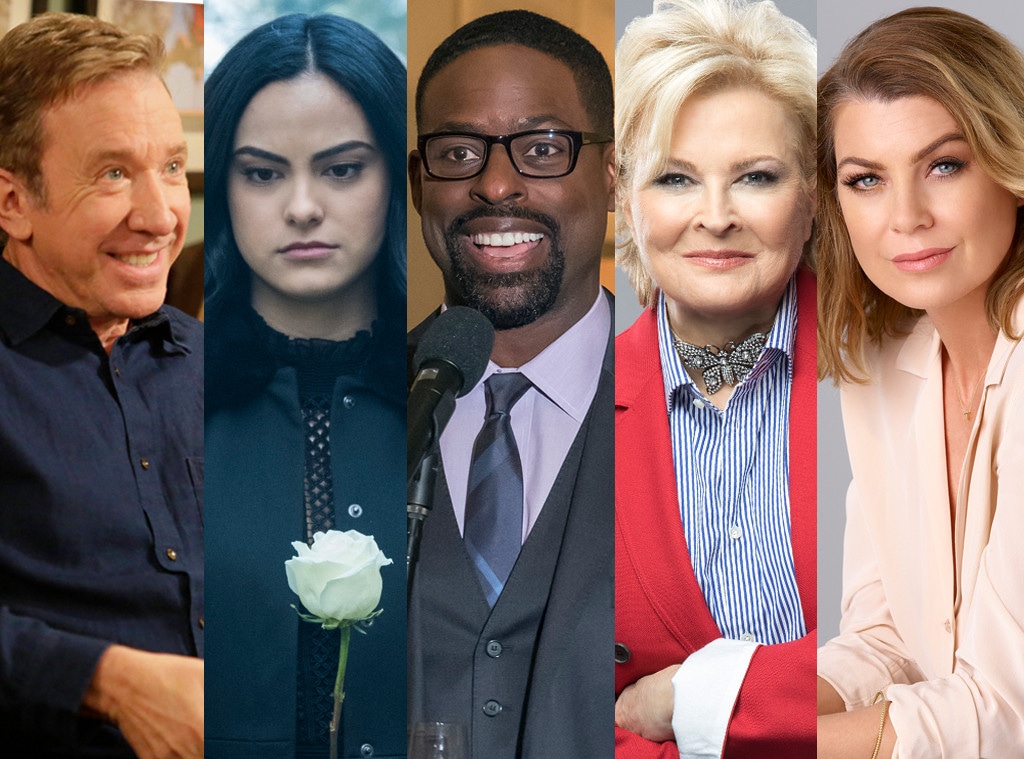 CBS, ABC, NBC, FOX, CW
Clear your calendars, fall TV is upon us.
ABC, NBC, Fox, The CW and CBS all revealed their fall 2018 premiere dates. Get ready, a DVR headache is coming your way. Tough decisions will have to be made. Below, take a look at the full breakdown of dates for new and returning shows.
Sunday, Sept. 9
8-8:30 p.m. Rel (Fox, early series premiere)
Sunday, Sept. 23
8-9 p.m. 9-1-1 (Fox, early premiere)
Monday, Sept. 24
8-10 p.m. The Voice (NBC)
8-8:30 p.m. The Big Bang Theory (CBS)
8:30-9 p.m. Young Sheldon (CBS)
8-9 p.m. The Resident (Fox)
8-10:01 p.m. Dancing With the Stars season 27 (ABC)
9-10 p.m. Magnum P.I. (CBS, series premiere)
9-10 p.m. 9-1-1 (Fox, time period premiere)
10-11 p.m. Manifest (NBC, series premiere)
10-11 p.m. Bull (CBS)
10:01-11 p.m. The Good Doctor (ABC)
Tuesday, Sept. 25
8-9 p.m. The Voice (NBC)
8-9 p.m. NCIS (CBS)
8-9 p.m. The Gifted (Fox)
9-10 p.m. This Is Us (NBC)
9-10 p.m. FBI (CBS, series premiere)
9-10 p.m. Lethal Weapon (Fox)
10-11 p.m. New Amsterdam (NBC, series premiere)
10-11 p.m. NCIS: New Orleans (CBS)
Wednesday, Sept. 26
8-8:30 p.m. The Goldbergs (ABC)
8:30-9 p.m. American Housewife (ABC)
8-9 p.m. Chicago Med (NBC)
8-9 p.m. Empire (Fox)
8-9:30 p.m. Survivor (CBS, 90-minute premiere)
9-9:31 p.m. Modern Family (ABC)
9:31-10 p.m. Single Parents (ABC series premiere)
9:30-11 p.m. Big Brother (90-minute finale)
9-10 p.m. Chicago Fire (NBC)
9-10 p.m. Star (Fox)
10-11 p.m. Chicago P.D. (NBC)
10-11 p.m. A Million Little Things (ABC series premiere)
Thursday, Sept. 27
8-8:30 p.m. The Big Bang Theory (CBS, time period premiere)
8:30-9 p.m. Young Sheldon (CBS, time period premiere)
8-9 p.m. The Good Place (NBC)
8-10 p.m. Grey's Anatomy (ABC, two-hour premiere)
9-9:30 p.m. Mom (CBS)
9:30-10 p.m. Murphy Brown (CBS)
9-11 p.m. Law & Order: SVU (NBC)
10-11 p.m. How to Get Away With Murder (ABC)
10-11 p.m. S.W.A.T. (CBS)
Friday, Sept. 28
8-8:30 p.m. Last Man Standing (Fox, network premiere)
8:30-9 p.m. The Cool Kids (Fox, series premiere)
8-9 p.m. MacGyver (CBS)
9-10 p.m. Hawaii Five-0 (CBS)
10-11 p.m. Blue Bloods (CBS)
Sunday, Sept. 30
7-8 p.m. America's Funniest Home Videos (ABC)
8-8:30 p.m. The Simpsons (Fox)
8:30-9 p.m. Bob's Burgers (Fox)
9-9:30 p.m. Family Guy (Fox)
8:30 -9:30 p.m. God Friended Me (CBS, series premiere)
9:30-10 p.m. Rel (Fox, time period premiere)
9:30-10:30 p.m. NCIS: Los Angeles (CBS)
Monday, Oct. 1
8-8:30 p.m. The Neighborhood (CBS, series premiere)
8:30-9 p.m. Happy Together (CBS, series premiere)
Wednesday, Oct. 3
9-10 p.m. Seal Team (CBS)
10-11 p.m. Criminal Minds (CBS)
Thursday, Oct. 4
8-8:30 p.m. Superstore (NBC)
8:30-9 p.m. The Good Place (NBC, time period premiere)
9-9:30 p.m. Will & Grace (NBC)
9:30-10 p.m. I Feel Bad (NBC, series premiere)
9-10 p.m. Station 19 (ABC)
10-11 p.m. Law & Order: SVU (NBC, time period premiere)
Friday, Oct. 5
8-8:30 p.m. Fresh Off the Boat (ABC)
8:30-9 p.m. Speechless (ABC)
9-10 p.m. Child Support (ABC)
Sunday, Oct. 7
8-9 p.m. God Friended Me (CBS, time period premiere)
8-10 p.m. Dancing With the Stars: Juniors (ABC, two-hour series premiere)
9-10 p.m. NCIS: Los Angeles (CBS, time period premiere)
10-11 p.m. Madam Secretary (CBS)
10-11 p.m. Shark Tank (ABC)
Tuesday, Oct. 9
8-9 p.m. The Flash (The CW)
9-10 p.m. Black Lightning (The CW)
Wednesday, Oct. 10
8-9 p.m. Riverdale (The CW)
9-10 p.m. All American (The CW)
Thursday, Oct. 11
8-9 p.m. Supernatural (The CW)
Friday, Oct. 12
8-9 p.m. Dynasty (The CW)
8-9 p.m. Blindspot (NBC)
9-10 p.m. Crazy Ex-Girlfriend (The CW)
Sunday, Oct. 14
8-9 p.m. Supergirl (The CW)
9-10 p.m. Charmed (The CW, series premiere)
10-11 p.m. The Alec Baldwin Show (ABC, series premiere)
Monday, Oct. 15
8-9 p.m. Arrow (The CW)
Tuesday, Oct. 16
8-8:30 p.m. The Conners (ABC, series premiere)
8:30-9 p.m. The Kids Are Alright (ABC, series premiere)
9-9:30 p.m. black-ish (ABC)
9:30-10 p.m. Splitting Up Together (ABC)
10-11 p.m. The Rookie (ABC, series premiere)
Monday, Oct. 22
9-10 p.m. DC's Legends of Tomorrow (The CW)
Thursday, Oct. 25
9-10 p.m. Legacies (The CW)
Friday, Oct. 26
9-10 p.m. Midnight, Texas (NBC)