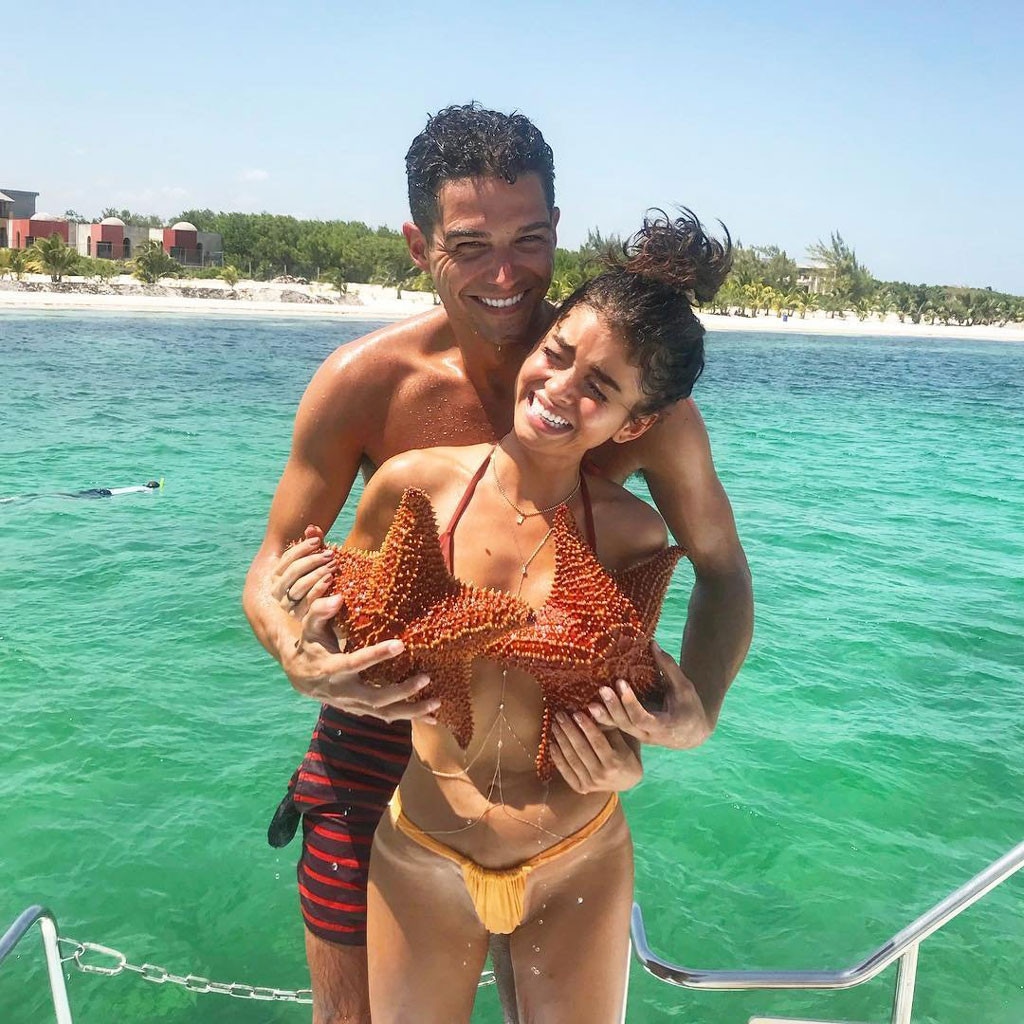 Instagram
Things are heating up between Sarah Hyland and Wells Adam.
On a recent episode of Wells' podcast, Your Favorite Thing, the host revealed that he and the Modern Family star are taking their relationship to the next level. After some hesitation, the former Bachelorette contestant said, "I'm straight up moving to L.A. Should I not have said it? I've got to go!"
The pair are bidding adieu to their long-distance days, and while other couples would have some worries about making such a big commitment, Wells has no reservations about the move. "I'm not concerned about us living together or us getting along or whatever. I'm most concerned about my dogs and her dogs," the 34-year-old explained.
Sarah, meanwhile, "is very excited that the couple's long distance days are over now that Wells will be relocating to LA," a source shared with E! News.
And the actress' friends couldn't be happier for the two, who have been "discussing the idea of Wells moving to L.A. for a couple months now but have taken their time and avoided rushing into things, up until recently."
The insider revealed, "Sarah's friends love and accept Wells and say he treats Sarah very well… particularly during her recent health struggles."
They added, "Her friends believe that Wells is very serious already about a long term commitment and is moving to LA to build a future together with Sarah."
"Currently, Sarah isn't thinking about marriage. She's first focusing on the idea of living in the same house as Wells," the source said.
The happy news comes days after the two went on vacation in Mexico, where they stayed at the Palafitos-Overwater Bungalows at El Dorado Maroma by Karisma.
In pictures shared by the couple, the actress and Bachelorette alum are absolutely beaming as they "spent the day on a private catamaran and para sailed."
An eyewitness shared that "they were seen often enjoying themselves on their private balcony on their overwater bungalow."
Before jetting off for their Mexican getaway, the lovers made an appearance at Sarah's high school reunion. While sharing a video of the event, the Bachelor in Paradise singlehandedly impressed everyone when he said, "You want to know what love is? Love is going to your girlfriend's high school reunion when you've never even went to your own high school reunion."
In November of last year, E! News confirmed that the duo had started dating after initially sparking rumors of a romance at a Halloween party, where they wore coordinated Stranger Things costumes.