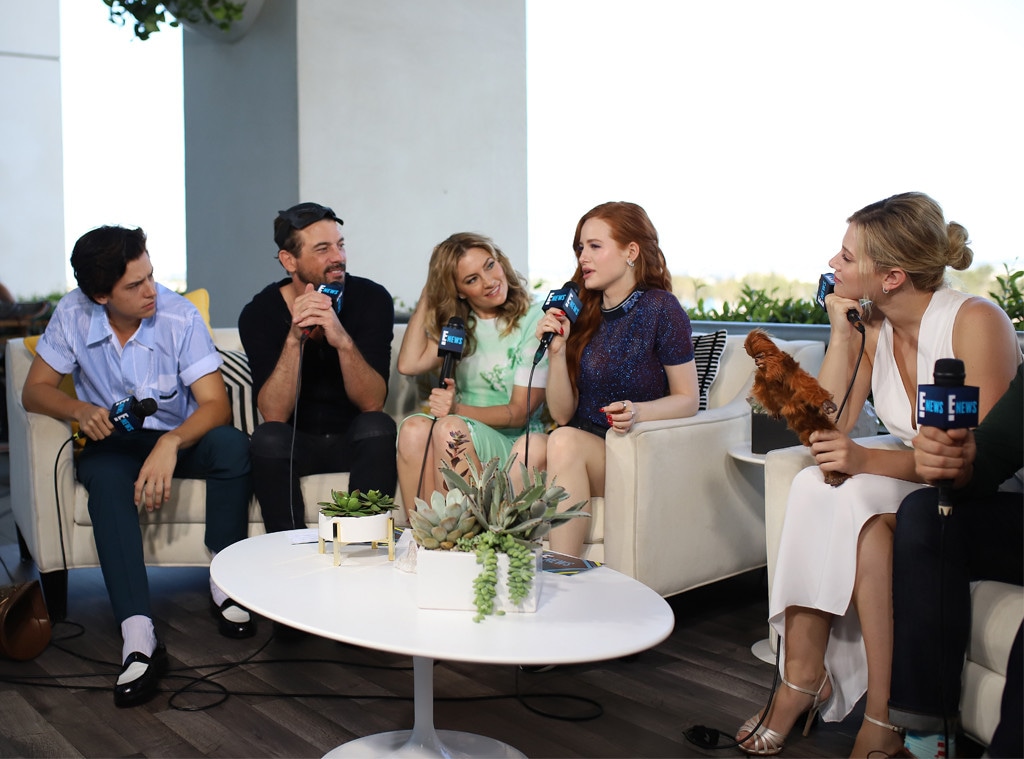 Kylie Gayer/E! News
Another San Diego Comic-Con has come and gone. 
Four packed days of pop culture insanity just flew by, but not without leaving behind a whole bunch of exciting footage and a few priceless memories of our favorite stars. If you like a good trailer, you've basically got enough content to live on for weeks. Months, maybe. It's a trailer bonanza!
We've collected a few of our favorites below, along with some of the best moments and overall winners from the entire extended weekend. Even if you weren't in San Diego, you'll practically feel like you were right there in Hall H, screaming alongside thousands of other excited fans. 
Warner Bros
With no major Marvel or Lucasfilm panels to compete with, SDCC 2018 was all about the WB. Wonder Woman 1984 showed up, Aquaman made a big splash, and the second Fantastic Beasts film introduced us to Jude Law as young Dumbledore and showed off a few very welcome returning faces. The panel even featured a surprise appearance by Johnny Depp as Grindelwald. 
Jason Momoa 
We already mentioned Aquaman, but we also have to give a shoutout to the man himself. You can probably imagine why, but if you could have heard the collective gasps that occurred whenever he entered a room, you'd completely get it. Jason Momoa is mesmerizing and hilarious and Aquaman is already our new favorite movie. 
Riverdale
Not only did the CW drama—which is headed into its third season—graduate to the biggest hall the convention has to offer, it also scored a prime spot on Sunday morning alongside Supernatural and a badass moderator by the name of Kelly Ripa. The trailer released during the panel was maybe 10% new footage, but you wouldn't know it from the reaction in the room or online. Even before the panel, the cast was doing what they do best on social media, messing with each other, looking incredible, and generally having an enviously good time. 
The CW's DC Universe
As usual, all of the CW's superhero shows were present, showing off what looks like a really interesting, progressive, inclusive, and fun season ahead. Supergirl introduced the first ever transgender superhero, played by activist Nicole Maines. The Flash revealed that Barry and Iris' surprise daughter Nora is going to play a major part this season, while Arrow showed how Oliver's faring in prison now that everyone knows his secret (spoiler alert: not well). Black Lightning showed off a new fight between Black Lightning and Whale, and Legends of Tomorrow was business as usual with Beebo, with the added highly anticipated addition of Matt Ryan as Constantine. 
Doctor Who
Jodie Whittaker made her debut as the first female star in the 50+ year history of the time traveling show on Thursday, and the message was clear: Haters can GTFO. "The Doctor is a pillar of hope, striving for brightness and inclusion," Whittaker said during the show's panel, just after opening up to E! News about the plain and simple fact that "it's 2018, it's the right time." Judging by the number of little girls excitedly already dressed as the Doctor they had so far only seen brief glimpses of, this show's about to have an impact like never before. 
Shazam
It may be part of the DC Universe, but you almost wouldn't know it just from watching the adorable new trailer, starring Zachary Levi as the superhero version of a misfit orphan. With just one magic word, Billy (Asher Angel) transforms into a tall, muscley, bulletproof Zachary Levi-esque superhero, and the release of the sweet, hilarious, and action-packed trailer made the movie one of the top trends on Twitter on Saturday. 
Star Wars
There was no panel for the next live-action installment in the franchise, but Disney did announce that Star Wars: The Clone Wars will return for a seventh season after being canceled abruptly in 2013, leaving fans with a major cliffhanger. The revival news, which came out of the show's 10th anniversary panel and was accompanied by a surprise trailer, was some of the most unexpected of the weekend. The show will return with 12 new episodes on Disney's streaming service, which will likely launch next year. 
Godzilla: King of the Monsters
Yeah, it's another WB movie, but a) we told you WB was a winner and b) watch the trailer above and tell us that doesn't deserve its own spot on this list. Millie Bobby Brown and Vera Farmiga star alongside Godzilla, and we literally cannot wait. 
Glass and M. Night Shyamalan 
The Shyamalan fandom was still a little shook from the end of Split, which revealed that it was actually a follow-up to the fan-fave movie Unbreakable. Glass is the next installment, bringing Bruce Willis, Samuel L. Jackson, James McAvoy, and Anya Taylor Joy together for one wild-looking movie. Sarah Paulson also stars. The Happening who? 
The Good Place and Brooklyn Nine-Nine 
These two NBC comedies, both executive produced by Mike Shur, really made themselves known throughout the con. The Good Place had an installation where fans could actually visit locations from the show and find out if they were in the Good or the Bad place, while also riding giant shrimps. Brooklyn Nine-Nine's panel was nothing but a massive love fest, both on the stage and in the audience. Plus, all the "title of your sex tape" jokes you could dream of. Nine-Nine! 
The Lego Movie 2
Everything is not so awesome this time around, even if Elliot (Chris Pratt) hasn't changed all that much. The Lego Movie 2: The Second Part looks like it could very well be just as delightful as the first one was—annoyingly catchy pop song included. 
Deadpool
Deadpool always wins Comic-Con, whether he's Ryan Reynolds or a creative regular dude in a Deadpool costume (a frequent site at every con). This time, he won with a panel for Deadpool 2, which of course has already been out for months. The panel was technically to promote the DVD release, but honestly do we need an excuse for a Deadpool panel? 
Ryan even got kinda deep, revealing that he was freaking out over whether or not to actually do Deadpool after trying to get it made for a decade, until his wife Blake Lively stepped in. 
"I'm going, I need an adult diaper right now and I don't know if I want to do that, you know? It's a scary moment to take that leap and go, I'm going to jump back into this incredibly scary place. So for me that was a big moment where my wife Blake jumped in and was like, 'you've got to do this movie. You've been been trying to make this moment since before I was born. And so go and Godspeed.' And so I did and it was the best decision I ever made in terms of career stuff." 
(E! and NBC are both part of the NBC Universal family.)