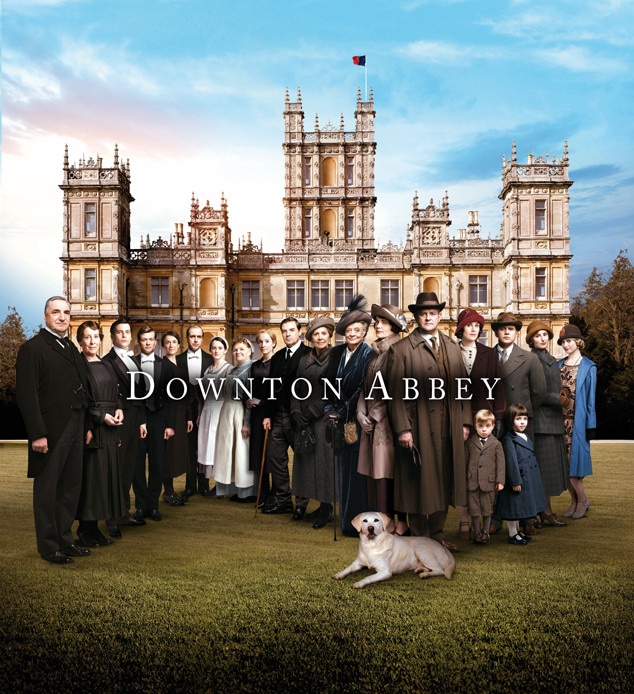 PBS
The Crawley family is coming back, and Downton Abbey is ready for them!
In case you missed it, the Downton Abbey movie is officially happening. The show's creator Julian Fellowes is back at the helm to write and executive produce and according to Focus Features, the principal cast is set to return. 
"When the television series drew to a close it was our dream to bring the millions of global fans a movie and now, after getting many stars aligned, we are shortly to go into production," executive producer Gareth Neame said in a statement when the movie was officially announced.
"Julian's script charms, thrills and entertains and in Brian Percival's hands we aim to deliver everything that one would hope for as Downton comes to the big screen."
It's been three years since the Crawley family and their staff left our TV screens and we are so bloody happy that they are coming back for a movie. Can you imagine all those amazing costumes, characters and Downton Abbey itself up on the big screen?
It's going to be magical!
Although the cast is reportedly all coming back for this epic reunion film, fans of the British series know the cast is massive, so we're not so sure everyone will be back.
Even though we've lost a lot of great characters along the way—Matthew Crawley (Dan Stevens) we will never forget you—there are still so many wonderful ones that we are dying to see again.
Following the 2016 Christmas Special AKA the series finale there were a lot of changes happening at Downton and therefore which characters will return and in what capacity is still to be seen. That being said there are a few OG characters that we must see or we might just lose it.
For starters, the Crawleys must all come back.
That means the mighty Robert Crawley, Earl of Grantham (Hugh Bonneville), his badass wife Cora Crawley, Countess of Grantham (Elizabeth McGovern), and their two remaining daughters—Sybil (Jessica Brown-Findlay) may you rest in peace!
Of course Lady Mary (Michelle Dockery) and her middle sister Lady Edith (Laura Carmichael) have to reprise their roles.
They are after all the sassy English aristocratic sisters we've come to love (and at times hate a little bit) and Downton would never be the same without them bickering constantly.
The final member of the family that we must see—besides add-ins like Isobel Crawley (Penelope Wilton) and Tom Branson (Allen Leech)—is Violet Crawley, Dowager Countess of Grantham (Maggie Smith).
The Dowager is the matriarch of the Crawley clan and in all honesty every time she came on screen during the show's six seasons we screamed a little bit in excitement because she is the best.
When it comes to the staff at Downton there have been a lot of amazing characters over the years as well, but we all know there are only a few that have stood the test of time. 
PBS/Carnival Film & Television
While we count the downstairs workers as a part of the Crawley family, only Branson ever actually crossed the line and changed his status.
Some of his former worker friends however made an impression on both the upstairs family and fans around the world and if they didn't come back we'd be a little heartbroken.
For example, aren't you ready to see John (Brendan Coyle) and Anna Bates (Joanne Froggatt) now that they are married and living happily ever after? Seriously, this couple is our absolute favorite!
What about everyone's favorite kitchen duo of Mrs. Patmore (Lesley Nicol) and Daisy (Sophie McShera)? They are so stinking fun together and we definitely miss their cooking banter every week.
Love him, or hate him, it wouldn't be a Downton reunion without Thomas Barrow (Robert James-Collier), who always causes drama and yet we get a kick out of him just the same.
Carnival Films/Masterpiece
Last, but not least, are the heads of the house staff and newly married couple, Mrs. Hughes (Phyllis Logan) and Mr. Carson (Jim Carter).
They are the heart and soul of the staff and couldn't be more like family to the Crawleys unless they were actually blood relatives. 
Now that you know all the characters that are on our must-return list we want to hear from you on which character you've missed the most.
Vote for the Downton Abbey character you are hoping to see back at Downton below when the movie premieres and then re-watch the entire series, because let's face it this show was pure magic.
Downton Abbey is set to hit theaters in 2019.
Downton Abbey Character Poll