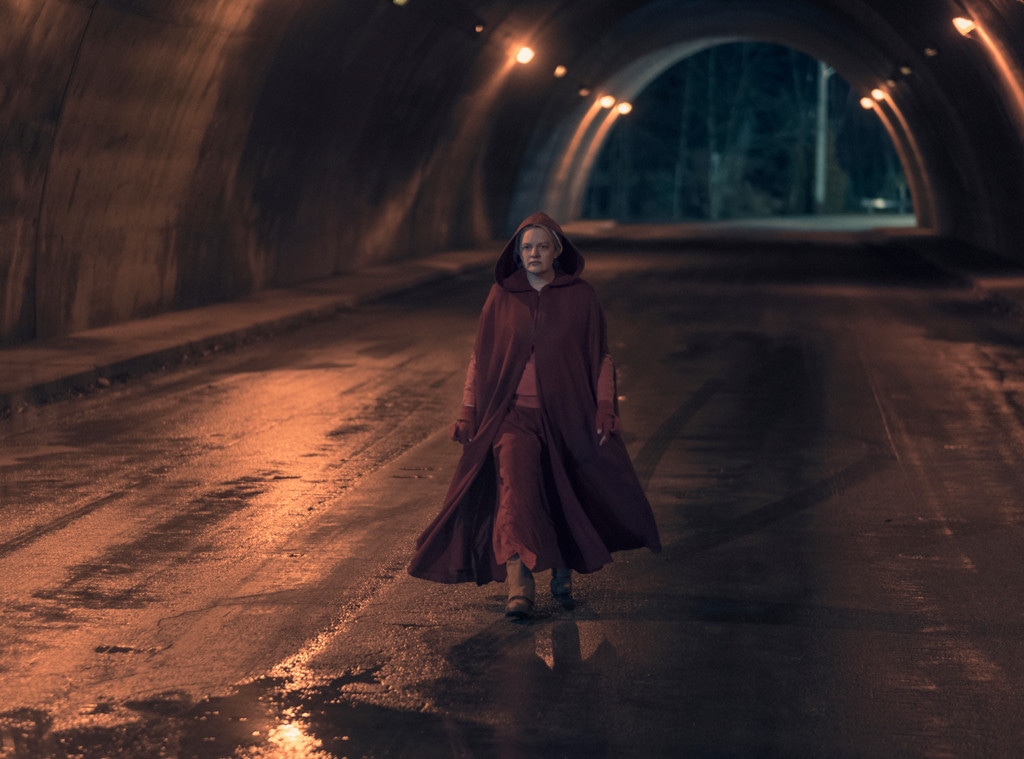 Hulu
The Handmaid's Tale took home the top prize—Outstanding Drama  Series—at the 2017 Emmys and series creator and executive producer Bruce Miller won the Outstanding Writing for a Drama Series trophy already, but that doesn't make getting nominated in 2018 any less surprising.
"I mean, have you met any writers? Of course I was surprised! I always think the worst. I'm thrilled for my whole cast and crew. They work so hard, so yeah, I'm always surprised, especially when you're talking about awards from your peers," Miller told E! News in a phone interview. " These are people I really respect and I'm slightly terrified of…I'm such a huge fan of TV and all the other shows out there that I love, and you wonder what's going to nominated and you can come up with 30 shows that are wonderful. I'm incredibly proud, but of course totally, totally shocked because that's just my constitution."
Having the award already doesn't make this time around any less nerve-racking, Miller said.
"I understand how rarely these things come along in your career and you want to enjoy them and that kind of thing," he admitted.
The 20 Emmy nominations The Handmaid's Tale received this year include Outstanding Drama Series, Outstanding Writing for a Drama Series, Elisabeth Moss, Alexis Bledel, Yvonne Strahovski, Joseph Fiennes, Ann Dowd, Cherry Jones, Samira Wiley and Kelly Jenrette. Confused as to who Kelly Jenrette is? She played Annie, Luke's ex-wife in a flashback during season two. She had roughly two scenes in the episode.
"I was surprised to see her too. She did a wonderful job, playing not a thankless character, but a character that was giving us a window into a big world...She came in, she was incredibly strong, she understood the character up and down. It just shows you very good acting in a small, but very important role can make a great impact. I can't even imagine what her morning was like, I'm thrilled for her," Miller said.
The Emmy nominations came a day after The Handmaid's Tale season two ended with a divisive finale. The very last scene in the season two finale saw June (Moss) decide to stay behind in Gilead and send her baby off with Emily (Bledel). June decided to stay behind to save her other daughter. Miller saw the reviews—and agreed with some of the frustration.
"I certainly wanted June to get out," Miller said. "I've seen a lot of reviews, I try not to read too carefully because I don't want to be pushed too much in one direction or another about creative decisions…I was happy people were frustrated with what June did, and I was less happy with the people who criticized us for making story mistakes or doing things that we didn't lay in. You try to lay things in the best you can and lay in the pieces of the story that are going to come to bare in the finale…But listen, I'm glad people are passionate and interested in the finale. I'm also glad people are passionate enough to fight and say that this is not what I think would happen."
"The greatest thing is that pretty much all those arguments mirrored the arguments we were having in the writers room about the finale. No one was very far off from our own discussions," Miller added.
For the first time, Miller said, June made a choice to turn around and stay in Gilead. Now that she's still in Gilead, June is on a mission.
"So she's going to f—k s—t up," Miller said.  "Season three you're really going to see June rising and not just acts of rebellion herself, but trying to create a movement and basically get involved, something that we're all going to have to do and certainly something we're seeing in the American political system; that people who never, ever thought of themselves as leaders or as candidates or people who want to join a movement are joining a movement. That moment is reflected in what June is going through right now."
The Handmaid's Tale will return for a third season on Hulu.