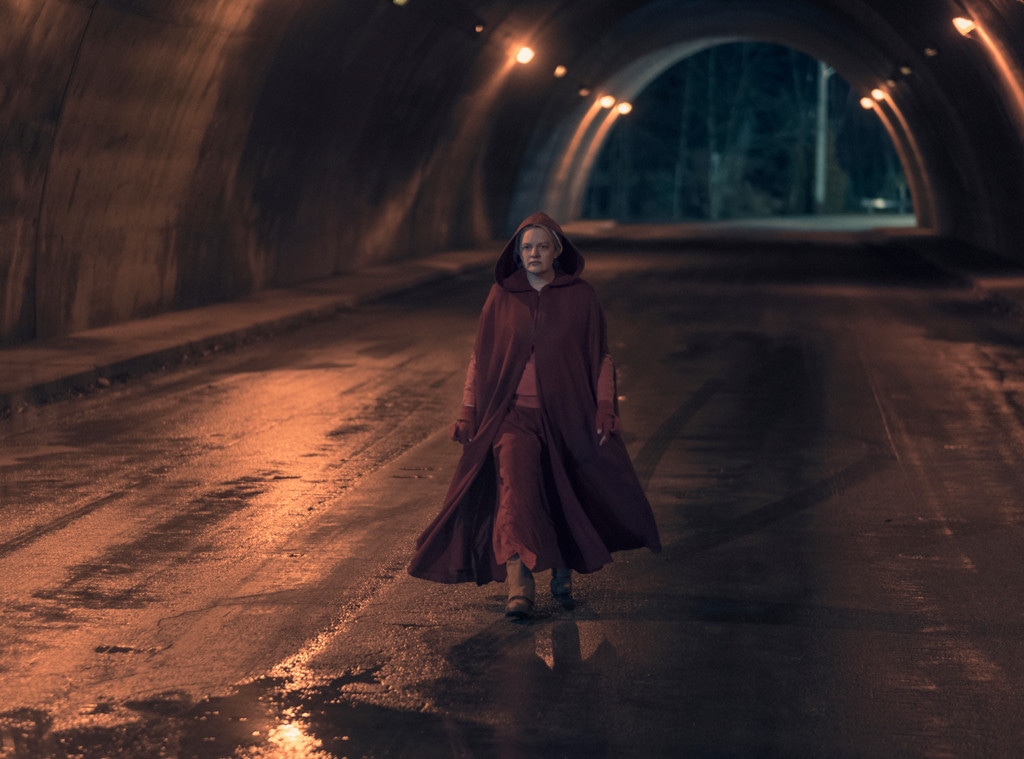 Hulu
A stabbing. An escape. A betrayal. What's next for The Handmaid's Tale in season three after that game-changing finale? Warning, spoilers ahead!
"Offred has one child out and she's determined to get the other one out," series creator Bruce Miller said about Offred/June's journey in season three. Now Elisabeth Moss' character is on a journey of rebellion, she's going to spend season three trying to help her daughter and other people and hurt Gilead, Miller said. He also defended June's decision to stay behind in Gilead in order to get her other daughter out.
"I don't think it's a choice about whether or not you're going to stay behind and try to rescue your child, I think it's a need," he said. "I wouldn't be able to leave one of my children behind…"
"When we got to it, it felt very natural to the character—to the possible choice, but we are faced with those all the time, so it's interesting to see what she does," Miller continued.
In a call with reporters, Miller also broke down the major happenings of the season two finale, including the fates of Ann Dowd's Aunt Lydia, Alexis Bledel's Emily, how much longer he sees the series going and more. Read on for the scoop.
Just how long will The Handmaid's Tale last? Is there an end date?
Miller said the show is plotted out season by season in order to have an idea of how things end at the end of each batch of episodes, but in terms of overall series life, an end date isn't set.
"I just kind of look at the cards that are up in my office of things that I found interesting in the book and I start looking at how many cards have I done, how many of those cards have I not done," he said. "Every time I take one down, I put two up…I don't know how long we'll go, but what I want is when the show ends you can put it in a box and you can put it on your shelf next to the book and it's a good, solid, well-thought out, well-told companion piece. I don't want it to certainly live beyond the time where it feels relevant and well-done because I think it would be a disservice to [Margaret Atwood's] world and Margaret's book."
Is Aunt Lydia dead?
Despite getting stabbed in the back, thrown down the stairs and beaten down by Alexis Bledel's Emily, you haven't seen the last of Ann Dowd's Aunt Lydia. The traumatic incident will impact the character.
"Aunt Lydia doesn't die. I don't think Aunt Lydia can die, I don't think there are forces in the world strong enough to kill Aunt Lydia and by extension the incredibly strong, fabulous Ann Dowd is with us for a long, long time as well," Miller said. "She's transformed by this event. The fact that one of her girls who—she has twisted herself into thinking that there's a love between her and her girls—has literally stabbed her in her back. I think that that kind of alters your workplace feelings on a day-to-day basis."
Miller said it makes Aunt Lydia think she wasn't strong enough in her discipline. "She has, I think, decided it's time to get tough," he added.
What happens to Emily and baby Nicole?
The season finale featured Bledel's Emily taking June's baby on a road trip out of Gilead. You haven't seen the last of Emily or baby Nicole.
"I don't know that we're going to see Nicole going to her first prom very soon…or Emily for that matter, but we have not seen the last of them. We'll follow them on their journey after they leave Offred in the tunnel in the finale…Emily's a fascinating character, Alexis has just brought her to life in a way that just subtle and complicated and strong and very believable…and I think that Nicole is quite a popular young girl. There's lots of people who want her, including a whole country of Gilead if she happens to get out."
Just as June's other daughter Hannah has been an influence on the show, so will Nicole. As June's daughter—and a daughter of Gilead—Nicole is "the force to be reckoned with. She is the next generation that they're all doing all of this for."
Will Bradley Whitford return?
You think The Handmaid's Tale would introduce one of the architects of Gilead for just two episodes? Bradley Whitford's Commander Joseph Lawrence will return and factor into the new season in a major way.
"I think we're going to learn a ton about him," Miller said. "I think the fact he's our Oppenheimer character, the man who designed the atomic bomb and then saw what it could do. He's a designer of Gilead and now he's seen what it can do. He's a mass of contradictions and dangers, so you never know what he's willing to do, what he's willing to do…Now that June has crossed paths with him, she's going to cross paths with him more in season three."
What happens to Serena now?
Serena had the chance to stop June from getting Nicole out of Gilead, but she didn't. She let her baby, the baby she so desperately wanted, go.
"Serena is a complicated character, but in her own mind doesn't have evil motives," Miller said.
Now that the baby is gone, she has a choice to make, Miller said. "Is she going to find something else to focus on? Is she going to stay bereft and empty and live in Gilead, or is she going to find a way to get her daughter back? Is she going to change about her daughter and try to get her hands on that child again? All those things are possible."
Is everything always going to be terrible?
"No, I think there is a happy ending and don't think everything is always going to be terrible. And I think that maybe that's just me being a Pollyanna, but I believe in June and I believe that if The Handmaid's Tale is the story we've decided to tell from this imaginary place of Gilead, if June's story is the story we tell, we've told it because it's a story of hope. I do feel like every episode where it ends and Offred is alive, June is alive, is a huge victory and story worth telling," Miller said. "To see how someone in this world doesn't just survive, but in their own way find ways to live…In terms of an ending, I think this is a story of a woman getting out of bondage, so I think in the end that's the story."
The Handmaid's Tale will return to Hulu in season three.