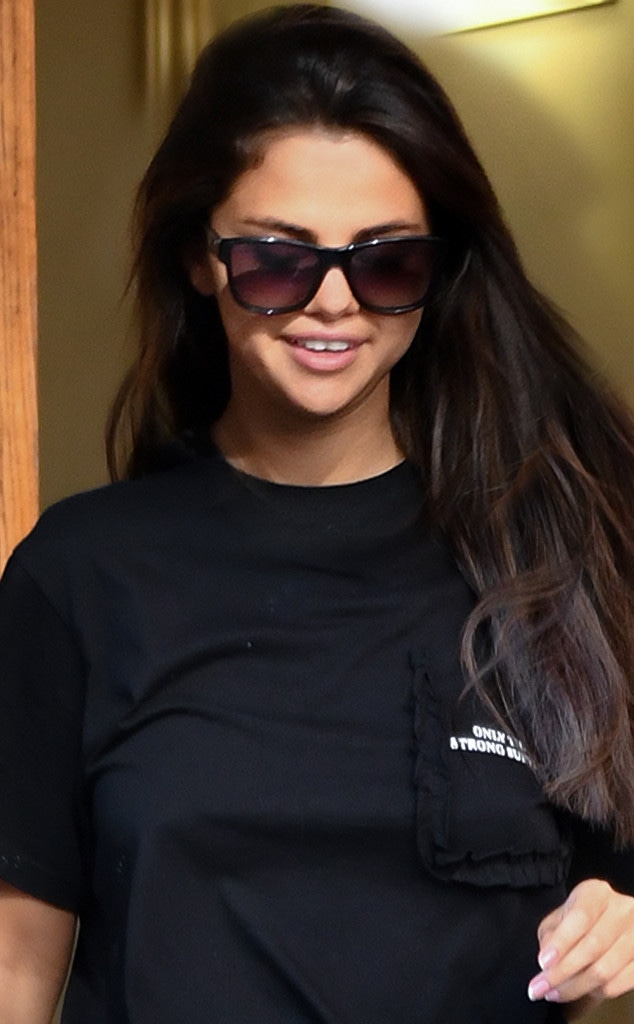 PapCulture / SplashNews.com
Only the strong survive!
Selena Gomez was all smiles as she stepped out in New York City on Tuesday. The 25-year-old "Wolves" singer, sporting long hair, was spotted sharing a laugh with pals in the Big Apple. For the outing in the city, Gomez wore gray sweatpants, white sneakers and a black Storets T-shirt with "only the strong survive" written on it.
This sighting of Gomez comes just days after her ex-boyfriend, Justin Bieber, became engaged to Hailey Baldwin. The 24-year-old "Baby" singer proposed to the 21-year-old model on Saturday night while on vacation in the Bahamas. Gomez was asked about the couple's engagement by photographers while out in NYC on Tuesday, but she didn't respond and ignored the question.
PapCulture / SplashNews.com
Gomez and Bieber dated on and off since 2010, most recently calling it quits in March. After news broke of Bieber and Baldwin's engagement over the weekend, Gomez was spotted enjoying herself on a yacht with her BFFs.
"Selena was surprised an engagement happened this quickly but not surprised Justin would do something like this knowing who he is. At the end of the day though she doesn't really care," one source told E! News of the singer's reaction to the news. "Selena is totally over him. She had tried again to make it work that last time and it didn't work out."
"Selena is definitely on a different path right now and in a much better place since Justin is out of the picture. Mentally, she is done with him," the insider continued. "She isn't focused on dating as much as she's just really focusing on herself. She's happy right now just spending time with her girlfriends and going to church." 
Another source also added that Gomez is putting her relationship with Bieber "in the past." And while she was "very shocked" to hear about the engagement, she ultimately "doesn't care."
"Selena knows that Justin makes rash decisions, but wishes them both the best," the second source told E! News. "She is truly focused on herself and Justin is no longer a topic of conversation in her life."