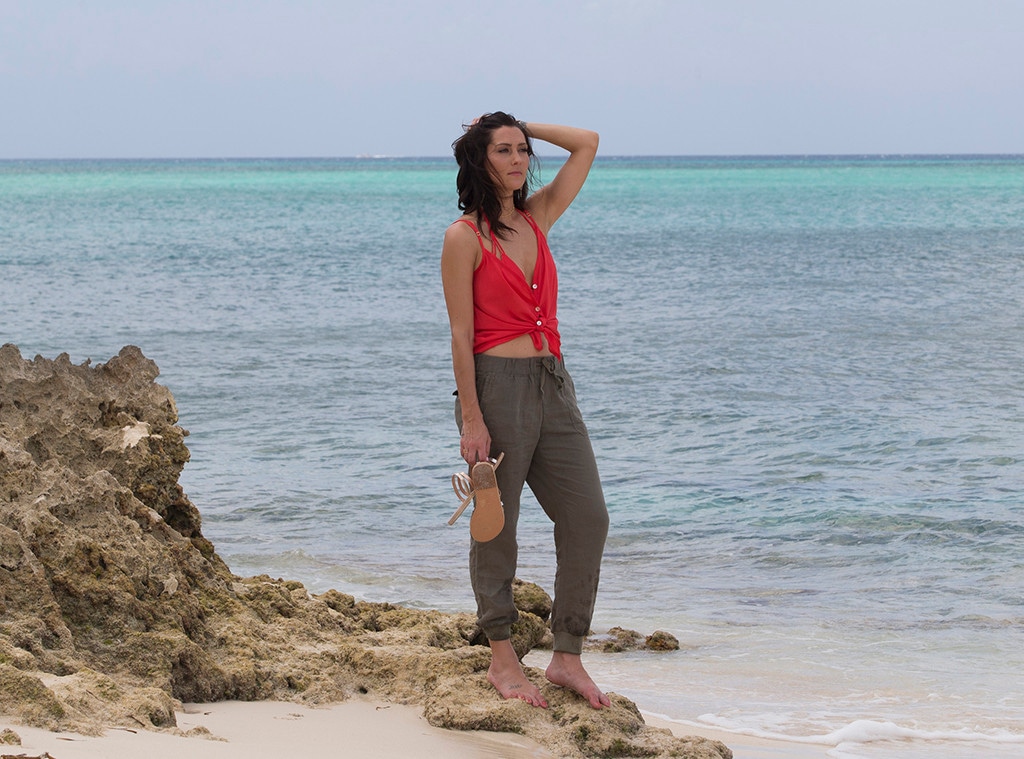 ABC
Let it be known: Chris Harrison loves the Bahamas. 
He's been there before, you see, and thus he's shocked when he meets someone who hasn't been there before, like Becca Kufrin, of The Bachelorette.
"You've never been here before?" he asked incredulously as they sat down in a sun-soaked hotel room.
"My first time!" Becca confirmed, and Chris deemed her excitement "infectious." 
"I'm feeling like I'm here for the first time again too."
We get it, Chris Harrison and the Bahamas. We wanna go there too. 
We also get the little nods to what Becca was about to learn in this episode, particularly relating to the fact that Colton has not yet had his first time. She's a Bahamas virgin, he's a regular virgin, it's all fine. 
When she picked Colton for the first Bahamas one-on-one, the other guys were simultaneously disappointed and intrigued. How would Becca react to Colton's virginity? Would he even tell her? Would it just be too much for her to handle?? 
Obviously it was also on his mind, but sex was really on her mind. Becca was all about how hot Colton is, and after they went fishing for conch and learned that conch is an aphrodisiac, she was all, "I don't think Colton and I need any help with that." 
Really makes you wonder who's scripting this thing. 
Colton did get around to telling Becca about his virginity, but instead of crediting religion or family values, it was all about football and how important football is and how he only really knew football Colton and not not-football Colton. Anyway, because of so much football, Colton never had sex. 
Becca's reaction was actually a little unexpected, because she went "really?!" and then went outside for a minute to, as far as we could tell, stand there. 
It was hard to tell what she was thinking, but maybe it was something like, "Football? Really? Football?" or "Maybe I should just let him go back to Tia?" or "Wow should I have been making all those conch jokes?" 
She eventually rejoined Colton at the table and the convo turned into a discussion about how much pretending Colton had to do in those manly locker rooms, and he explained that he wasn't waiting for marriage, but for "the right heart." 
It was endearing enough to win him a rose and a ticket to hometowns. 
Meanwhile, Garrett of Instagram got the next one-on-one, and he had no such news to deliver. Whatever, they rode in a sea plane—the first time for each of them, how thrilling—and ran on the beach and made out in the ocean and talked and laughed and didn't do any Instagram scrolling. It was fine. 
Up next, The Baha Men. Tell us, when was the last time you wondered who let the dogs out? Our answer would be earlier this evening, as Becca and Blake were dancing to a Baha Men song that was not "Who Let the Dogs Out?," which led us to wonder what happened to those dogs. Kudos to Becca for acting like she was super excited to hear the Baha Men's brand new song, and extra kudos to all the extras on the beach who were super into it as well (see gif below).
Becca and Blake left the Baha Men concert before any dogs were let out at all, but they had to get to the dinner where Blake told the wild story of his mother having an affair with the small town basketball coach/English teacher. It was basically an episode of Dawson's Creek or Riverdale that we could picture in our heads. Blake got a rose. 
Finally, Becca took the remaining guys on a three-on-one with devastating results. There was beach volleyball involved, which was fun and fine for all, but then the talks came. Becca first dumped Leo, who was still there for some reason, and then joined Jason and Wills for dinner. 
Somehow, Wills didn't get the rose despite his very cool shirt, and we are here to start our #WillsforBachelor campaign. Did you see the way he cried as she assured him he's going to find his person? Did you see how cool his shirt was? Did you hear how absolutely wrecked right now he was? Did you see him get out of the car to cry some more? His cry face is ready, ABC, and we are ready to watch it! 
The Bachelorette airs Mondays at 8 p.m. on ABC.