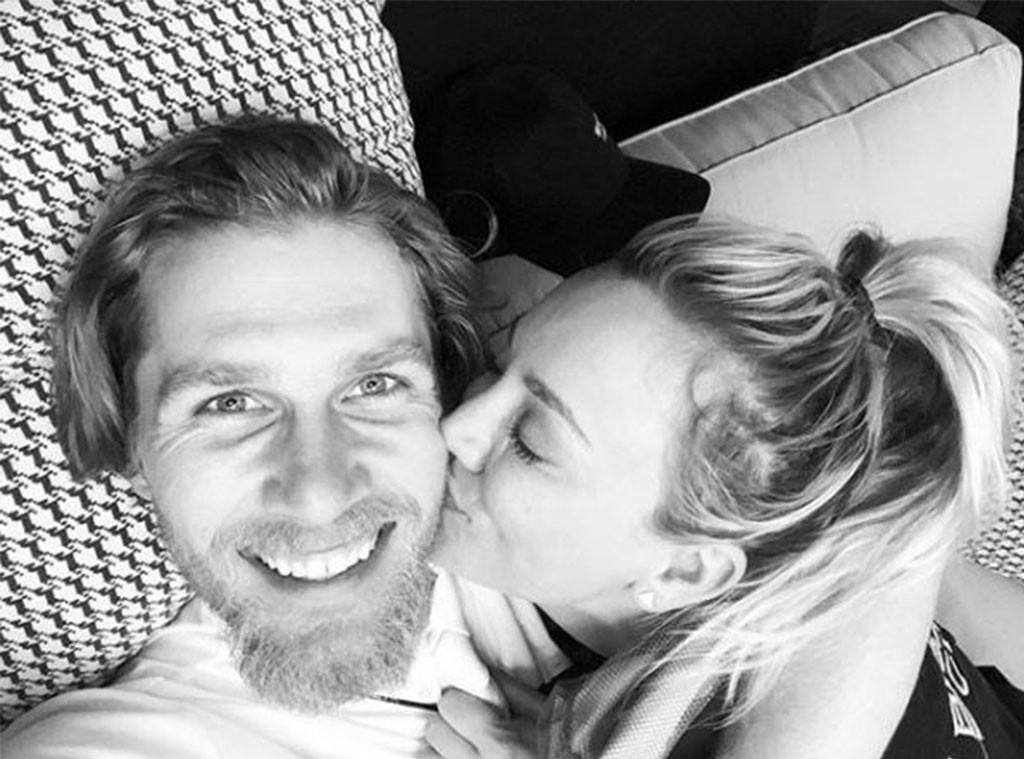 Instagram
Not even a week into Kaley Cuoco and Karl Cook's marriage, and they're already putting those "in sickness and in health" vows to good use. 
While most newlyweds ride out their wedding high with a tropical getaway or culturally enriching rendezvous, Kaley and Karl thrust themselves right back into reality. The Big Bang Theory star is documenting her recovery from shoulder surgery on Instagram, which she revealed Friday was "brilliantly" scheduled more than a year ago. 
No poolside daiquiris or private wine tastings for the newly minted husband and wife, who wed at Karl's horse ranch in San Diego last Saturday. This couple is just as blissful relaxing on the couch with their beloved dogs.
"I knew I'd have a babysitter, and apparently a hair stylist," Cuoco teased in an adorable video of the professional equestrian attempting to twist her hair into a top knot. 
So why do we think Kaley and Karl's marriage is already built to last a lifetime? Because this couple is having just as much fun through life's not-so glamorous moments as they did during one very glamorous wedding ceremony! It's easy to get caught up in the fairytale of saying "I do" in a custom Reem Acra gown, but it's picking up where life left off before walking down the aisle that really tests a relationship. 
And even in the midst of a sweets-induced food coma and clad in oversized athleisure wear, Cook can't help but bask in his wife's effortless charm. "There is nothing like being a newlywed and eating too much dessert," he captioned a video of Kaley waddling back into the house as she exclaimed, "I just ate like four key lime pies!" 
After all, what's the point of getting married if you and your S.O. can't pig out without judgement? 
Claudia Craig Photography
But there was a point in Kaley's life that a second wedding was out of the question. Following her 2015 divorce from tennis player Ryan Sweeting, the 32-year-old actress told Cosmopolitan he had "ruined" the idea of marriage for her. 
"I married someone the first time who completely changed," she reflected. "The person I ended up with was not the person I originally met. And that wasn't my fault—that was his. I knew how much I had to give and how much I wanted to receive."
Kaley continued, "I knew I just had to be patient. I had to go through a lot of things, but it brought me to Karl."
By November 2017, after more than a year together, the pair was engaged. 
Not much has changed for Kaley and Karl since the early days of their romance, but consistency is key when it comes to starting off a lifetime together on the right foot. 
"They have a lot in common and just get each other," a source previously told E! News "After her marriage and other past relationships, this one definitely stands out as being different. She loves his sense of humor and feels like he brings out the best in her. She trusts him completely and after she was burned in the past, she appreciates how genuine he is. They're in it for the long run."
What more could you want in a partnership? Congratulations to Kaley and Karl. We can't wait to see your marriage bloom.