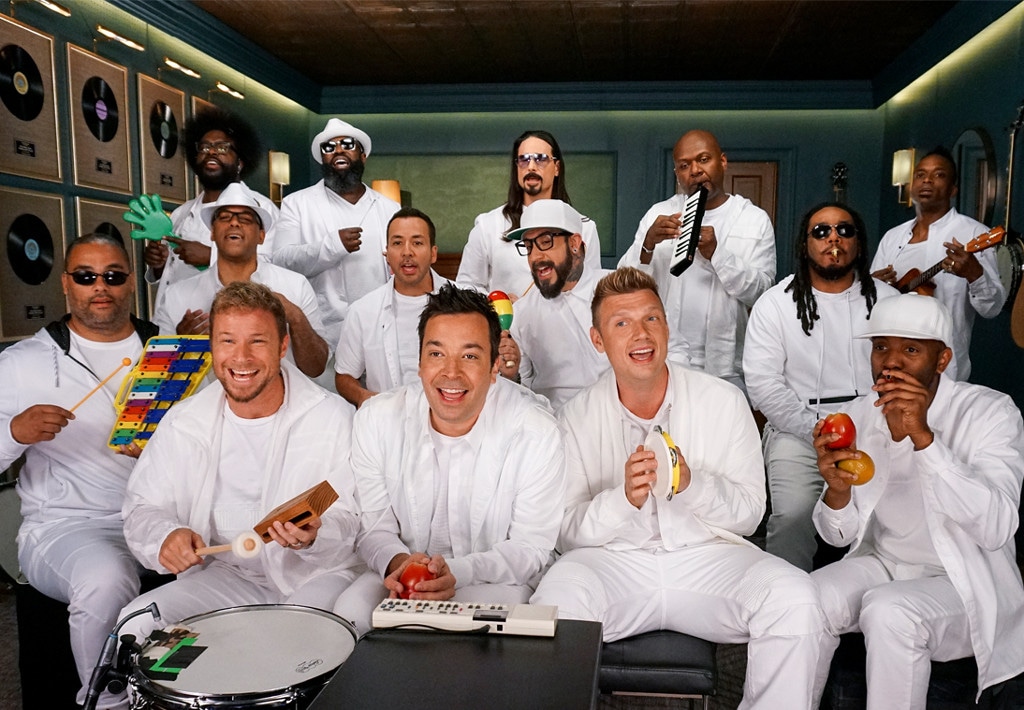 Andrew Lipovsky/NBC
Jimmy Fallon is at it again...he's blessed us with another episode of his Classroom Instruments series!
On Thursday, the Backstreet Boys appeared on The Tonight Show and in addition to performing songs as the musical guest they headed to Fallon's music room to take on one of their hits using only classroom instruments.
Over the years, the talk show host has given fans a lot of different music segments on his show to look forward to and the Classroom Instruments skit is one of the best.
With the help of Fallon and The Roots, artists perform some of their greatest songs, but instead of normal instruments they use toys and things you'd find in a classroom...like an apple shaker!
Throughout the years Fallon has even done Christmas specials with Mariah Carey, One Direction, Anna Kendrick and more, but we'll save those for another day.
Today, we've decided to see where the Backstreet Boys' performance ranks among the other top nine singers and bands who've hung out with Fallon and used classroom toys and instruments to remix their hits. 
While we love the Christmas specials, these top 10 (Backstreet Boys included) are really the best of the best.
Watch the Backstreet Boys and other standout Classroom Instruments sketches including Adele, Camila Cabello and The Lonely Island below and vote for your favorite.
The Backstreet Boys:
Who knew that "I Want It That Way" could sound even better using classroom instruments? We had no clue and yet we are officially hooked on this rendition. It's so soothing, and let's be honest anything that the Backstreet Boys do is good with us. The best moments from this performance are when Brian Littrell used a wood block and when Howie Dorough played the coconuts. It was awesome.
Camila Cabello:
We love Cabello no matter what she does so of course we were going to love her Classroom Instruments performance. There is a lot of dancing, shaking (including lemon shakers) and tropical vibes during Cabello's "Havana" remix and it's so festive.
Madonna:
The Queen of Pop rose to the occasion when she entered the world of Classroom Instruments. She sang "Holiday" and both Fallon and The Roots dressed in tropical shirts to set the mood.
The Lonely Island:
"I'm On a Boat" is a hilarious song on its own, but with classroom instruments it's the boating jam we never knew we needed. The fact that everyone is dressed in navy costumes and sunglasses makes it that much better. Plus, Andy Samberg "plays" a rubber ducky and flip flops for the ultimate prop performance.
Migos:
In 2017, Fallon switched things up when Migos came on the show. Together they performed "Bad and Boujee" with office supplies. Yes, there scissors, coffee pots, and scotch tape in the mix as well as a tissue box guitar and a water cooler jug bongo. It was unreal.
Adele:
Adele's classroom instruments makeover of "Hello" is brilliant. Within the first few seconds it's like listening to a more upbeat version of this hit and somehow it works. At one point there is a kazoo, banana shaker and hand clappers being used and we love every part of it. Oh, and Adele sings into a toy flip phone, which is too good.
Idina Menzel:
Of course Fallon had to have Idina Menzel stop by to perform "Let It Go" from Frozen since it's such a huge hit and it might one of the best segments he's ever done for this skit. As the Broadway singer hits every note, Fallon breaks out the toy blocks and makes this song a little reggae and it's pretty cool.
Metallica:
Who doesn't love a heavy metal song done with toy instruments? We sure do! Metallica's performance of "Enter Sandman" is one for the books. There's a casino keyboard, toy clarinet, Fisher Price drum among other toys used as Fallon belts out the song alongside James Hetfield. You can tell he really had a blast with this one too.
Carly Rae Jepsen:
The Canadian singer was the first stars to take on the challenge of performing her hit song "Call Me Maybe" with nothing but classroom instruments. She nailed it with her triangle as the talk show host played both a drum and tambourine simultaneously.
Sesame Street Cast:
The cast of Sesame Street stopped by The Tonight Show and proved that they really can make anything better...even Classroom Instruments. They teamed up with The Roots and Fallon and rocked out hard to their show's theme song and it was a nonstop party.
Jimmy Fallon Classroom Instruments Poll