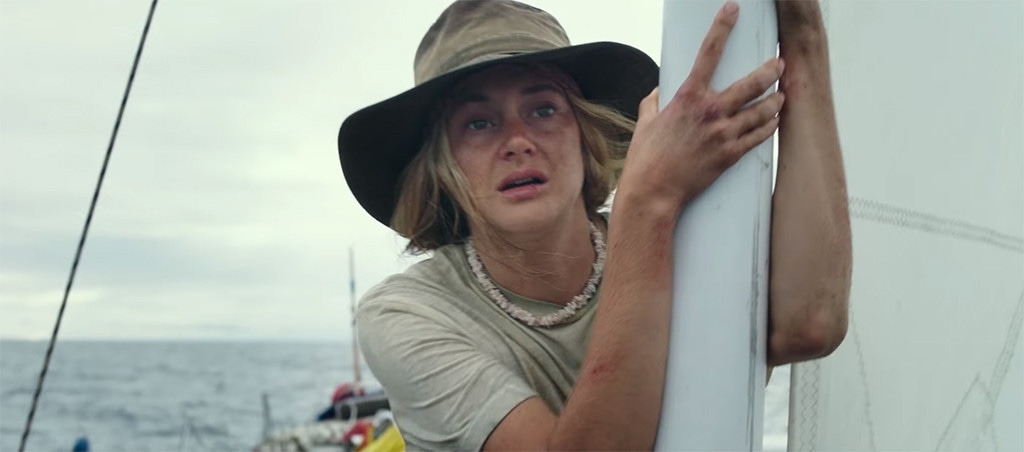 STX Entertainment
In the course of shooting her latest film, Shailene Woodley had to put herself in her character's lost-at-sea shoes. 
As the protagonist in Adrift, Baltasar Kormákur's romantic drama based on the real-life story of sailors Tami Oldham and Richard Sharp, the actress had to physically mirror how her character looked after more than a month of being stranded on a hurricane-ravaged sailboat. 
In the film, which chronicles the couple as they fight to survive on a damaged ship cut off from communication, Woodley's character rations out what little sustenance remains, including peanut butter and cans of Spam, as they desperately try to get to land. 
Watch:
Shailene Woodley & Sam Claflin Talk On-Screen Chemistry
Toward the end of shooting behind the scenes, the star kept to a meal plan just as dangerously restricting to physically appear like she had endured the same life-threatening circumstances. 
"For the last two weeks I had a can of salmon, some steamed broccoli and two egg yolks every day—350 calories. It was f--king miserable," she told The Sunday Times. 
To cope with skipping dinner and the severely low calorie count, Woodley turned to wine. 
"I can't sleep when I'm hungry, so I would have a glass of wine to basically pass the f--k out," she told the newspaper. 
Her commitment to the role was clear in the finished product and critics have recognized her resulting performance. 
"This whole process was as beautiful as it was taxing," Woodley previously told E! News. "Every time that [Sam Claflin] would show up with a big smile on his face and not complain at hour 16 or not complain when we were seasick or not complain when something went awry—not only did it inspire me, but it inspired the whole crew to stand up and work harder."