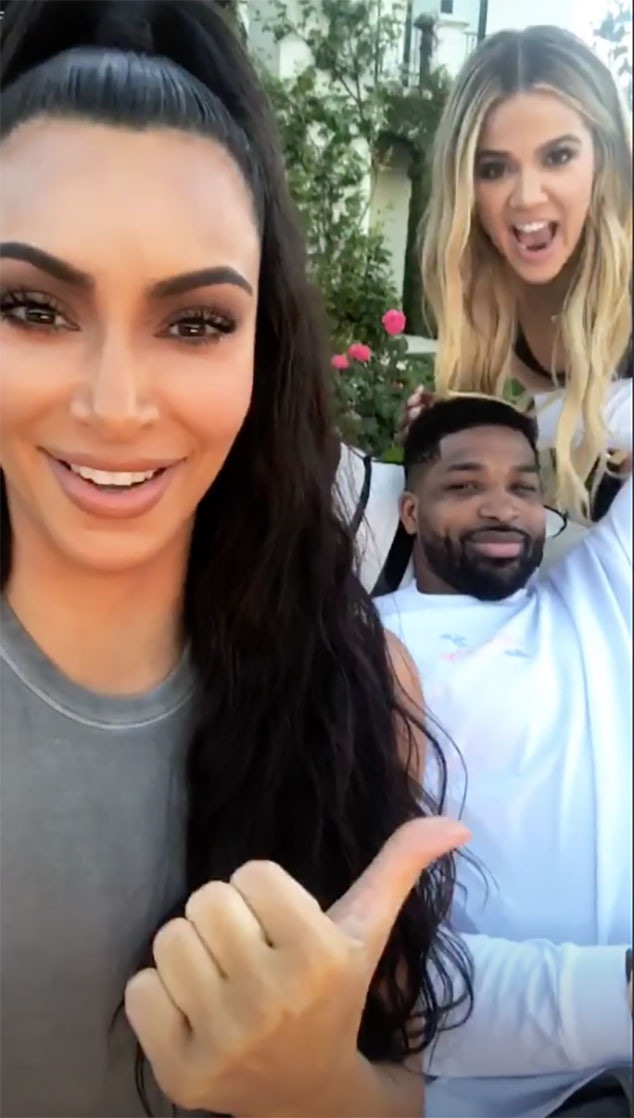 Instagram
Kim Kardashian is back in Tristan Thompson's social media good graces. 
Nearly three months after the Cleveland Cavaliers player blocked the reality star on Instagram, the two called a digital truce. 
Kim suggested Thompson unblock her on Instagram during Khloe Kardashian's 34th birthday party on Wednesday.
"Alright, guys, so what do you think? It's Khloe's birthday—do you think I should ask this guy to unblock me?" Kim asked her followers in an Instagram video with Thompson in the background. 
"For Khloe's birthday, I think it's only right," the 27-year-old athlete responded as they both laughed. 
"So, uh, was that a yes?" Kim asked further. 
With two thumbs up from Thompson, it was time to hit the button. "There's no going back," she told him. "Now, the question is: Should I follow you again?"
The initial block came shortly after Kim addressed Thompson's cheating allegations on an April episode of The Ellen DeGeneres Show. The two unfollowed each other just a few days later.
Kim hinted at their social media drama when she was asked about the situation involving her sister's basketball beau on Live With Kelly and Ryan.
"Last time I went on TV and answered some questions about her, I got blocked on social media so…" she told the co-hosts. "Not from Khloe."
Still, she had a diplomatic response when they asked her if any part of her was rooting for their relationship. "I'm always rooting for her—always rooting for love," Kim said. "I'm always rooting for families." 
While it looks like Tristan is inching back into the fold of the Kardashian family since they arrived back in Los Angeles last week, Khloe weighed in on the personal strife of the last few months when she responded to a critic on Twitter. 
"You have no knowledge of what goes on in our household or the enormous rebuilding this takes to even coexist," she told the Twitter user, who said they were "disappointed" by Khloe and called her a hypocrite. "I'm proud of my strength. I appreciate your opinion and I hope you hold that same opinion to everyone else who has stayed in situations."