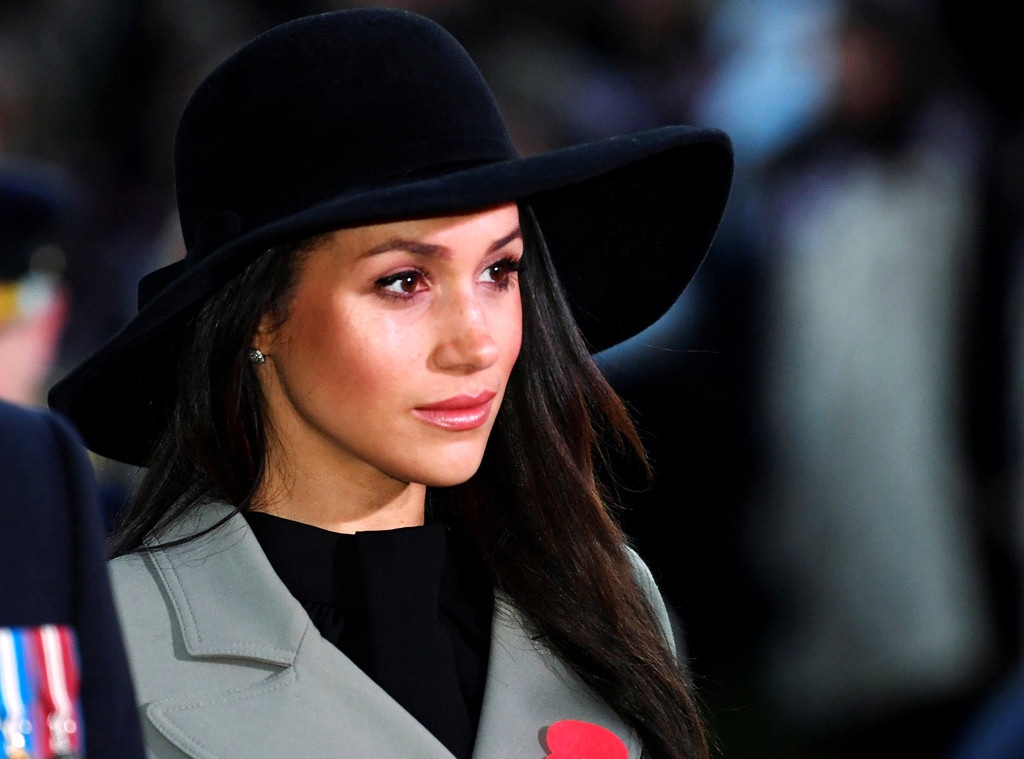 Toby Melville - WPA Pool/Getty Images
Plunged into the spotlight for the first time, with no idea how to cope, Thomas Markle turned to a man well-versed in notoriety. 
Over a series of chats, his future son-in-law, Prince Harry, along with his daughter Meghan Markle, stressed the importance of not engaging. "For the most part, it was always, 'Don't speak to the press,'" he explained without a single trace of irony while giving his first tell-all interview to Good Morning Britain this past June. "They were very emphatic about not giving any information to the press or talking to them because it just encourages them more. So, nonetheless, that's what I tried to do." 
But a year of seeing unflattering images of him buying cans of beer or taking the trash out of his home in Rosarito, Mexico began to wear and soon he put forth his infamous plan to have photographers snap staged pictures of him. "Obviously that all went to hell," he admitted, "and I feel bad about it. I apologized for it and that's all I can do. I can't do much beyond that." 
Welllll, he probably could have chosen not to do it again. Or another time after that. Or the most recent interview, published in The Mail on Sunday this past weekend. 
It began with him riffing on everything from Harry's thoughts on Brexit ("I think he was open to the experiment"), to how he gave his blessing for the pair to wed ("I said, 'You're a gentleman. Promise me you'll never raise your hand against my daughter,'") then transitioned to him openly mocking his daughter's new kin, calling Kensington Palace a breeding ground for Stepford Wives and Scientologists. Then the 74-year-old retired lighting director went fully hostile, basically telling The Mail on Sunday his little girl was an ungrateful brat. 
"What riles me is Meghan's sense of superiority," he griped to the paper. "She'd be nothing without me. I made her the Duchess she is today. Everything that Meghan is, I made her." He went on to list his proof: payments he shelled out for her private schooling and a trip abroad. "And did I get any recognition for it? Any thanks?" he wondered. "She doesn't even speak to me now. How cold is that?"
Now, amazingly enough, while speaking to the same outlet he seems baffled by what he calls their "wall of silence." He's texted, sent letters via her old publicist in L.A. and even sent a pleading, hand-delivered note to ex-wife Doria Ragland: "Everything has been met with stony silence." 
And while he insisted he and the 37-year-old actress turned royal never had any issues before her entrance into The Firm, their relationship certainly seemed tenuous well before Thomas grabbed hold of that Images of Britain book and posed for his first staged photograph. 
As with most parental relationships, everything started out well. To hear Meghan tell it, her early days growing up in L.A.'s San Fernando Valley were downright idyllic. 
Having crossed paths on a soap opera set in the late 1970s—"I like to think he was drawn to her sweet eyes and her Afro, plus their shared love of antiques," Markle wrote in an essay for Elle UK—her lighting director father and studio temp mother wed, welcomed Meghan and settled into a leafy suburban neighborhood in short order. 
<i>Good Morning Britain</i>
The overwhelmingly white area was far from diverse, but Thomas took strides to shield his youngest daughter from any discrimination. "When I was about seven, I had been fawning over a boxed set of Barbie dolls," Meghan recalled to Elle. "It was called The Heart Family and included a mom doll, a dad doll, and two children. This perfect nuclear family was only sold in sets of white dolls or black dolls. I don't remember coveting one over the other, I just wanted one. On Christmas morning, swathed in glitter-flecked wrapping paper, there I found my Heart Family: a black mom doll, a white dad doll, and a child in each color. My dad had taken the sets apart and customized my family." 
So while her mom was fending off stares from the neighbors as she held her light-skinned child, Meghan was blissfully ignorant to the fact that she was somewhat unlike her peers: "They crafted the world around me to make me feel like I wasn't different but special." 
Even after they divorced, Meghan's parents took pains not to upend her world. Most of the time, she lived with her mom, yoga teacher and social worker Doria Ragland, their relationship so close Meghan named her one of the "10 Women Who Changed My Life" in a 2017 Glamour article. But afternoons belonged to her father. 
By trade he was a lighting director and photographer on Married...with Children, but a 1990 California State Lottery victory (using five numbers including Meghan's Aug. 4 birthday) gave him enough of a nest egg to send his little girl to Immaculate Heart, an upscale private academy. And after the final bell, she'd report to the set of the Fox sitcom, "which is a really funny and perverse place for a little girl in a Catholic school uniform to grow up," she told Esquire in 2013. "There were a lot of times my dad would say, 'Meg, why don't you go and help with the craft services room over there? This is just a little off-color for your 11-year-old eyes.'" (While she wasn't allowed to tune into the provocative sitcom, "I could watch the end credits so I could give the screen a kiss when I saw my dad's name go by.")
Sylvain Gaboury/Patrick McMullan via Getty Images
His guidance went even deeper when she was faced with a mandatory census form in a seventh grade English class. "You had to check one of the boxes to indicate your ethnicity: white, black, Hispanic or Asian," she recalled to Elle. "There I was (my curly hair, my freckled face, my pale skin, my mixed race) looking down at these boxes, not wanting to mess up, but not knowing what to do. You could only choose one, but that would be to choose one parent over the other—and one half of myself over the other." 
She relayed the story to Thomas that night, how her teacher had informed her to "check the box for Caucasian 'because that's how you look," but that she couldn't bring herself to summarily reject her mother, and watched as his face grew red in anger. "He said the words that have always stayed with me," she wrote, "'If that happens again, you draw your own box.'"
He fostered her creativity in other ways, too. When she got into the theater scene at Immaculate Heart, Thomas volunteered to craft sets for their plays, a former classmate revealed to People, "and he would volunteer his time even after Meghan graduated. She was close with her parents. They were affectionate." 
Still, as a source told People their relationship could be rollercoaster-like with "ups and downs over the year." And in the months before she left for Northwestern University, where she would double major in theater and international relations, they seemed to be on the decline. 
In the clip from a home video Meghan's former pal Ninaki Priddy gave to British newspaper The Sun, the 18-year-old aspiring actress points in the direction of her father's place before asserting, "From Dad's house, you can see the Hollywood sign. But we aren't going to go there because my dad and I aren't on the best of terms." 
By the time she landed her breakout role in Suits in 2011, after bit parts on The League and 90210, they were back on the ascent. In her 2017 Vanity Fair profile, Meghan spoke about how both parents offered emotional support as they watched her audition and try "to make ends meet, taking all the odds-and-ends jobs to pay my bills. I was doing calligraphy, and I was a hostess at a restaurant—and all those things that actors do." 
As a Hollywood vet, she said, her dad was especially chuffed when she landed the USA legal drama. "My father knew how hard it is for an actor to get work," she said, "so he above all people was so proud that I was about to beat the odds." 
Though Thomas had moved south of the border (the San Diego Union-Tribune reported he lives in an oceanfront gated community with other American ex-pats) and Meghan was stationed in Toronto, he'd offer his well-honed expertise from afar. 
"I will always find my light. No question," she told Esquire. "And if I don't, I'll know, because my dad will be the first person to call me and say like, 'You need to have him bring another 2K in,' and 'Why aren't you using this sort of lighting gel?'"
And in a 2016 Father's Day post on her since-deleted Instagram account she credited him with providing a slew of her best traits, writing, "Thanks for my work ethic, my love of Busby Berkeley films & club sandwiches, for teaching me the importance of handwritten thank you notes, and for giving me that signature Markle nose. I love you." 
Their relationship was one of give-and-take, with Meghan offering her own type of assistance over the years. Though the L.A. native's (clearly estranged) half-siblings accused her of abandoning their father when he declared bankruptcy in 2016, that was hardly the case, a source told People. (Samantha Grant is currently penning a memoir, The Diary of Princess Pushy's Sister and Thomas Markle Jr.'s son grew his own strain of cannabis, the "Markle Sparkle" to sell in honor of the vows, so their motives can comfortable be put into question.) Meghan, insisted the source, has "been supportive of him in every way, including financially. She has paid many of her father's bills over the years." 
And by Thomas' own account, she was eager to welcome him into her new royal fold. Ahead of his planned role in the May 19 nuptials, she arranged for him to have fittings at Beverly Hills ateliers and none other than the royal cobblers were tasked with making his custom shoes. "I was excited about it and ready for it," he said of walking Meghan down the aisle in his June 18 Good Morning Britain interview. "It was all set in place for me to go."
Even after his misstep with the paparazzi—a move that likely cut deep with Harry's who's long rallied for the privacy of his bride and her family—they embraced him. As he stated his case to both Meghan and Harry and apologized for going rogue, "They were very forgiving," he revealed, and stressed again that they were prepared and excited for him to visit them at Kensington Palace and participate in their vows, Harry having even enlisted a military pal to help look after him should they get distracted by other wedding obligations. It wasn't until he learned he needed to have heart surgery that the duo tapped Harry's dad Prince Charles to serve as replacement. 
After all, Thomas' biggest crime was wanting to appear worthy of his little princess. "This was a presentation to me to change my image because for the last year photographs of me were always derogatory," he explained. "They'd take pictures of my hand grabbing a beer. They'd take pictures of me getting in my car, taking the garbage out. They'd take pictures of me buying a toilet and making a big deal out of it. They'd take all kinds of pictures of me, making me look negative. So I thought this would be a nice way of improving my look."
But then he spoke out again, blindsiding Meghan and Harry with his Good Morning Britain interview not long after they arrived home from their private African honeymoon. "They were not given advanced warning," a source told ET. "They understand he has been harassed by the paparazzi 24/7 but it's hard for them to accept his apology when he's again taking cash." 
Host Morgan tried his best to defend his guest, noting he could have pocketed much more than $10,000 for the chat and was simply interested in "having his say". But beyond the money, worldwide exclusive interviews are the sorts of activities that are generally run by the palace and appropriately vetted. And having the newly minted duchess' father giving an off-the-cuff, my side of the story-type interview with little media training is simply not the done thing. 
And what was merely indefensible in June became downright abhorrent by fall as Thomas continued waging verbal war against the palace. Though he seemed to take a brief hiatus, the interviews started up again not long after he learned (via a radio report) that Meghan and Harry were expecting. 
And now, in his latest chat, he's back on the attack, sharing that he wrote Meghan a two-page letter (sent my certified mail to her L.A. management team) in which he "pointed out the Royals haven't always been perfectly behaved. I wrote that I've never played pool naked, nor have I dressed up as a Nazi." 
As far as strategies go, pointing out her husband's past indiscretions is an odd one. Because while Harry's choices to dress up as a Nazi for a 2005 costume party and get a little wild in Las Vegas seven years later weren't the best of looks, the prince has long since apologized and atoned for his mistakes. 
Thomas seems incapable of even learning what his are. Throughout the interview he seems intent on clearing up "the lies" about him being peddled across the internet—hospital discharge letters proving that he did, in fact, have a heart attack, a photograph showing he was at Meghan's first 2011 wedding to film producer Trevor Engelson—as if those are the reasons his daughter has shut him out. 
He also rejects the idea that he's the one feeding negative stories to the press: "People make things up and my daughter and her husband believe the lies, the one thing they told me never to do. They think I'm giving hundreds of interviews. That's rubbish." 
Whether due to ignorance or outright stubbornness, he seems to be implying that the freeze out has only occurred because Meghan thinks he's the one anonymously leaking dirt on her, ignoring the fact that she's likely annoyed by the stories he's shared on-the-record. In his latest tell-all (by his count, his fourth), he offers up old handwritten notes she's sent over the years, ostensibly to prove they were once close, but it's hard to imagine the duchess will be thrilled to learn her private communications are now up for public consumption. 
To Thomas it seems the main goal is to prove that they were once tight and, thus, he's not the one at fault for their feud. "People are trying to rewrite history," he said. "Meghan and I were as close as a father and daughter could be right up until her wedding to Harry. Then it all fell apart." 
Of course, this version ignores the part where his own actions led to a rift and that his continued insistence on defending himself is only making things worse. "Everyone says, why don't I just shut the f--k up?" he acknowledged. "That Meghan can't speak to me because I'll give away secrets. But that's bulls--t." 
But as he stood there, speaking to a reporter, never-before-seen photo from Meghan's first wedding at hand, a stack of presumably private notes at his side, it's hard not to wonder...does he not see it? 
It would seem not. Asked if he believed his campaign would work, if he could wear Megan down with texts, letters and countless interviews, he offered up a shrug. "Maybe," he said. "Some day."