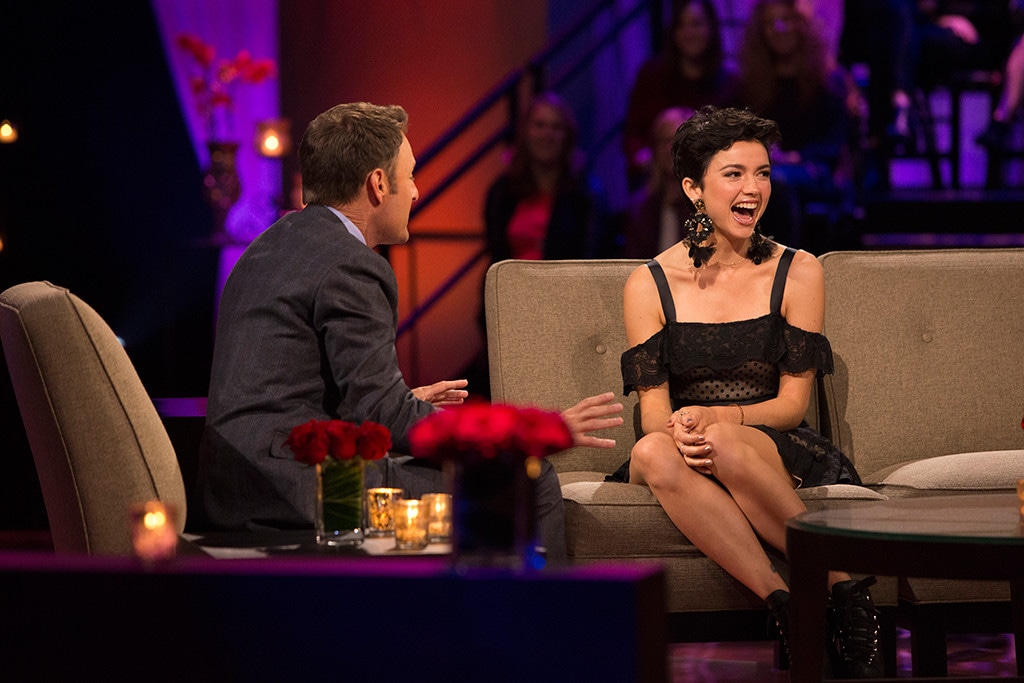 Paul Hebert/ABC
Bekah Martinez and Kendall Long are under the impression that Arie Luyendyk Jr. wasn't just in contact with the winner of his season of The Bachelor after production wrapped. 
In an especially candid Q&A with Vulture, the contestants claim Arie was talking to other women besides Lauren Burnham, the runner-up he ultimately proposed to after breaking things off with Becca Kufrin. Martinez previously called out Arie for DMing her post-filming, a move he said illuminated the 24-year-old's "immaturity."
Bekah stands by her choice to expose Arie's "inappropriate" behavior, telling the publication, "And I wasn't the only contestant he was DMing while the show was airing. It wasn't just me and Lauren, there were other women as well. C'mon, dude. You're 36, you know better. You're not oblivious and you know how relationships work."
Bekah also explained, "And at the time he DMed me, it was close to the episode when I got sent home. It was us passionately making out and discussing our relationship. And this is the time when you're like, Thinking of you, hope you're doing well! I guarantee Lauren didn't know he was messaging me. Lauren doesn't like me."
Kendall agreed, adding, "The fact that he switched to Lauren and was still talking to other girls, it's not great." 
She continued, "I don't want to name the other girls he's talking to. I don't know if they're continuing talking to him now, but before there were some." 
Kendall, who became known for her love of collecting taxidermy, told Vulture she "made it a point" to cut off communication with Arie after the show. 
As she put it, "It might be a little bit weird if I did. But now, I don't think I would have a problem being friends with him. I don't wish him ill-will. Once you care about someone and see a potential love with somebody, it's hard to feel bad in some ways."
In watching the season play out, Bekah expressed feeling "particularly deceived" by Arie. She described, "I thought he wasn't the type of guy who did all of the things that he did." 
As for Bachelor Nation's apparent perspective that Lauren's "personality" didn't shine through onscreen, Bekah and Kendall had this to say. 
"Lauren was extremely goofy and extremely fun," Martinez shared. "When we were still at the mansion, we were roommates, and she was literally wearing a fake butt twerking upside down on the side of the wall and belting out Moulin Rouge! lyrics on the balcony with me. But as she developed more feelings for Arie, she became more closed off and guarded and insecure. I don't mean 'insecure' in a negative way, but you are competing with multiple other women. Of course, if you care about someone, you're going to get insecure about yourself in the face of so many other relationships. I wish they gave her more dimensions on camera, but the thing is, she didn't show her dimension on camera. I don't think they had much to work with.
Kendall said she was "surprised" by Lauren and Arie's connection, but later understood how in love they were after watching their 1-on-1 date in Tuscany. "She showed a lot of emotion on camera that I didn't expect," the reality TV star described. "But she was really guarded. She doesn't seem like the kind of person that would want to have her love life on television. She was definitely there for love. She wasn't there to sell hair gummies on Instagram."
For now, Bekah says she and Kendall will "probably" be on the upcoming season of Bachelor in Paradise, which airs in the summer. 
Read the pair's entire interview with Vulture right here.