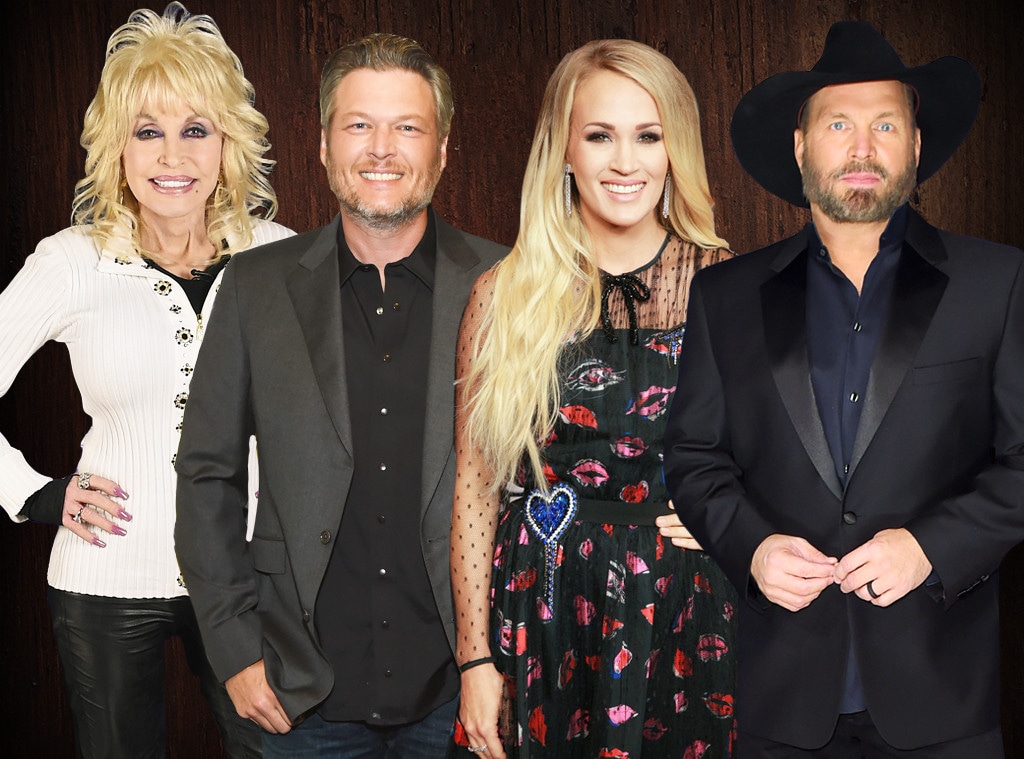 Getty Images/E! Illustration
We've gone country!
In case you didn't know, today is National Country Music Day. Yes, it's also Independence Day, but who says you can't celebrate two holidays on one day? 
In fact, if you do decide to make National Country Music Day your other favorite July fourth holiday it'll give you an even better excuse to listen your favorite country tunes while having that beach party you've been gearing up for all summer long.
Plus, country music and America go together almost as well as cowboys and their boots, so doubling down on these two holidays is really a no-brainer.
In honor of National Country Music Day we've decided to ask you a big question...which country music singer is your favorite of all time? We know you're supposed to be unwinding and just listening to your favorite country song today, but voting for your favorite artist is a little more fun, don't you think?
Since country music has been around for a long time we know this task isn't easy, but there's really no wrong answer. 
That being said there are a few artists that we love that should be on your radar when voting on this topic. Scroll through our favorite country stars below and then cast your vote.
Come on y'all, you know you want to!
Let's kick things off with the one and only Dolly Parton! Not only is her sound uniquely hers, but her big hair and adorable speaking voice make us want to be her best friend every time we see her.
Plus, thanks to Reese Witherspoon's southern clothing line, Draper James, we now find ourselves asking, "what would Dolly do?" on a regular basis and it's honestly a really great question.
Current superstars like Blake Shelton and Carrie Underwood are also at the top of our list. They might both be associated with reality TV competitions—Shelton is a coach on The Voice, and Underwood competed on American Idol—but their hits, and the awards that have come with them, are why we love them so much.
No matter what songs these two turn out we listen to them as soon as they drop and buy our tickets to their shows the minute they go on sale.
All three of these stars are worthy of the best country music star title, but what about the rest of the men in the country genre? Shelton is a major star, but he's not the only male artist out there who could win it all.
One of the "I Lived It" singer's best friends Luke Bryan is also a mega star creating songs like "Most People Are Good" and "Country Girl" that we are always happy to hear come on the radio.
The men who came before them however, could be considered even greater stars. Who are they you ask? Well, Garth Brooks, Toby Keith and Tim McGraw first come to mind. With hits including, "Friends in Low Places" by Brooks, "Should've Been a Cowboy" by Keith and "Humble and Kind" by McGraw you've got one star-studded group of competitors here.
The question you might want to ask yourself now is whether you're an old-school country fan, or are you more into the new era of musicians?
If you are into current country taste makers then we have a feeling Thomas Rhett and Chris Stapleton might earn your vote and we completely understand why.
Rhett has songs that make every woman swoon AKA all of his love songs about his wife, while Stapleton has an old-school sound that is authentically country, which we can't help but love.
While we love a good country boy, our vote for the top country music singer might be going to one of the amazing women of country.
Ladies have a major presence in Nashville when it comes to their country sound and we love each and every one of them. In addition to Parton and Underwood, who are two of country's golden girls, icons like Reba McEntire and Shania Twain are always on our iPod or radio stations...as they should be.
Two other fierce females that we can't get enough of are Faith Hill who always brings it with songs like "This Kiss," and Miranda Lambert who shows off her rebel country side with anthems like "Vice."
All of these ladies have paved the way for the newer female voices you've been hearing on country radio, which we are so grateful for. 
We now have the likes of Kacey Musgraves, Kelsea Ballerini and Maren Morris to rock out to on a regular basis and boy is the country music world better with them in it.
Even though these fresh country faces have talent and charisma for days we're not so sure they can beat out the OGs of country, but only time will tell.
Let us know which artist you think is the greatest of them all below and don't forget to get your country on this holiday!
Favorite Country Music Singer Poll