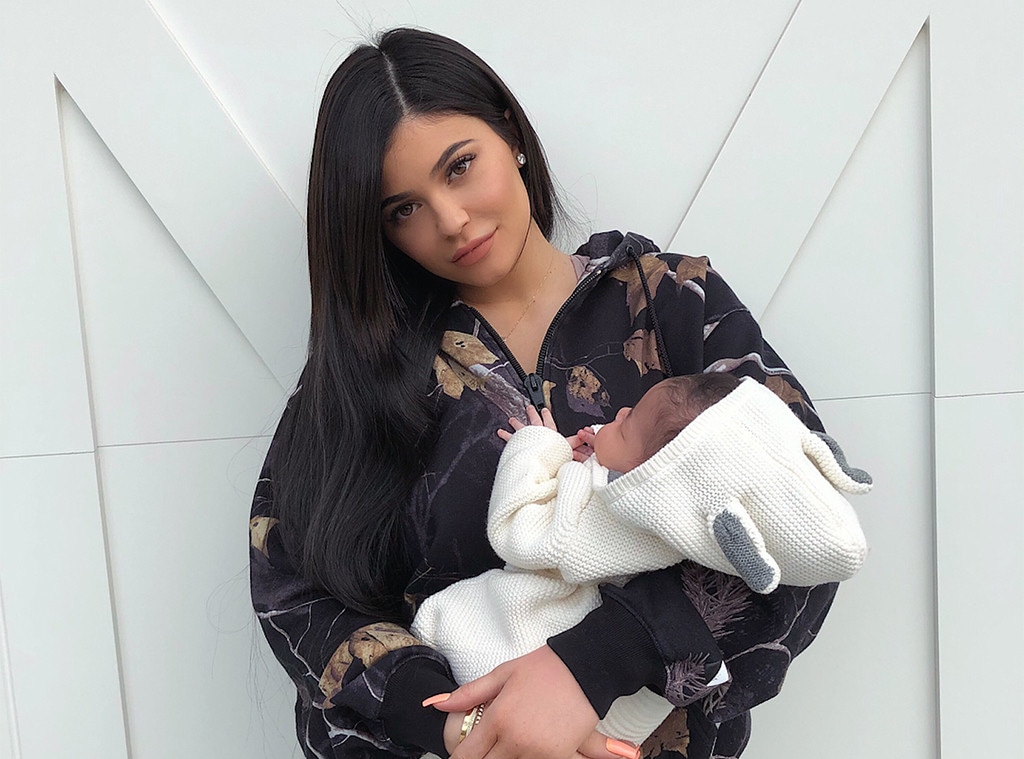 Instagram
Most 20-year-olds wouldn't be able to handle the challenge of raising a baby as the world looks on. But then most 20-year-olds haven't managed to build a multi-million dollar beauty brand before they're legally able to drink. 
So it's fair to say that Kylie Jenner is a bit special. 
By all accounts, the Kylie Cosmetics founder is handling this motherhood thing like a pro. Older sister Kim Kardashian has called it a gig she was born to do while momager Kris Jenner has praised her "great instincts". But perhaps the highest compliment came from family friend La La Anthony. When asked by People what guidance she'd give, the mom to 11-year-old Kiyan replied that she had parenting "down pat," adding, "She should be giving me mommy advice!"
Forced to guess, we'd say her tips would boil down to this: Do what works for you. Because that's how the lip kit maven has been playing it since she and boyfriend Travis Scott first discovered they were expecting last year. 
That's when she made the decision to go dark, and not breathe a word about her pregnancy to her combined 135 million social media followers. An extremely uncharacteristic decision for someone so adept at Instagram selfies and Snapchat stories, it was done to save herself the stress of preparing for parenthood in the unforgiving glare of the spotlight. "tktktktk," she explained to her Instagram followers. "Kylie did it her way, which I thought was really beautiful," Kris told E! News. "And she just really wanted to take the time for her baby and herself." 
Since Stormi's Feb. 1 arrival, Kylie has returned to her regularly scheduled social media programming—and her jam-packed, sometimes peripatetic lifestyle, jetting from Houston to Turks and Caicos to the South of France. After a prolonged period spent more or less in hiding, says a source, she's enjoying "being back out in the real world. It's been very freeing and fun." The same could be said of motherhood. While most new parents would agree those early months are challenging, Kylie has a different viewpoint. Speaking to Kim for a recent profile in ES Magazine, she insisted, "It's actually been the opposite for me. I feel like it's just been so amazing, and so much fun. I'm learning so much more about myself and life, and it's been such a great experience."
In some ways, Kylie appears much like any other working parenting. She struggles to balance her demanding career and family while fending off the inevitable mommy guilt. 
When work obligations force her to leave Stormi in the care of one of her two nannies, "I'm like, 'I'll be right back, I'm so sorry, I have to leave!'" she explained in ES Magazine, "and she doesn't even know what's going on."
But then the cosmetics mogul heads to the California dessert to hang at Coachella for the weekend or hops a private jet to the Caribbean to fete Scott's 27th birthday (Stormi in tow!) and you realize she's not like any other mom, she's a cool mom—hot pink wig, Mother's Day MILF balloons and all. 
And while it's easy to label such outings as frivolous fun, the kind some haters think moms aren't permitted to have once they bring life into the world, for Kylie showing her face at celebrity- and photographer-filled events is literally her job. (At Coachella, for instance, she was celebrating the launch of KOURT X KYLIE, her collaboration with sister Kourtney Kardashian.)
Considering she has the means to fly Stormi, her nannies and her $1,600 Supreme wheeled suitcase in the comfort of a private jet wherever she goes, the reality star sees no reason not to make it a family affair when, say, Dad gets booked to perform at Spotify's beach party at the Cannes Lions Festival in France. 
Besides, as she's said, she simply hates to be away from her newborn. "I think about her all the time, anywhere I am," she said in ES Magazine. "I would rather be with her or wish she can come everywhere."
Swan Gallet/WWD/REX/Shutterstock
So while eager Instagram watchers will no longer be spying photos of Stormi unless she's safely ensconced in her $12,500 Fendi stroller or facing away from camera in a Gucci carrier thanks to Kylie's new privacy policy, it's safe to assume she's usually along for the ride. 
The only exception to the rule: When Kylie and the Grammy-nominated rapper (born: Jacques Webster) fit in the occasional baby-free date night. An insider tells E! News Kylie feels it's crucial for she and the musician, first spotted hanging at 2017's Coachella Music Festival, to focus on their relationship outside of Stormi. "They are making time to get out just the two of them and Kylie appreciates and enjoys that," notes the insider, adding the reality star feels she "has the best of both worlds with her amazing baby at home and a little bit of time with Travis doing the things they love to do."
That strategy has proven sound with one source revealing the pair of just 14 months are "are currently in the best place they have ever been in their relationship." In the months since Stormi's arrival, continues the source, their romance has come full circle "and they now have an unbreakable bond. Travis has been fully accepted into the family and everyone is in love with their little family they created."
As for the duo themselves, they're downright obsessed. While they enjoy sitting courtside at NBA playoff games, as they did rooting for his hometown Houston Rockets in April and May, or making their red carpet debut in coordinated Alexander Wang at, of all places, the Met Gala, if it's all the same, they'd prefer to be at home cooing over their little girl's ability to smile or roll over. 
John Shearer/Getty Images for The Hollywood Reporter
"Stormi will do something new and Kylie knows that only Travis can really understand what it feels like to see your baby smile for the first time," a source tells E! News. "It's a special feeling for Kylie that she has never had before. They are so happy with their little family and for all the new love it has brought out between them."
So it makes sense that Kylie doesn't want to miss a single milestone. "She's so dedicated to her baby," Kris told People. "We were at the Met Ball and all she could focus on when we were done was getting home. She's like, 'Come on we've got to go see Stormi!' It was really sweet to see her anxious to get home to Stormi."
Because as much as she projects that "cool mom" vibe on the Internet, preferring her $1.4 million Ferrari LaFerrari to the more standard issue mini van and coordinated Fendi to Baby Gap onesies, when it comes to caring for Stormi, she's ultra traditional. 
Even with two nannies on her payroll, Kylie handles most of the dirty work herself. She says she actually enjoys diaper duty because it's "really satisfying to make her clean again." Plus it affords her the opportunity for a wardrobe change. "She is obsessed with taking videos and pictures of her, and loves to dress her up in several outfits each day," reveals an insider, adding, "the majority of her time is with the baby. She is a very hands-on mom."
So involved, in fact, that she has a hard time letting others get in cuddle time. Says the insider, "She's very protective." 
So while Internet haters will be parsing every bit of her life as a mom, from her nails to her stroller choice to the number of times she dare step out of her eight-bedroom manse, she will be focusing on raising Stormi the best way she possibly can. 
And it's hard to argue that hasn't worked out just fine so far. Kris recently bragged that her youngest child managed to organize a spectacular Easter brunch for their outsized family complete with farm animals, a giant inflatable slide and a 10-foot bunny made of flowers while caring for a newborn and launching two new collaborations for her ultra successful beauty brand. Even with the help of nannies and an assistant, it's an impressive feat—much more so when you consider she's the age of your average college sophomores.   
"Kylie is like a new person now; every move and every decision she makes, she takes Stormi into consideration," one insider tells E! News. "She is obsessed with her baby and the focus is all on Stormi."
Her relationship with Scott on solid footing (no, they aren't engaged yet and, no, it honestly couldn't matter less to Kylie), the pair have already started envisioning what their future will look like as a family of three. 
Kylie, says another source, is "excited about all of the fun things they will do when Stormi gets a little bit older. They can't wait to take her to the park or the beach and are already making plans for all of the things they want to do."
On Kylie's list: literally everything. As she told ES Magazine, "I can't wait till she can come everywhere with me, because right when she's old enough I'll bring her everywhere."
We'll be expecting her red carpet debut any day now.