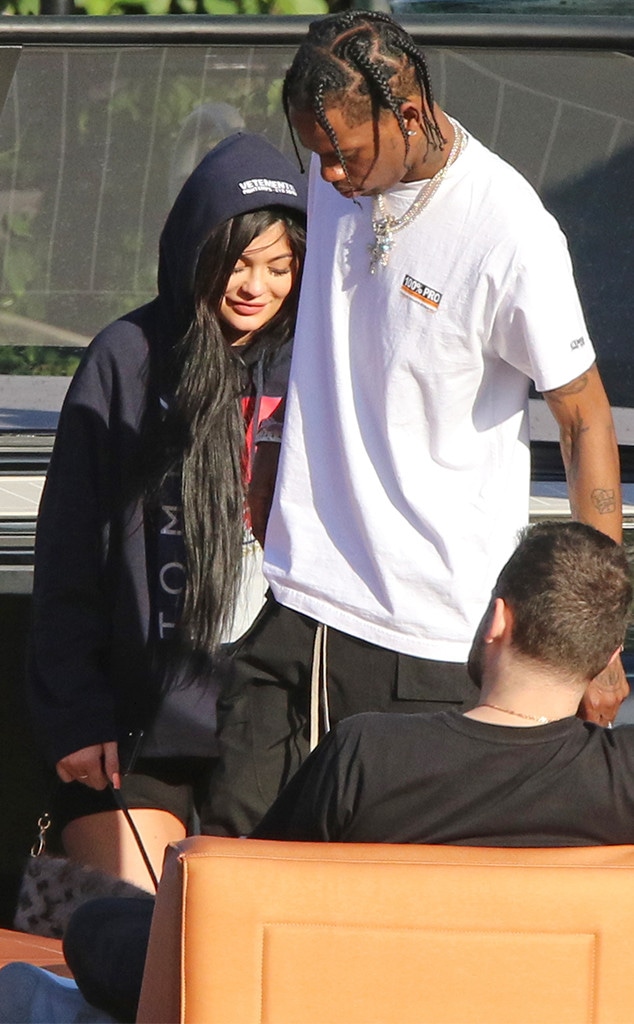 Splash News
The stress of having a baby can put a serious strain on many new parents' relationship, but not Kylie Jenner and Travis Scott—who are better than ever following the birth of their daughter Stormi Webster last month, a source tells E! News.
An insider says, "Kylie and Travis are doing very well. Having Stormi has strengthened their relationship and elevated it to a new level."
The source added that their "shared experience" of enjoying "day-to-day" things with Stormi is bringing them closer together.
"Stormi will do something new, like she just started smiling, and Kylie knows only Travis can really understand what it feels like to see your baby smile for the first time," said the insider.
"It's a special feeling for Kylie that she has never had before," added the source. "They are so happy with their little family and for all of the new love it has brought out between them."
Earlier today, the doting mom took to social media to post both a video and photo of her newborn daughter, who was born on Feb. 1.
The 20-year-old posted photos of the little bundle of love and wrote "those cheeks" and "angel."
The couple, who just went on a vacation together in Miami sans their newborn, were also spotted enjoying a day date with friends in Malibu a week ago.
"They also are making time to get out just the two of them and Kylie appreciates and enjoys that," said the insider.
The source said that Kylie feels like it's important for the two of them to make time for each other and that she "has the best of both worlds with her amazing baby at home and a little bit of time with Travis doing the things they love to do."
Prior to giving birth, Kylie had been out of the limelight and off social media for months, but now that the secret is out, she is really enjoying "being back out in the real world and not hiding anymore."
"It's been very freeing and fun for her. She couldn't wait to go back to some of her favorite places and just feel normal again," said the source.
As for how the rapper's been handling being a dad?
The insider says that the first-time father "has really stepped up and is a hands-on dad."
Kylie is "very happy" about that and "not surprised" about how Travis is handling dad duty. "Watching him with the baby is the best feeling in the world for her," said the source.
As for what's to come? Kylie is "excited about all of the fun things they will do when Stormi gets a little bit older."
The source also added, "They can't wait to take her to the park or the beach and are already making plans for all of the things they want to do."