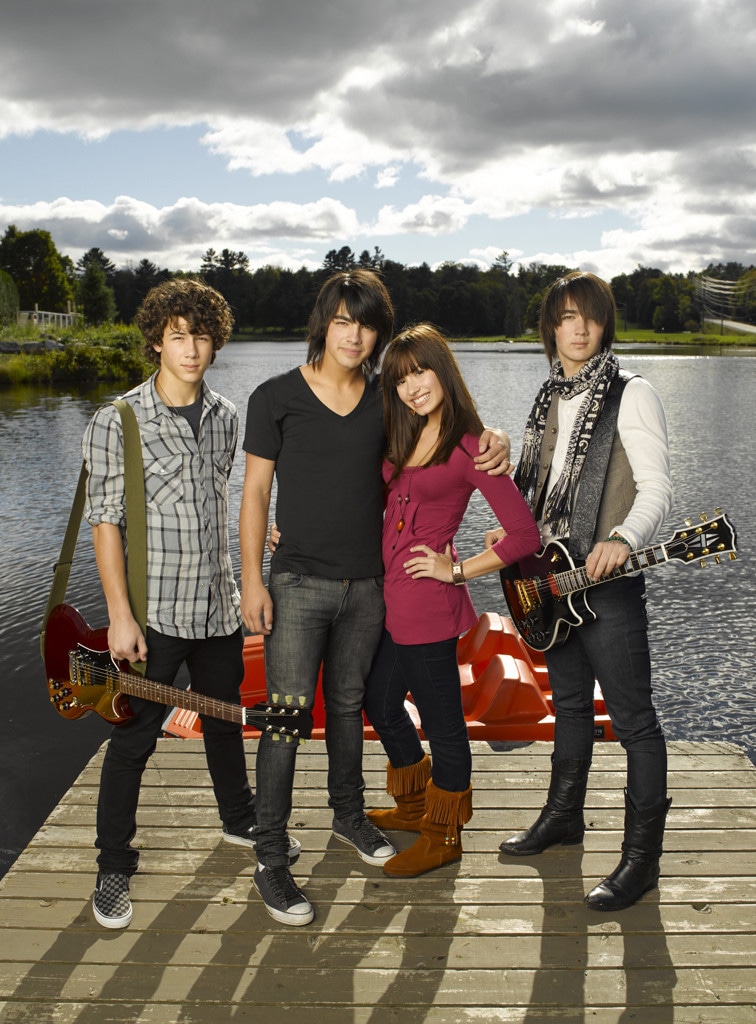 Disney Channel
Happy Birthday, Camp Rock!
The iconic Disney Channel Original Movie is officially 10 years old.
On June 20, 2008, the hit musical movie aired on Disney Channel and brought us the amazing collaboration of the Jonas Brothers and Demi Lovato and for that we are forever grateful.
10 years later fans might still be rooting for a Camp Rock 3, which if Kevin Jonas gets his way will be R-rated, but we're still obsessing over the original.
Over the years Disney Channel Original Movies or DCOMs as the cool kids call them have ruled Disney Channel and made a massive impression on kids of every generation.
Whether you watch at Halloween time to see all of the Halloweentown films, or are more of a sports fan and continually watch Brink! or Double Teamed, there really is a DCOM for everyone.
In honor of the 10th anniversary of one of the network's most memorable musicals, we've decided to focus just on musical films. No, this doesn't include the movies that just happen to have a song or two in them...sorry.
We're talking about full-on musicals, or films that have a lot of singing, so get ready to belt out your favorite DCOM tunes and of course cast your vote for the best DCOM musical below!
OK, so you're probably wondering how many DCOM musicals there actually are, right? Well, there are 14 of them, all of which are pretty awesome. The good news is that there are a few films from every era of so you'll recognize at least two or three...trust us.
For starters there are the two Camp Rock films. The original came out in 2008 and centered around a music camp for gifted teens, the most talented being Mitchie (Lovato) who is actually a camp worker not a camper.
The sequel, Camp Rock 2: The Final Jam, brought everyone back to camp, but instead of the summer of love and music Mitchie planned for she finds herself too busy running the camp and keeping it afloat to really enjoy herself.
When talking musical franchises, Camp Rock isn't the only DCOM series to make the list. Of course we have all of the High School Musical films to talk about too! 
High School Musical starred Zac Efron, Vanessa Hudgens, Ashley Tisdale, Corbin Bleu and so many other amazing performers. It was about high school, duh, and Troy Bolton's (Efron) struggle with playing basketball or pursing his music passions.
High School Musical 2 was all about your favorite Wildcats getting summer jobs at a country club and getting into shenanigans along the way.
Last, but certainly not least, was High School Musical 3: Senior Year. This film was about the Wildcats final year of high school and revolved around their spring musical, which left us wanting to know what college life or at least life after high school would entail for these talented students.
The most recent musical franchise from the Disney Channel is Descendants. The original film, which starred Dove Cameron, Sofia Carson, and more bright stars as the children of Disney villains came out in 2015.
In the movie, Ben (Mitchell Hope), the son of Belle and the Beast isn't ready to take the throne so he invites villain kids from the Isle of the Lost to attend Auradon Prep and after that all heck breaks loose.
Descendants 2 came out in 2017 and shows the life of Mal (Cameron), daughter of Maleficent, as she tries to be perfect enough to date Ben. When she can't handle the pressure she goes back to the Isle of Lost and must face Uma (China Anne McClain), daughter of Ursula, who has taken over in her absence. 
If villain children aren't your jam then perhaps you more into the two Teen Beach Movie films.
The first one aired in 2013 and starred Ross Lynch and Maia Mitchell as surfers who fall in love. As their relationship seems to be coming to an end they get swept up into a wave and transported into a beach movie musical in the '60s! 
The sequel to this musical was equally as awesome. This time the couple gets paid a visit from surfers and bikers from the movie Wet Side Story and therefore their normal lives get a little complicated.
If you grew up in the late '90s then you're probably a fan of The Cheetah Girls movies! These films were all so cheetah-licious!
The Cheetah Girls debuted in 2003 and starred Raven-Symoné (as Galleria), Kiely Williams (as Aqua), Adrienne Bailon (as Chanel) and Sabrina Bryan (as Dorinda). Together these four teens would take over the musical world...or at least try.
In the second film, the Cheetah Girls traveled to Spain to be a part of a musical festival and it was epic. The third film, The Cheetah Girls One World, did not star Symoné, but it was still great. They remaining three members to India to be in a Bollywood film, what could be better? 
The final two musicals that Disney Channel has blessed us with thus far are Lemonade Mouth and Let It Shine.
Lemonade Mouth came out in 2011 and starred Hayley Kiyoko and Bridgit Mendler along with three other actors as high school students who created a band after meeting in detention. Their band name was inspired by the lemonade vending machine outside detention, because why not?
Let It Shine on the other hand stars Tyler James Williams as Cyrus, a rapper who uses his singing skills to beat out his nemesis and win over his dream girl.
Now that we've taken you down DCOM musical road it's time to cast your vote.
Let us know which of the Disney Channel Original Movie musical film is actually your favorite and maybe start re-watching all of these classic musicals ASAP. You know you want to!