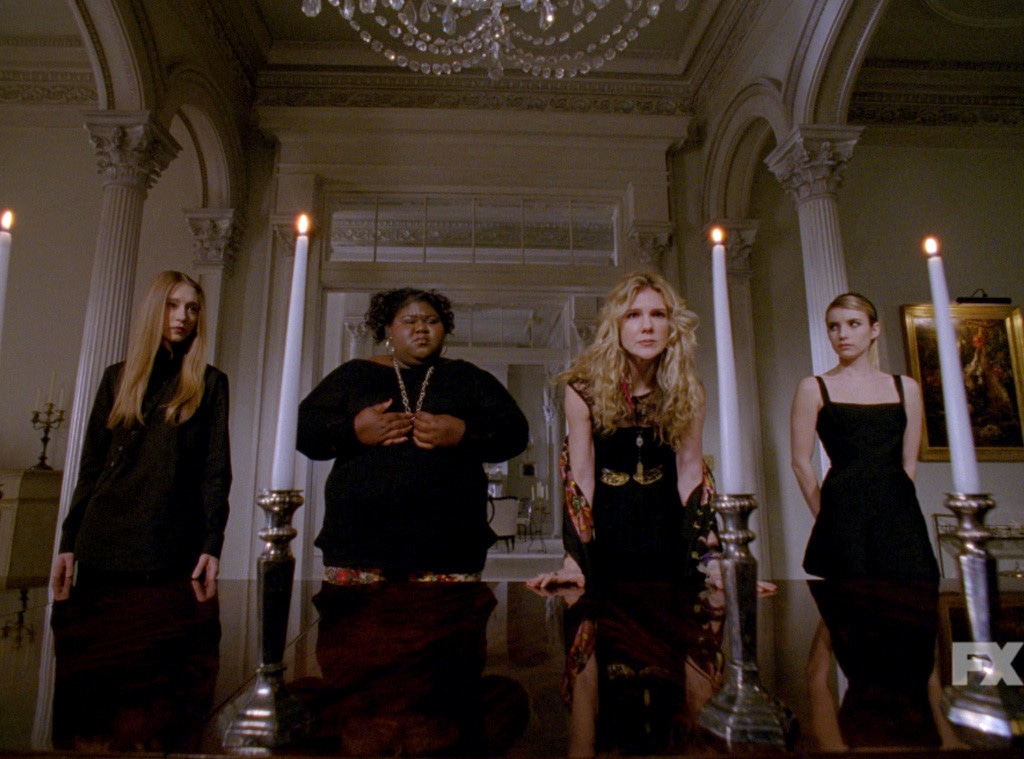 FX
Surprise, bitches! The American Horror Story crossover you've been waiting for is coming this fall.
Ryan Murphy surprised fans last week when he revealed that a crossover season of Murder House (the franchise's first installment) and Coven (the third), something he'd teased as far back as 2016 with no concrete details in terms of a timeline, would, in fact, be this fall's eighth installment. "The Coven/Murder House AHS crossover season won't be happening next year...because it's happening THIS YEAR," Murphy shared on Twitter. "AHS #8 WITCHES RULE THIS SEPTEMBER."
Details have remained scarce, but over the weekend, Murphy and his former leading lady Emma Roberts (who earned a legion of fans as Coven's endlessly quotable Madison Montgomery) confirmed the actress would be back in action for season eight. Roberts shared a video on Instagram of herself in what appeared to be Madison's costume, delivering her iconic line, "Surprise, bitch. Bet you thought you'd seen the last of me."
During his Twitter Q&A for new FX series Pose, Murphy (in a since-deleted tweet) shared that "All the witches are being asked back," with Sarah Paulson chiming in to confirm that her Coven character Cordelia Foxx had gone back to her maiden name of Goode, all but confirming that Paulson's involvement in the season will be a reprisal of her Coven character.
But what about the eight other actors in the AHS repertory company who appeared in both Murder House and Coven? Which character should they reprise, should they get invited back? We're breaking it all down below! (And from the sound of things, this crossover is leaning more Coven and less Murder House. We ain't mad at it.)
Which characters from Murder House and Coven do you most want to see return to AHS this fall? Let us know on Twitter at @eonlineTV!
American Horror Story returns for its eighth installment this fall on FX.