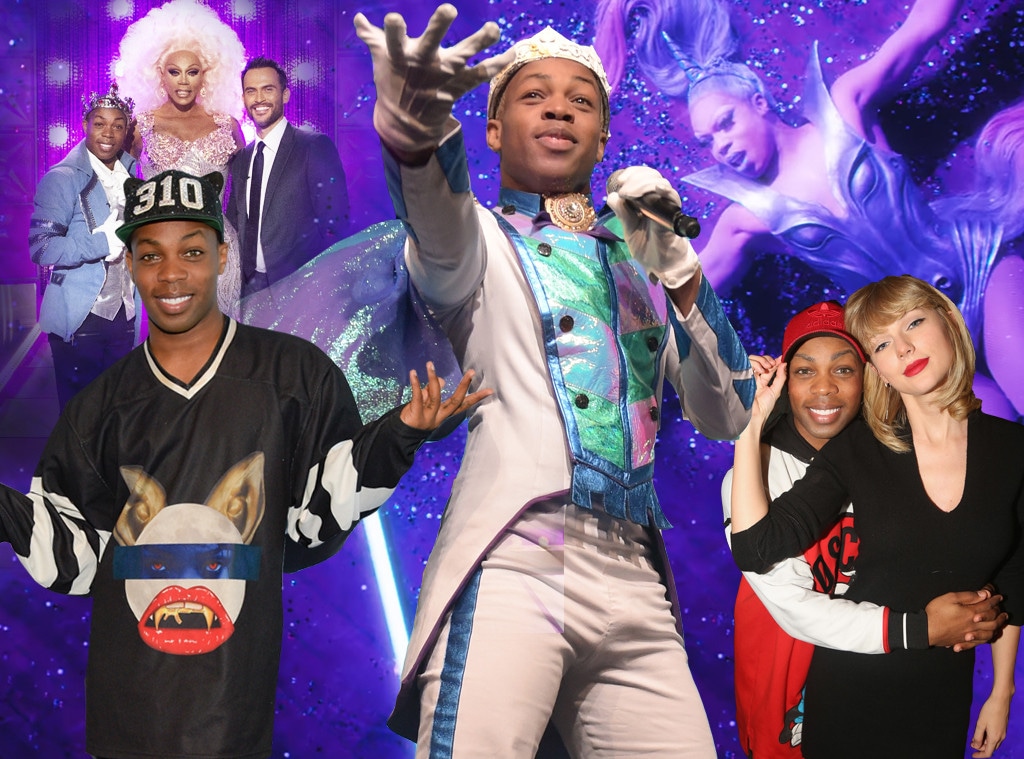 Melissa Herwitt / E! Illustration
Todrick Hall doesn't get a lot of sleep.
When I hopped on the phone with the multi-hyphenate artist for a wide-ranging chat about his work on RuPaul's Drag Race (for which, if he doesn't earn an Emmy nod for Outstanding Choreography for the one-take "Kitty Girl" performance in All Stars 3, there is no justice—but more on that in a bit) as well as his own independent music career, he was in New Zealand, 19 hours ahead, kicking off an early morning of press that would eventually lead into him taking the stage for a stop on Forbidden: The Tour, supporting his latest visual album.
Hall's hustle is real, as it must be for anyone to be able to parlay a minor run in the ninth season of American Idol into an unstoppable YouTube presence into international tours—all without the backing and support of a label.
"I always make a vow to myself that I'm gonna sleep, but I just think that I'm a specific type of person. There are not a lot of gay, black, queer people making content. I feel like there's always a project that I have to say yes to or always an event that I have to go to, because if I don't go, then maybe no one is there representing my race or my sexual orientation," Hall explained. "In some cases, I'm the only gay man invited and in some cases, I'm the only black, gay man or I'm the only black person, and in most cases, I'm the only gay, black man invited to the event."
His undeniable drive and his unstoppable content creation is fueled by that urgent need for representation on behalf of his communities, he continued. "When I grew up, I didn't have anybody that I thought looked like me, or was even close to something that I could potentially be one day. I didn't identify with Usher or Ne-Yo or P. Diddy or Jay-Z or any of the people that I would see, that were supposed to represent me on television," Hall said. "And so, for me I'm just always like, I'll sleep when I'm dead. I'm gonna wake up every single day, and do everything I can to make a mark on the entertainment industry and open doors for people and make it easier for people like me that are trying to find their place in Hollywood and can't find it. It's just important for me to do this."
Hall's road to self-made fame is a wholly unique one, but also entirely emblematic of what's possible for driven artists in this post-YouTube era. Before he entered the national stage as a competitor on season nine of American Idol, making it to the Top 16 before being eliminated, Hall had been creating videos for the video platform and it's very likely that many in the loyal fan base he's amassed there have no memory of his time on Idol. His expertly-executed Disney parodies and "4" series (tribute videos to pop divas that mash-up their discographies in unbelievable ways) caught the attention of the press and, usually, the artists he was paying tribute to. (He's become a central part of Taylor Swift's squad, even appearing in her "Look What You Made Me Do" video.) An MTV series that gave fans a peek behind the curtain of his fantasy factory, revealing how he took his original songs and turned them into awe-inspiring music videos, came in 2015. And the following year, RuPaul's Drag Race came a-calling.
Hall first appeared on the reality series in 2016 as a guest judge during the show's eight season, which led to a permanent spot at the judges table for All Stars 2. By season nine, he'd become the show's go-to choreographer for the final challenge, a show-stopping performance by the season's Top 4 to a remixed version of RuPaul's latest single featuring new verses written and performed by the queens themselves. And it's no coincidence that when Hall began working on those performances, the show began finding it impossible to eliminate anyone ahead of the grand finale.
"If you've noticed, in the past few seasons, no one has gotten eliminated on the last episode, because since I've been doing this, I try to make...the numbers so tight that the judges have no choice but to let them, all four, go to the finale and that's my goal. Every year is just to make them all perform so well, that no one can find a weak moment, you know?" he explained. "And I'm really, really proud of that...They haven't eliminated anybody on the final episode and they totally would if someone failed, but everybody always rises to the occasion. I make them work really, really, really hard."
It worked wonders in season eight, prompting the series to change format and deliver, for the first time ever, a finale event that feature sudden death lip-syncs between Peppermint, Trinity Taylor, Shea Coulee, and eventual winner Sasha Velour. And the following year, for All Stars 3, Hall outdid himself by shepherding finalists Trixie Mattell, Shangela, Kennedy Davenport and BeBe Zahara Benet through the aforementioned one-take performance, a single continuous shot that utilized every area of the show's sound stage, as the quartet made their way to the main stage for the grand conclusion. The number was both a technical and creative marvel, and something that likely wouldn't have been possible without Hall's unique vision and talents. 
"It's so crazy that it was the most challenging thing that they had ever asked me to do, but they were very lenient with me, because I think they were just like, 'We don't know how to make this happen, so let's just give him the floor,'" Hall explained. "I just got to play. They were like, 'You can have the entire behind-the-scenes area.' And to me, I was like, this was just such a great opportunity to play with so many parts of the set that people don't normally get to see." 
While one might expect, for a performance as technical and important as this one, Hall would arrive with the choreography already dialed in, but, amazingly, that's not the case. " I never have the choreography predetermined. When I get there, I make it up on the spot based on things that I can tell they can do. So it's almost like I'm a dance doctor diagnosing them," he revealed. "And I think it's really fun to watch it come to life and I always, because it is a competition, try to put something in each one of their numbers that is challenging for them, so that they have something that they have to go home and work on, because I know that the only way they can accomplish it, is to go drill it in their head."
"I take joy in trying to figure out the perfect scenario where it will be challenging, but where if they work hard enough, they can succeed," he continued. "And the four of those girls, just really rose to the occasion and I think they all did such a great job."
Hall and his team worked with the queens for "12 or 14 hours in one day," he admitted, with him quickly teaching a queen their portion of the performance before one of his assistants step in to refine it so he can move onto the next queen. And then came time to incorporate the season's eliminated queens, the shows permanent judges Michelle Visage, Carson Kressley, and Ross Matthews, as well as the crew. 
"I just wanted to make sure that everybody was able to be involved and this is the only experience I've ever had in television...that felt like I was hanging out with my friends and we were just at RuPaul's house for a barbecue and decided to put on something to film for YouTube," Hall noted. "And I think that's why it felt the way it did, because everybody but RuPaul was involved in it, and it was just really cool to watch the crew members watch each other."
Even cooler? Watching RuPaul take it all in for the first time. "RuPaul's response was probably my favorite moment in my entire performing career," Hall admitted. "He was just so blown away by it and the fact that everybody came together, and that it was impossible to do it in the short amount of time we had. It was just really cool. It made me feel really great, because RuPaul is such an idol to me."
As Hall's connection to the show has continued (he returns to choreograph and guest judge in the current 10th season's final challenge, airing on June 14), he's somehow found the time to self-release two full-length visual albums—2016's Straight Outta Oz and 2018's Forbidden—with music videos that put some major label talent's output to shame. It's not easy, Hall readily admits. "It's very, very intense," he said, but he refuses to let it be an excuse for subpar content. "My goal is to catfish the world into thinking there must be a label. 'There must be some imaginary man behind the curtain, because there's no way he is writing songs, producing project, choreographing them, and putting himself on tour and selling out shows and theaters, by himself.' That's my goal is to make people feel that way. I work really, really, really hard to make the videos look as professional as I can possibly make them look with my limited resources."
Hall credits Drag Race with helping expose him to "a lot of people who would have maybe not necessarily watched my videos on YouTube. Or thought twice about the videos. Or felt like they were a little too childish for their demographic," he said. "I am really glad that I feel now, especially with the last two albums, I'm being more supported by the gay community and I see a lot more adult men coming, or gay couples coming to see the show...And I'm grateful that it allows me to show my work as a choreographer to people that are in my own community. That is really, really awesome."
While any single one of Hall's many accomplishments over the past few years may have been enough for a lesser artist, true to his hustler mentality, he's already looking to the future. 
"If anything ever happens, no one would ever be able to say, "Well he didn't try his hardest, he didn't fight as hard as he possibly could to show the world and his fans, what it is that he can do,'" he said. "That's what's I plan to continue to do. I'm not slowing down now. I'm already excited about my next project."
Sleep can wait.
RuPaul's Drag Race airs Thursdays at 8 p.m. on VH1.