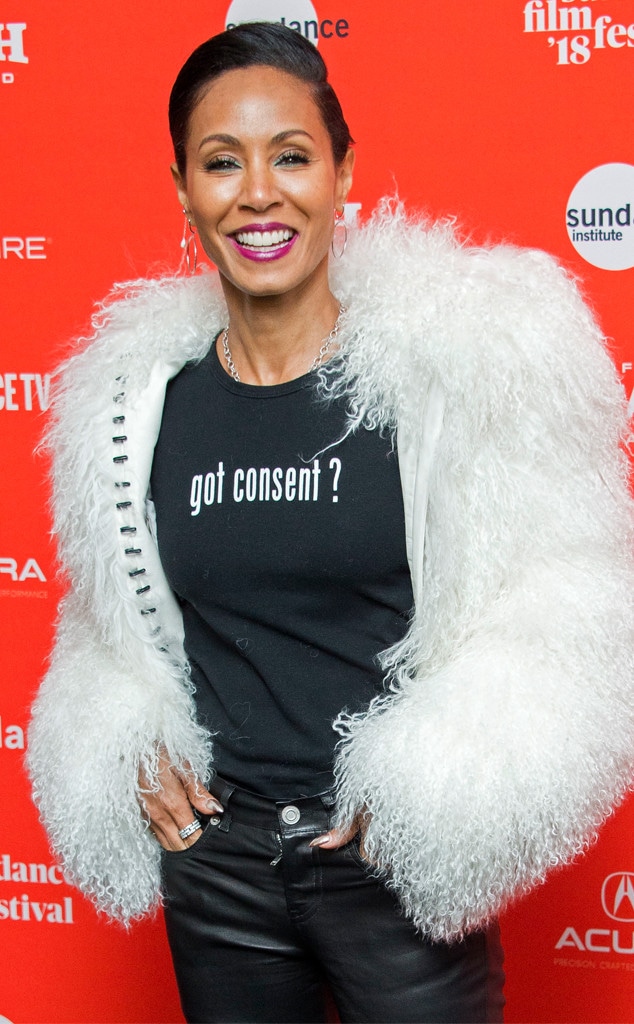 Arthur Mola/Invision/AP
If you haven't had the sex talk, Jada Pinkett Smith is here to help.
The actress spoke candidly about the topic with her mother, Adrienne Banfield Norris; her daughter, Willow Smith, and her daughter's friend, Telana Lynum, for an episode of her Facebook series "Red Table Talk."
While her mother seemed hesitant to talk about sex, especially with her granddaughter, Jada made it clear she didn't want her daughter to "have shame of any kind."
"I wouldn't say I'm a connoisseur, but I'm 47," she said, "So, enough said."
However, Willow appeared comfortable discussing the topic. In fact, she said her introduction to sex was walking in on Jada and husband Will Smith having an intimate moment.
"I was going downstairs to get some juice, and I saw for a little moment and I ran away," Willow recalled. "I was like 'Oh my God! This is so crazy. What did I just see?'" 
The 17-year-old singer knew she had "overstepped a boundary" and that she "wasn't supposed to be there." 
"It would be like if I walked in on you meditating," she explained. "When mommy's meditating, don't get in her business."
When asked if she'd spoken to her father about sex, Willow said the Men in Black star always talks about it like "an intellectual debate" 
"It's very serious, but it's not emotional," she said. "I feel like the stuff of life is meant to be lived, not analyzed."
Jada said she's spoken to Willow's brothers, Jaden Smith and Trey Smith, about sex, too. She even claimed she knew when they each lost their virginity. 
"I knew the night, the night, Jaden lost his virginity," she said, "and I had a moment with Trey in the kitchen, where I looked at him and I was like, 'You've had sex' and he ran into the bathroom….He's like 'Fine. Yes! I've had sex.'…He was embarrassed."
As for her own introduction to sex, Jada said her "first sexual experience was amazing." However, she said she approached sex differently than her mother, who didn't describe her first experience quite as fondly. 
"My grandmother taught me about self-pleasuring because she wanted me to know that that pleasure was from me," Jada said. "She didn't want me to fall into the hands of a man and, if he gave me pleasure, to think that that was him. And she taught me at 9—at 9!"
In addition to discussing their first sexual encounters, the women talked about orgasms.
"I think by your age I gave myself multiples first, multiple orgasms. I did," Jada said to Willow's 21-year-old bestie. "I was really into it at one point. Just because I was in an exploration state and I was abstaining from men. And I actually think I went through kind of an addiction, too with it….And then one day I was like, 'Enough. You're having five orgasms a day.'"
The women also weighed in on the subject of monogamy. 
"That feeling of 'you're my one and my only, there's no else,' for me, that would not work," Jada's daughter said. 
Near the end of the conversation, Adrienne complimented her daughter for being "free" with her sexuality. 
"I'm so happy for you. In regard to your sexuality because you've always been pretty free, I think. I just didn't have that," Adrienne said.
Watch the video to see the full discussion.