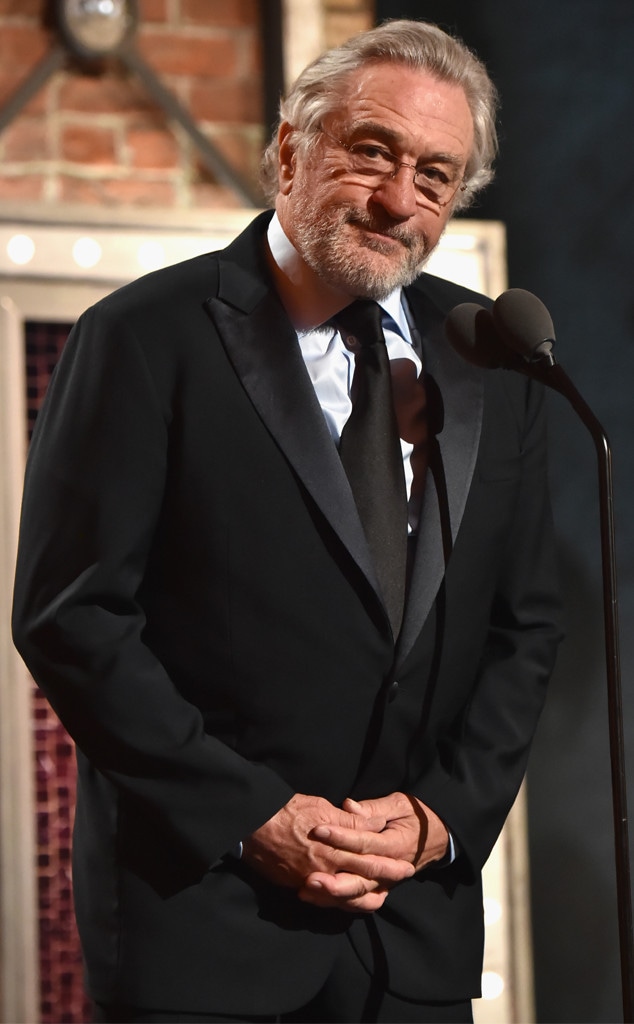 Kevin Mazur/Getty Images for Tony Awards Productions
Robert De Niro had no f--ks to give at the 2018 Tony Awards, apparently.
The veteran actor appeared onstage at Radio City Music Hall in New York City Sunday to introduce a musical performance by Bruce Springsteen. Before doing that, De Niro decided to open with a message for President Donald Trump, who will soon meet with Kim Jon Un. "I'm going to say this: f--k Trump," he said. "It's no longer just 'Down With Trump; it's, 'F--k Trump."
De Niro received a standing ovation from many audience members.
CBS, which broadcast the award show, censored his comments on television.
De Niro then circled back to Springsteen, saying, "Bruce, you can rock the house like nobody else. Even more important in these perilous times, you rock the vote, always fighting for—in your own words—truth, transparency and integrity in government. Boy, do we need that now."
Trump has yet to comment on De Niro's latest attack.
The 74-year-old Academy Award winner has never hidden his disdain for the commander-in-chief. Just three days ago, at the ceremony for the Jimmy and Rosemary Breslin "American Writer Award," he told a group of high school students that Trump is a purveyor of "bulls--t." De Niro, who banned Trump from all of his Nobu restaurants after the election, trashed him at the National Board of Review awards gala in January, referring to him as the "Jerk Off in Chief."
De Niro, who was honoring Meryl Streep, added it was "fascinating" to watch The Post, since "there are many parallels" between then and now. "At the time of the story, Donald Trump was suffering from 'bone spurs.' Today, the world is suffering from the real Donald Trump. This f--king idiot is the president. It's The Emperor's New Clothes," he said. "The guy is a f--king fool."