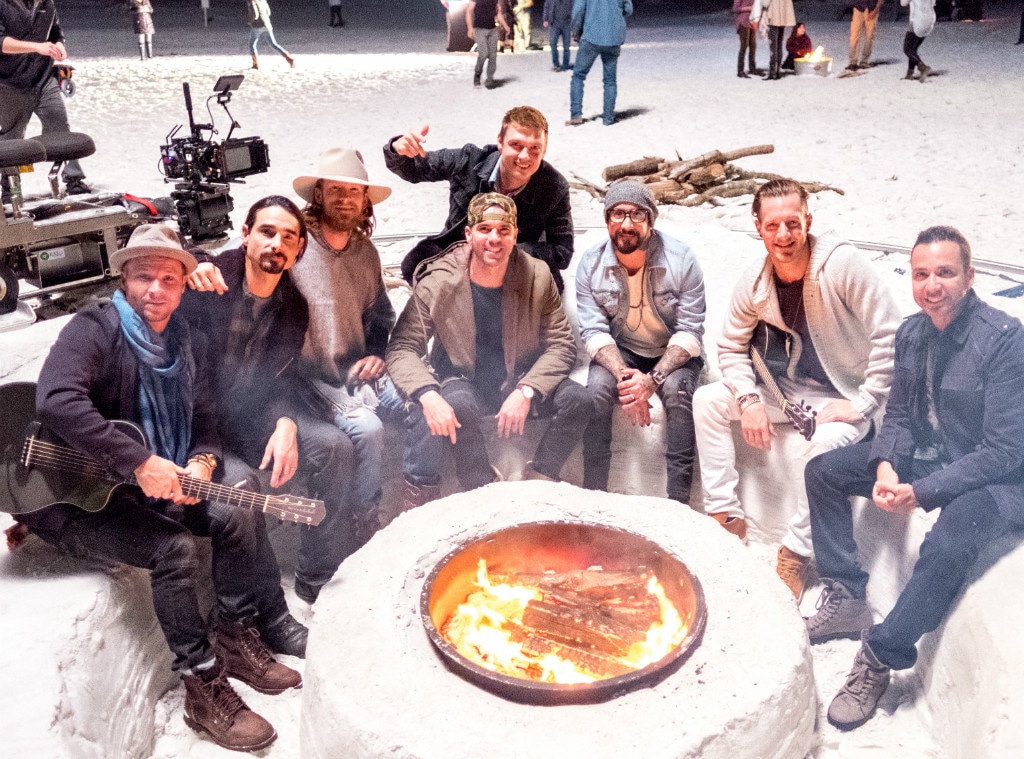 Justin Mrusek
Florida Georgia Line is heading to Vegas. We repeat, the bro-country duo is heading to Sin City!
On Monday, E! News exclusively revealed that the musical country duo of Tyler Hubbard and Brian Kelley will be getting their very own Las Vegas Residency this year. The artists will be headlining their own residency in Zappos Theater at Planet Hollywood Resort & Casino for five nights in December—Dec. 1, 5, 7, 8 and 11—and for fans of the "Stay" singers it's a really big deal.
In honor of the duo's upcoming Las Vegas shows we've rounded up their 10 best music videos to celebrate. Since you can't get fully excited about a country duo performing in the desert without rocking out to a few country songs why not sing along to their best videos and tunes at work today? We don't know about you, but that sounds like our ideal Monday.
Over the years Hubbard and Kelley have given life to the genre bro-country (it's a thing we promise) and proven that rock and country can go hand-in-hand with ease. They've turned out hit after hit including, "H.O.L.Y." and their recent collaboration with Bebe Rexha on "Meant to Be." With all their great tracks and handsome looks fans can't get enough of these two and we totally get it.
The only question we have for all you FGL lovers now is, which of the group's music videos is really their best? They have quite a few videos to their name and have featured some pretty great artists within them, so the answer isn't exactly easy.
You can vote for your favorite video from the country pair below and then get ready to go to Vegas, baby...well in December, but it's still exciting. Sin City is welcoming FGL and we're all singing "Viva Las Vegas" along with them!
"H.O.L.Y."
The award-winning song (it won an ACM Award, Billboard Music Award and a CMT Award) is one of the group's most iconic tunes and its video is equally as memorable. Unlike most of the duo's videos the "H.O.L.Y." video is a bit more serious and simple. You see both Hubbard and Kelley singing on the beach as scenes of two beautiful women walking through nature unfold. It's a really beautiful video and will make you love the duo even more than you already do.
"Sun Daze"
Seeing Hubbard and Kelley as office workers doesn't really fit their personalities, but that is the initial scene for the "Sun Daze" video and it's a great concept. After being told off by their boss for not working they daydream about having a pool party—featuring a pool bar and people in animal masks—and it is pretty much our Friday work anthem because of its perfect party vibe.
"This Is How We Roll" feat. Luke Bryan
"This is How We Roll" might not be the duo's most extravagant music video, but it features Luke Bryan, which really does make everything better. Throughout the video you see the country singers rocking out together inside a big rig truck and having one big truck party. Oh, and they randomly hangout at a motocross event where they are being jumped over. Sounds fun right?
"Cruise"
There are two videos for "Cruise," one with Nelly and one with just Florida Georgia Line and they are both great. The original however is a little bit better. It shows the singers at a run-down gas station rocking out together in between clips of summer shenanigans. There are cute girls, a game of strip poker, cowboy boots and country concerts. It's a wild summer bash and we'd expect nothing less from these two.
"God, Your Mama, and Me" feat. Backstreet Boys
If you're in need of a little pick-me-up and want to believe in love just watch this precious video. In addition to seeing the Backstreet Boys together with Florida Georgia Line around a bonfire singing you see how much each man loves the lady in his life. They surprise their wives and girlfriends with specialty cocktails, romantic getaways and more and we're officially jealous.
"Meant to Be" feat. Bebe Rexha
Technically this is Bebe Rexha's song and video, but since it is a collaboration with FGL we had to include it. The video shows Rexha working at an old-school diner as the country duo dines and enjoys the simple life. They all meet up at a dive bar and quickly take the stage together for one fun night out.
"Round Here"
"Round Here" is the essence of Florida Georgia Line. Not only is the song one of their catchiest tracks, but the video is all about who the two singers really are. Throughout the video you see side-by-side versions of Hubbard and Kelley in their own hometowns of Monroe, Georgia and Ormond, Florida living their similar yet different lives. It's a really cool way to see where they got their name and how they each live when at home.
"Smooth"
The 2017 music video is everything you could want from a Florida Georgia Line music video. There's good music, dancing, drinking, partying and Elvis! Oh, did we forget to mention this video is all about Vegas and living it up FGL style? It's fun, funky and will make you say "Viva Las Vegas" every time you watch it.
"Stay"
This 2013 video is one of FGL's most memorable for a lot of reasons. For starters the storyline is much darker than any of their other videos. It is about a love story going up in flames (literally and figuratively) and stars The Arrangement's Josh Henderson as the destructive (and very attractive) boyfriend. Plus, you really see the duo in their element performing outside of a trailer with a massive bonfire behind them. it's a mini concert as the flames of a broken relationship play out in the background.
"May We All" feat. Tim McGraw
This is clearly the best Florida Georgia Line video and it's partially because it features Tim McGraw. The video itself is about two race-car drivers played by Hubbard and Kelley who race each other in a small town and love having fun on the track against one another. Their boss is McGraw and week after week they race until there is a major crash on the track.  As flames build you see Kelley rush out of his car to save his rival and best friend Hubbard. It's heartbreaking and intense and we get chills every time we watch it.
Florida Georgia Line Music Video Poll