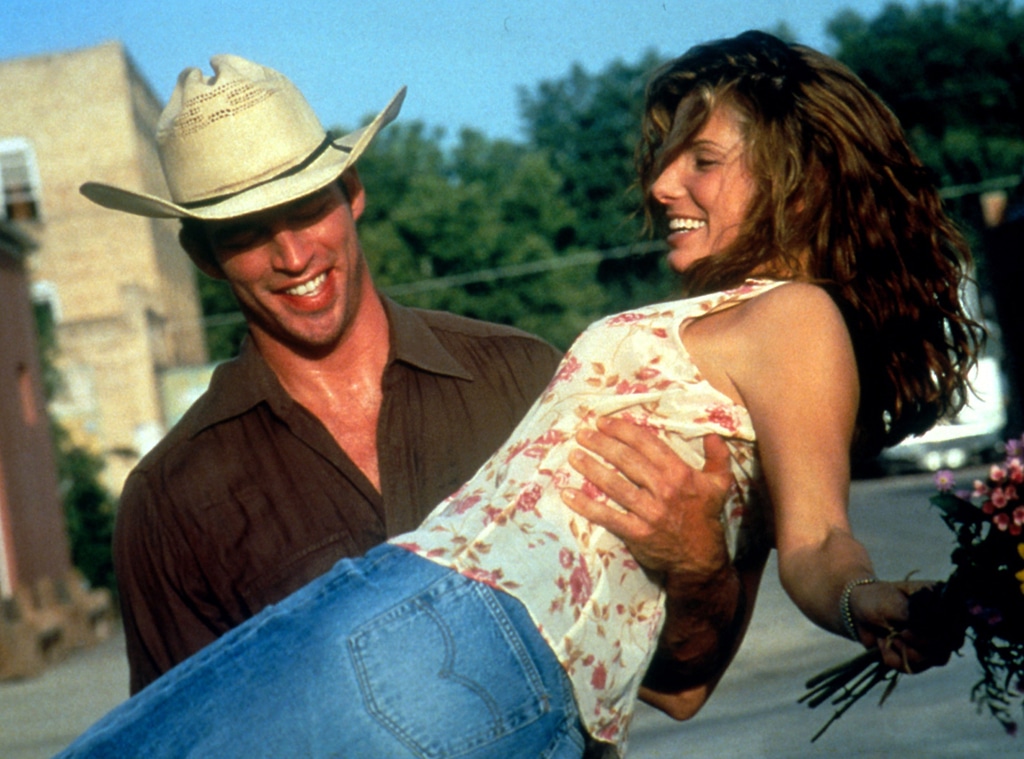 20th Century Fox
When it comes to memorable movie roles, Sandra Bullock's had quite a few.
She's been a bus-driving action hero (Speed), an undercover beauty queen (Miss Congeniality), a tough-talking football mom (The Blind Side) and a doctor stranded in space (Gravity). In the upcoming caper comedy Ocean's 8, she plays a career thief with an A-list crew of accomplices ready to pull off an epic heist at the Met Gala. 
But it was with the 1998 romance Hope Floats that Bullock first played a role she would return to many times throughout her career: Producer. In the film, which premiered 20 years ago today, Bullock also stars as Birdee Pruitt, a newly single mom who moves from Chicago back to her Texas hometown to live with her mother, Ramona (Gena Rowlands), after learning in a most embarrassing way that her husband has been cheating on her with her best friend. 
Enter Justin Matisse.
According to Bullock's Hope Floats producing partner Linda Obst, the future Oscar winner was involved "100 percent" in every aspect of making the movie—including casting Harry Connick Jr. to play Justin, Birdee's small-town high school classmate who eventually proves that home is where the heart is.
"She was excited about him from the idea through the first audition," Obst tells E! News exclusively. "He was Sandra's first choice, and because chemistry has a lot to do with that, her vote was crucial."
Obst says "the same is true with picking Forest Whitaker" to direct Hope Floats. "He had done Waiting to Exhale for the studio, so they were very open to him, but he was so brilliant with Sandy... Up to that time, she had really done comedy and action, so I think she gave the most nuanced performance of her career—up to that point—because of Forest."
As a producer, though, Bullock wasn't just involved in what affected her own day to day. As Obst puts it, "Sometimes when stars say they're producers, they just are interested in the things that string their fancy like the script or the wardrobe...but Sandy was an obsessed producer from the very beginning."
"She went on every location scout. She helped us find every location in the town [Smithville, Texas] we were shooting in," says Obst. "She was so involved in the prep of the movie that I was kind of stunned...I had never met a movie star who was so brilliant at detail, and so consumed with the actual business of making movies."
Bullock started her own production company, Fortis Films, which has produced a number of the movies she's starred in, including Miss Congeniality, Two Weeks Notice, The Proposal and Our Brand Is Crisis.
Obst says she'd "like to think I taught her how to produce in that she later became a pretty spectacular producer, and I kind of showed her the various steps, but the truth is, she was such a natural that I was really just a gateway."
"Obviously, as a woman, I had nothing but plaudits for that," adds Obst, whose producing credits include Adventures in Babysitting and Sleepless in Seattle. "I joined hands with her and empowered her and showed her the keys to the kingdom, and with those keys she marched in and did everything."
Bullock wasn't the only one with an eye for details on that set, though. In 2016, helping Connick Jr. get his talk show, Harry, off on the right foot as his first-ever guest, Bullock found out that he remembered everything about their first meeting, including that she was wearing a yellow sundress. 
AF archive / Alamy Stock Photo
"I was meeting a lot of men that day," she cracked. "I don't even remember you, that's what's so weird." Bullock added, facetiously, "To be completely honest, when they said that you were coming in [to audition], I though, 'ugh, please...the crooner's not gonna cut it, it's not gonna happen.'"
And yet he walked in and completely embodied the role, sinking every other actor's chances.
Learning the ins and outs of producing and simultaneously starring in Hope Floats might have kept Bullock busy, but it wasn't all work and no play. According to Gena Rowlands, the cast and crew "had a lot of fun making this movie"—and Bullock was a big part of that.
"She has a wonderful disposition," Rowlands tells E! News exclusively, "and she's funny and serious and a lot of things that are very nice to find in one person."
20th Century Fox/Getty Images
Their much younger co-stars kept things entertaining, too. "Harry would do musical numbers in between takes," Rowland recalls. "And the kids—the little kids, Mae Whitman and Cameron Finley! They were so good."
Whitman played Bullock's precocious daughter, Bernice, in the movie, while Finley played her spirited nephew, Travis. Both former child stars have spoken about their fond memories of making Hope Floats, which Finley tells E! News "was probably my favorite project that I worked on as a kid."
"I mean, Harry Connick Jr. is so good with kids, and so is Sandra Bullock," he recalls. "They were so much fun, and like all they wanted to do when we were on set was hang out with us."
Finley says the Hope Floats cast "[built] a familial relationship relatively quickly," and there weren't any egos. "I worked with a lot of different big name actors like that, but Sandra Bullock and Harry Connick Jr. totally stood out. They were great."
Whitman now stars on NBC's Good Girls with Christina Hendricks and Retta, and last year she reunited with Connick Jr. on his talk show Harry—where he was surprised to find out they were also in Independence Day together. (She played the president's young daughter.)
Finley took a break from the business in 2000. After acting in multiple projects including What's Eating Gilbert Grape, Coach, Baywatch and a Leave It To Beaver remake in which he played the titular role, Finley says he "wanted to acclimate and just go back to public school." 
He went on to attend UC Davis, where he graduated with a degree in molecular biology. "I was on track to get a PhD, but I kind of redirected my course," he says. These days, Finley is a self-described "costumer, maker, inventor and puppeteer." He's "involved in live performance and all kinds of strange activities here in Brooklyn," Finley says, and he's "toyed with whether to jump back in the water" with a return to acting.
If he does find himself returning to his childhood career, we hope he'll remember Ramona's wise words from 20 years ago: "Beginnings are scary, endings are usually sad, but it's the middle that counts the most. Try to remember that when you find yourself at a new beginning. Just give hope a chance to float up."