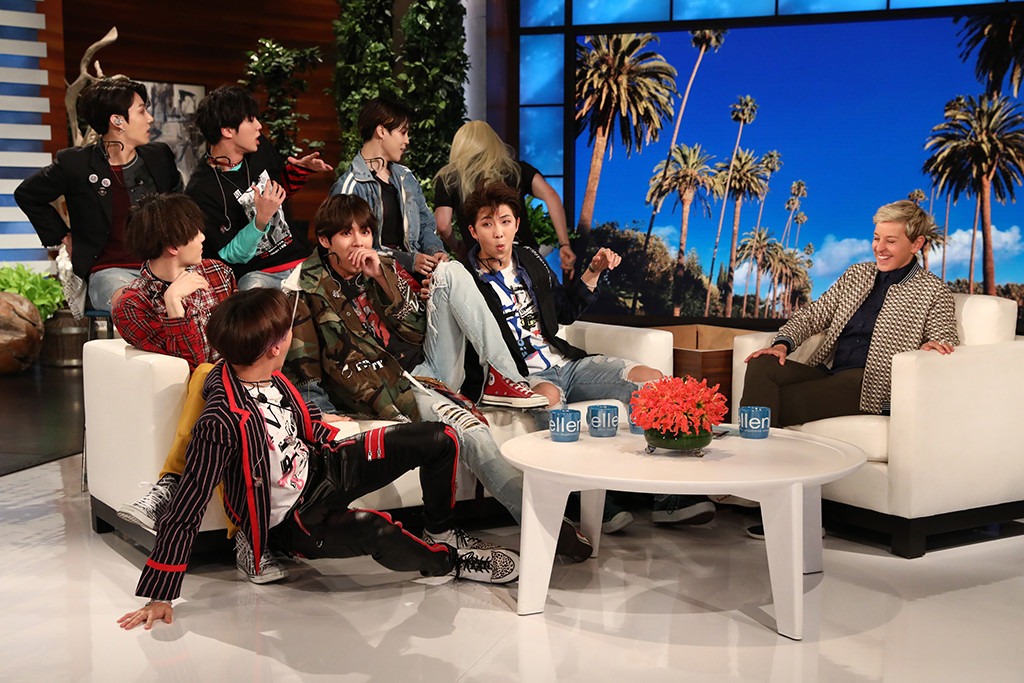 Michael Rozman/Warner Bros.
Ellen DeGeneres strikes again! 
Known for pranking her guests, the 60-year-old talk-show host spooked BTS when the Korean pop stars appeared on Friday's episode of The Ellen DeGeneres Show.
DeGeneres was just wrapping up her interview with the boy band when a man dressed as a "fangirl" jumped out from her side table. All seven superstars—Jungkook, V, J-Hope, RM, Jimin, Jin and Suga—were startled by the prank. Most screamed and J-Hope even fell off the interview couch. RM also peered into the side table to make sure there weren't any more surprises.
Of course, the singers shouldn't take the prank too personally. DeGeneres has scared several of her celebrity guests, including Benedict Cumberbatch, Sam Smith, Eric Stonestreet and Niall Horan.
Actually, the group has done a little startling of their own. Earlier in the episode, DeGeneres showed a video of the band members surprising fans on the set of Friends. The last time the K-pop stars visited her show, RM told the host he learned English by watching the sitcom. The group members also discussed whether they were dating anyone and revealed what it was like to perform at the 2018 Billboard Music Awards.
"We always dreamed about performing at the BBMAs," V said. "It was a dream come true. It was really special. It was really fun."
In addition, the singers took the stage to perform "Fake Love."
Watch the video to see the prank and the performance.
To see the full episode, tune into The Ellen DeGeneres Show Friday at 3:00 p.m. EST.