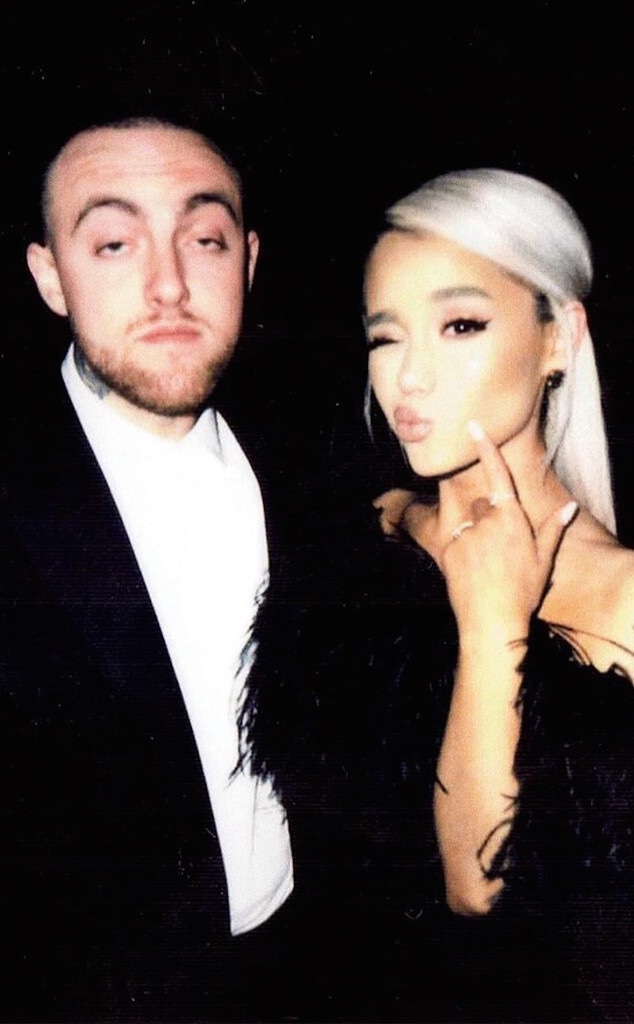 Ariana Grande/Instagram
Under every perfect-looking relationship lies some secrets...
Earlier today Ariana Grande clapped back at a fan who knocked her for dating Saturday Night Live's Pete Davidson too quickly following the end of her relationship with rapper Mac Miller, who was arrested for a DUI and fleeing the scene. In her lengthy response, the "No Tears Left to Cry" singer gave some new insight into the inner-workings of the high-profile couple's partnership, calling it a "toxic relationship."
"Mac Miller totalling his G wagon and getting a DUI after Ariana Grande dumped him for another dude after he poured his heart out on a ten song album to her called the divine feminine is just the most heartbreaking thing happening in Hollywood," a fan tweeted on Monday.
In a surprising move, Ariana wrote a heated response, defending her right to leave the relationship on her own terms, explaining that she's not a "babysitter" and it's not her fault that Mac can't "keep his sh-t together."
"How absurd that you minimize female self-respect and self-worth by saying someone should stay in a toxic relationship because he wrote an album about them, which btw isn't the case (just Cinderella is ab me)," she began. "I am not a babysitter or a mother and no woman should feel that they need to be. I have cared for him and tried to support his sobriety & prayed for his balance for years (and always will of course) but shaming/blaming women for a man's inability to keep his s--t together is a very major problem."
"Let's please stop doing that. of course I didn't share about how hard or scary it was while it was happening but it was. I will continue to pray from the bottom of my heart that he figures it all out and that any other woman in this position does as well," her statement concluded.
Of course, the reaction has prompted us to recall all of the things that the rather tight-lipped songstress has about Mac—the good, the bad and the ugly. Let's look at everything the 24-year-old has said about the music man...
On Their Breakup: After the two confirmed they'd split on May 9, Ariana broke her silence on social media and wrote on May 10, 2018, "Hi! This is one of my best friends in the whole world and favorite people on the planet Malcolm McCormick [birth name]. I respect and adore him endlessly and am grateful to have him in my life in any form, at all times regardless of how our relationship changes or what the universe holds for each of us!"
"Unconditional love is not selfish. It is wanting the best for that person even if at the moment, it's not you. I can't wait to know and support you forever and I'm so proud of you!!"
On Starting as Friends: In the April issue of Cosmo, the singer said she "adored" him for years. "I met him when I was 19. We have loved and adored and respected each other since the beginning, since before we even met, just because we were fans of each other's talent, We weren't ready at all, though, to be together. It's just timing."
On Dating Mac vs. Being Single: Ariana told Cosmo, "I never looked at love as something that I need to complete me. I would like to be complete on my own first and fall in love with somebody who is also complete. You can still celebrate and be totally obsessed with each other, but I want to feel a hundred percent myself so that I can love that person better."
On Waiting a Few Years to Date: The singer said, "We both needed to experience some things, but the love has been there the whole time. There were times over the years when he would call me and hear that I was stressed or overwhelmed or not doing well, and he would call my mom. There were also times when he was really broken and sad—this was years ago—and I would come take care of him, because we love each other as best friends first and foremost."
On How She Knew It Was the Right Time to Date: "The universe, man. She was belting in our ears," she also told Cosmo last year.
On What Her Family and His Family Thought About Their Getting Together: "Our families have known the entire time. He saw a [magazine] cover of mine four or five Thanksgivings ago and told his mom, 'She's The One.' How cute is that? That was before we were even talking.
On Whether or Not They Were Dating: In Sept. 2016, Ariana reluctantly confirmed she was dating the rapper. "This is so crazy. I've never, like, had the relationship talk on a show before," she told Ellen DeGeneres before admitting that she and Miller were indeed "together" and "happy."
On Dating Rumors: While talking to E! News' Sibley Scoles prior to their dating confirmation, the personality talked to the singer about their collab, "The Way."
Ariana said, "He's the best. It's always dope making music with him."
But when asked about dating the rapper, she played coy and said, "I love my Mac lipstick." Pointing to some lipstick, she said, "This is the Mac I am here to talk about today, girl."