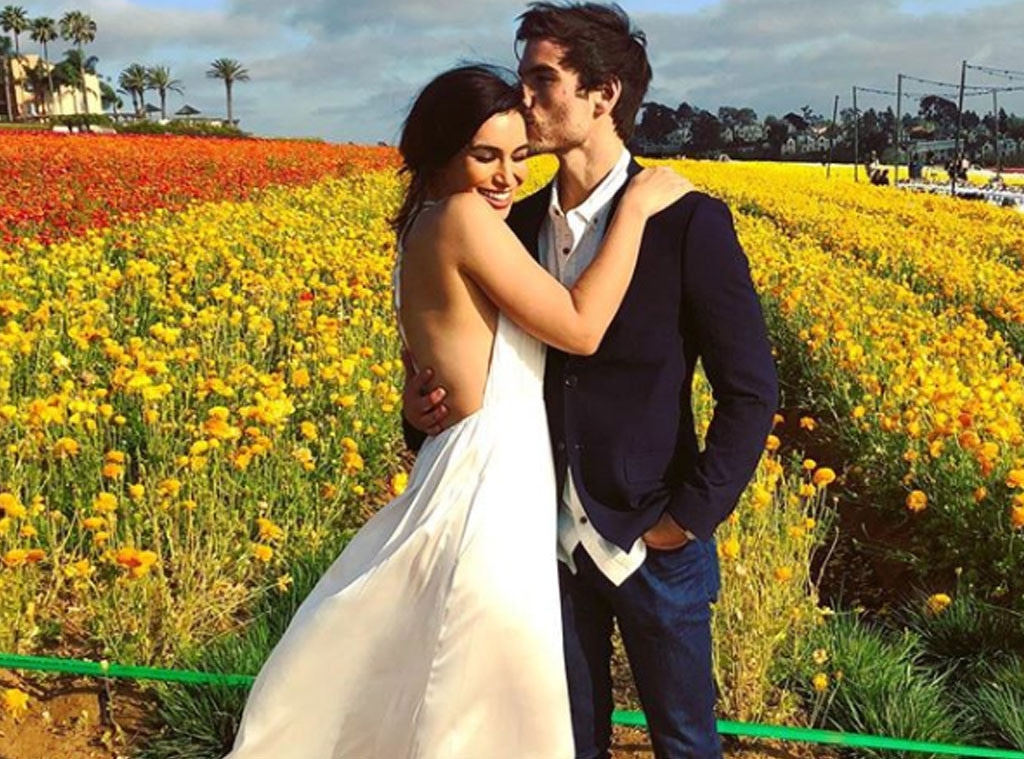 Instagram
In case you missed it, Ashley Iaconetti (AKA Ashley I.) and Jared Haibon are officially an item! The longtime best friends and short-lived Bachelor in Paradise couple (they went on one date) have finally begun dating and it's about time.
As Bachelor Nation prepares to dive into Becca Kufrin's season of The Bachelorette on Monday (May 28), we're happy to be a little sidetracked by another love story. Sure, we are still going to tune in next week to watch Kufrin "do the damn thing," but for now we're all in on Iaconetti and Haibon's romance.
In fact, we've been rooting for this couple way before they were publicly dating. Even though they just came out as a couple they are already our favorite duo from the dating franchise. Even though they didn't find love on screen, we do have TV to thank for this amazing couple so, yay for reality TV!
Since you never know how long a Bachelor romance will last—Iaconetti was recently in a relationship with her Bachelor Winter Games love Kevin Wendt, which ended in March—we're going to relish in this happy ending now and focus on forever later. In honor of the couple getting together after three years of friendship we're pointing out all the reasons this pair is clearly the cutest/best Bachelor couple out there right now (OK maybe second to Sean Lowe and Catherine Giudici who just had another adorable baby together).
1. They were friends first:
These two had a brief dating moment in the past (you know that one date we already talked about), but they've really just been friends this whole time. Their friendship foundation is what most girls dream of having. It's so sweet that they were friends and now are clearly a hot couple...maybe that's the key to Bachelor love?
2. They are total goofballs together: 
When it comes down to it this pair is all about having a good time. They are constantly making one another laugh and doing bizarre things together, which is super sweet. Case and point all of their goofy boomerangs and funny videos.
3. They have no shame in their social media game: 
Both Iaconetti and Haibon are big social media lovers. They post often and aren't embarrassed by any of their content…not even the shameless ads for different products or plugs for personal appearances with friends. If you're a Bachelor couple and don't post on social media than were you ever really a thing? Probs not.
4. They're super sappy, because love knows no bounds: 
When they announced they were a real couple this week they didn't just share photos on Instagram. No, they took it a giant, sappy step further. They created a 44-minute video of their love story and posted it. We love that they love love…even if it is a bit overboard.
5. The couple that plays together, stays together: 
We know that Iaconetti has cried a lot during her time on numerous Bachelor shows, but when she's with Haibon they just have fun. They go to sporting events—even with rival team affiliations—gotten rowdy in the desert (at Stagecoach Music Festival) and act like giant kids whenever they're together. It's too cute.
6. They're a bit awkward and they know it: 
What we love most about this couple is that they know they have a few awkward quirks. They aren't afraid to expose them and usually lean into their dorky moments, which is awesome. Oh, and they put up with each other's crazy which is key to a lasting relationship.
7. They're not afraid to poke fun at The Bachelor and how they met: 
Even though The Bachelor made it possible for this pair to meet and eventually date, they aren't above making fun of the show. They constantly watch the shows together and poke fun at their moments on screen and other wild scenes.
8. Photo perfection: 
If there is one thing these lovebirds have down it's their couple pictures. Way before they were an item they were slaying the BFF photo game and now that they're in love the pictures are even better.
9. Bachelor Nation approved: 
The fact that their Bachelor besties AKA Dean Unglert is a fan of them being together is too funny. We can't get over the fact that he posted a photo showing off their romance. Talk about being a good pal.
OK Bachelor fans, what do you think about the franchise's newest couple? We love Iaconetti and Haibon together...they just work. Vote for whether or not you think this sweet couple is the best Bachelor couple right now. It's OK if you love another couple more, but you have to admit these two are freaking adorable.
Ashley I. & Jared Haibon's Bachelor Love