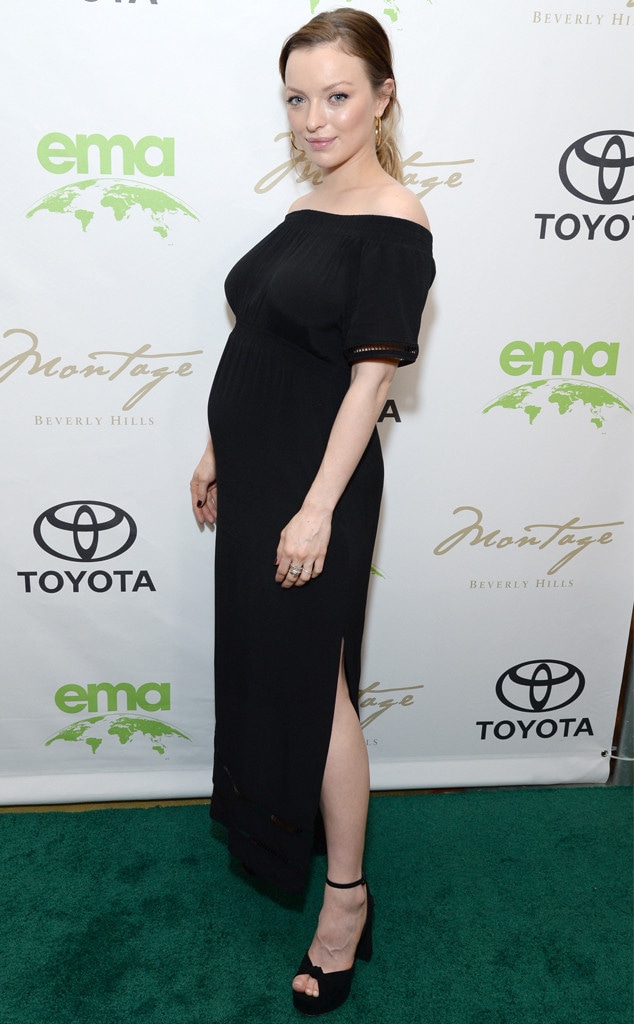 Michael Kovac/Getty Images for Environmental Media Association
Francesca Eastwood is going to be a mom!
Clint Eastwood's daughter revealed she has her own little one on the way on Tuesday night when she stepped out on the red carpet at the 2018 Environmental Media Awards in Beverly Hills rocking a baby bump. 
The 24-year-old actress later stood beside her mother Frances Fisher at the podium during the event and cradled her bump as she announced the personal news. "I'm going to be adding to the family this summer with my own baby and we're so excited," she said with a smile.
"Oh my God—I'm so excited I'm going to be a grandma," Fisher joyfully added. 
Eastwood also took to her Instagram account to chronicle the newest addition to her bedding—a pregnancy pillow. "Lots of pillow shapes," she captioned a uniquely shaped body pillow. 
Phillip Faraone/Getty Images for Environmental Media Association
Meanwhile, hours earlier her younger sister Morgan Eastwood shared a snap on her own Instagram account of someone poking Francesca's bump. 
Eastwood's actress mom and director dad famously dated in the early '90s and welcomed Francesca, their only child together, in 1993. 
The E! alum was briefly married to Jonah Hill's late older brother, Jordan Feldstein, in November 2013, but it reportedly ended in an annulment. 
Congratulations to the mama-to-be!