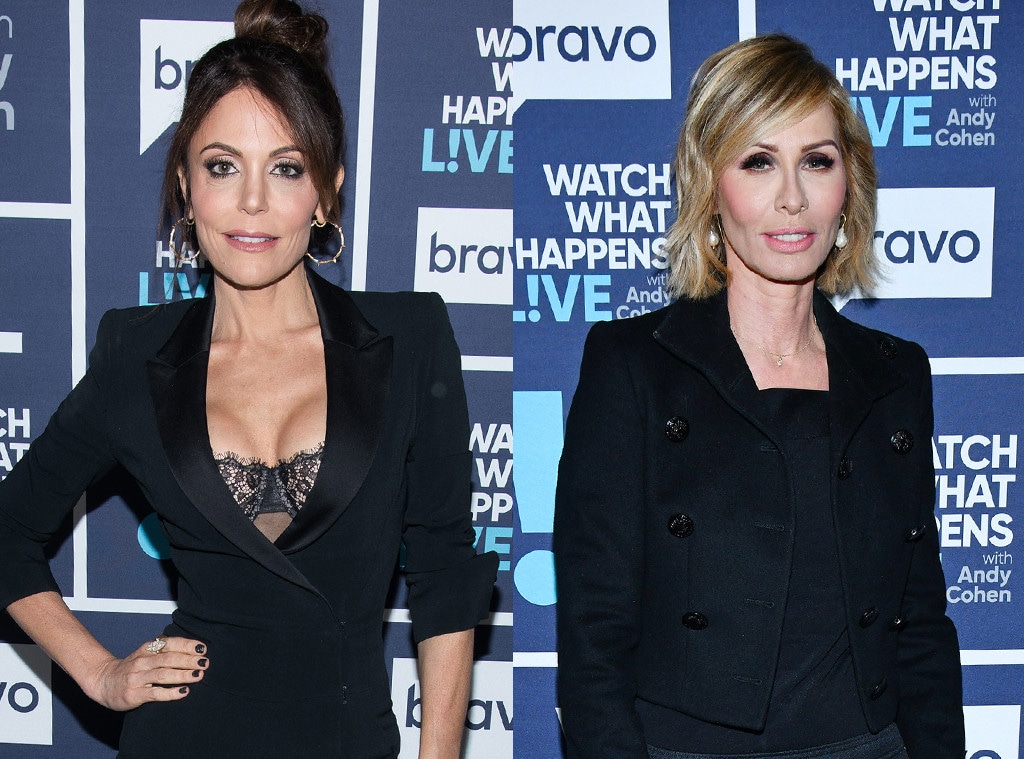 Charles Sykes/Bravo
It's on. Perhaps one of the most fan-distressing falling out between Real Housewives stars is on between Bethenny Frankel and Carole Radziwill, and it's playing out right before your very eyes on The Real Housewives of New York City.
In the exclusive sneak peek below, Bethenny and Carole dig into it while at Dorinda Medley's murder mystery party (that explains the wigs). What is it about the Berkshires?! Bethenny previously told Dorinda she asked Carole's on-again/off-again boyfriend Adam Kenworthy to accompany her to Houston to take photos of hurricane damage and subsequent relief and he asked what the payment would be. Bethenny said that didn't sit right with her.
"You never told me you called Adam and asked him to go to Houston with you," Carole says.
Bethenny plays with the semantics, and the two just keep going.
"I will do what I please," Bethenny says when Carole tells her it's not right to twist words.
"You know who parses people's words out and tries to trip them up? People who aren't telling the truth," Carole says in in a confessional. "Liars."
Just look at how Dorinda, Ramona Singer, Tinsley Mortimer, Luann de Lesseps and Sonja Morgan react to this confrontation.
As Carole continues to defend Adam, Bethenny lets this one fly: "Oh my god, Carole, you're freaking me out right now."
"Does the truth break you out?" Carole zings back.
In a confessional, Ramona notes the other ladies have all gone toe-to-toe with Bethenny, but "she usually has the better verbal skills than we do. We all just kind of flounder and flap and we just give up."
"But, hey, Carole? She's on top of this one," Ramona says.
The arguing over semantics continues throughout the clip.
After the Wednesday, May 16 episode of RHONY, Carole took to her Bravo blog to unleash.
"When Harvey hit last summer, Bethenny was partying in Ibiza, I was taking care of a friend whose husband had passed away, and Adam was working hard commuting three hours between clients each day. So, no, Adam couldn't go to Houston at Bethenny's whim. He is building his business, and he has to hustle — you'd think if anyone would understand that it's Bethenny. How quickly she forgets the struggle," Carole wrote. "He suggested switching one client's day but couldn't afford to lose his day rate — certainly not to take pictures of Bethenny to post on her social media. So off she went to Houston with a professional paid photographer in tow to take pictures of her and the endless selfies she allegedly disdains. Yes, that makes everyone I know chuckle too."
The Real Housewives of New York City airs Wednesdays, 9 p.m. on Bravo.
(E! and Bravo are both part of the NBCUniversal family.)