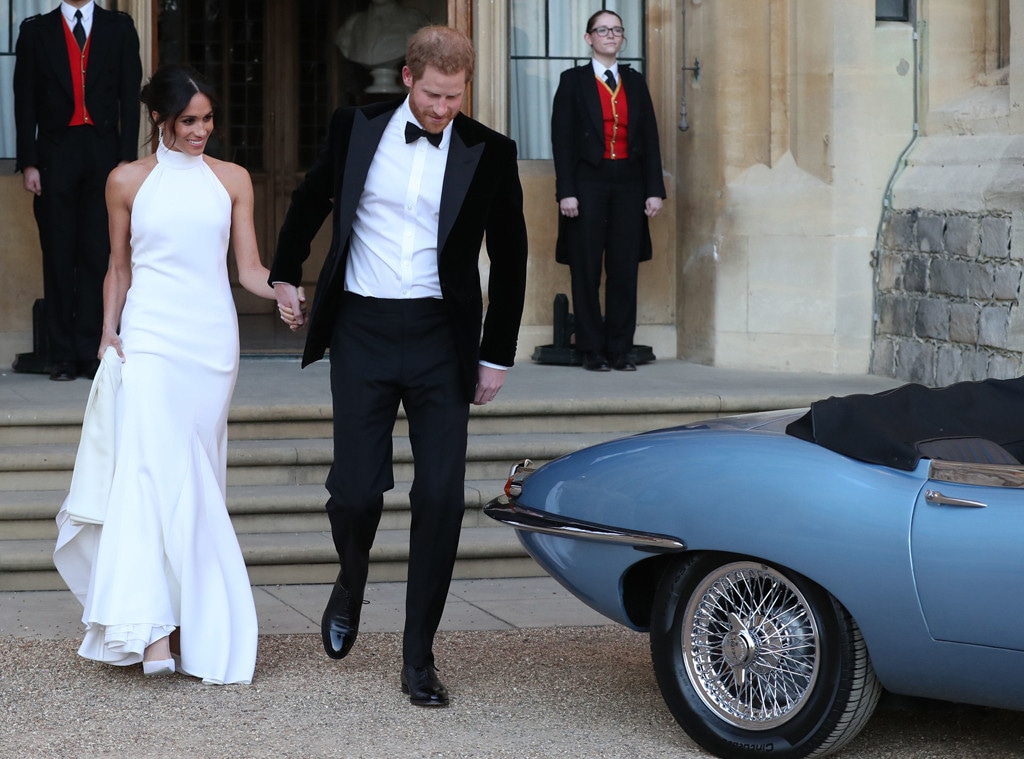 Steve Parsons/PA Wire
The best and most exclusive party in Britain was definitely at Frogmore House last night!
After their royal wedding ceremony in front of the world, Prince Harry and Meghan Markle treated themselves and only 200 of their 600 wedding guests to quite the party at Frogmore House inside Windsor Castle and we've got all the juicy details you're dying to know!
The pair arrived to the bash in an environmentally-friendly 1968 Jaguar E-Type Concept Zero that ran on electric power.
Harry changed up his military ensemble and into a James Bond-style tux. Meghan wore a shoulder-baring, halter dress by Stella McCartney and her hair was done in a bun. Meghan's hair stylist Serge Normant said to a reporter that it was "dreamy" to work with Meghan and added that he created a bun that was "messy, in a controlled way."
During his speech, a source from within the party tells E! News that Prince William said, "My brother is clearly in love. Being in love is like a little boy wetting himself. You don't know you are doing it, everyone else knows and you get a warm feeling."
During his speech, William joked, "With all this talk of love, everyone is emotional, even the cake is crying."
Charles, during his speech, shrugged his shoulders and said "the budget is out of the window on this one."
The bride and groom decided to go with an up-beat '80s hit, "I Want to Dance With Somebody" by Whitney Houston, for their first dance.
At one point, Prince Harry has thanked his wife's wedding dress designer Clare Waight Keller, who was at the event, for transforming Meghan into an "absolutely stunning" bride.
As for what was on the menu, guests dined on posh burgers among other dishes. There was candyfloss for guests with a sweet tooth. There was reportedly a cocktail on the menu called When Harry Met Meghan, a reference to the romantic comedy when Harry Met Sally starring Meg Ryan and Billy Crystal.
Idris Elba, Serena Williams, Alexis Ohanian and Priyanka Chopra were among the night's notable guests.
Elba even had a surprise DJ set during the night, according to The Telegraph.
At one point, A-list guest George Clooney was running the tequila bar and was serving drinks to everyone.
Adding in on the fun, there was a 12-piece jazz band from the deep south.
There was also a DJ, who was the same one that was at Pippa Middleton's wedding.
One guest said, "It was out of this world, the music was wide ranging, he was incredible."
The guest also said, "It was the most magical night I have ever had. It was one of those experiences that money can't buy. It was a special night."
Press Association via AP Images
James Corden MC'd the night and even did a bit of a stand-up routine, making jokes that some may have felt that Bishop Michael Curry's sermon might have gone on a little too long.
The guest said that Corden said all the things about the day that everyone was feeling but didn't want to say.
As for the lucky-in-love twosome, the eyewitness said Meghan and Harry didn't leave each other's side all night. 
Of course there were some hiccups in the lovely affair. Before the firework display, workers had to get a rope to move all the swans off the water and the fireworks all appeared out of the water. The beautiful display was caught by Emily Nash, royal correspondent for Hello! magazine.
It was quite the party, guests ended up leaving after midnight. Some guests are believed to kept the party going, having an after party at top London hot spot Chiltern Firehouse.
As for what the royal couple is up to today, another source tells E! News that that duo left Windsor Castle on Sunday afternoon after being hosted by the Queen and Duke of Edinburgh over their wedding weekend.