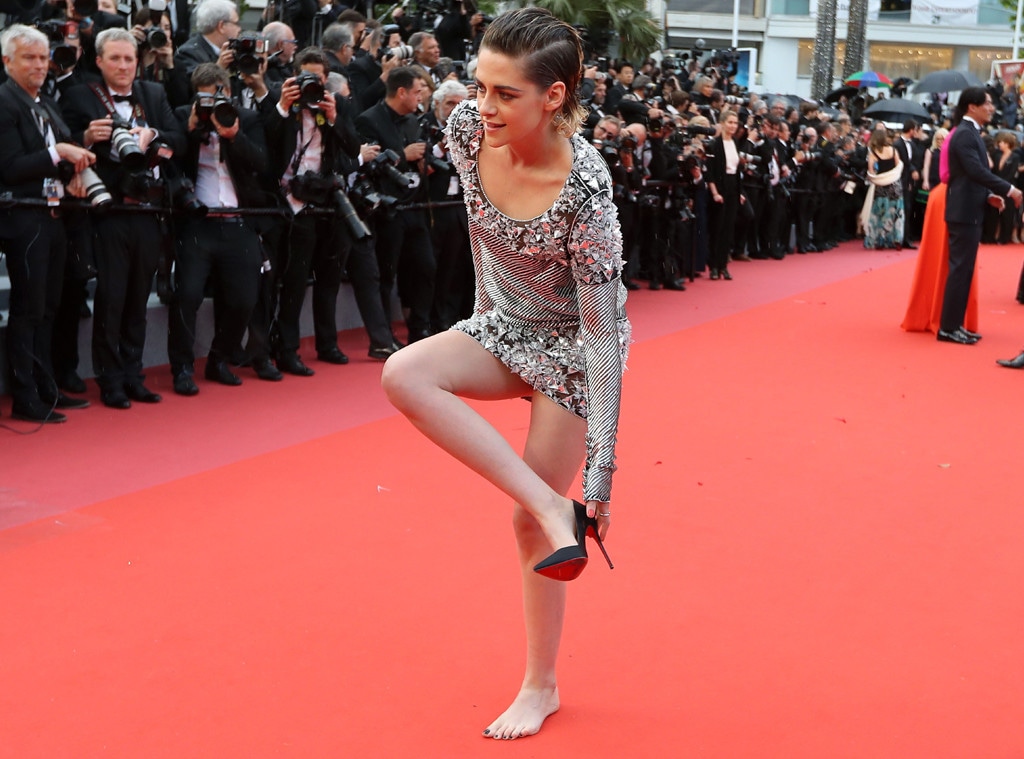 VALERY HACHE/AFP/Getty Images
Kristen Stewart ditched her heels at the 2018 Cannes Film Festival on Monday and walked the rest of the red carpet barefoot in what appeared to be a form of protest.
While posing for pictures at the screening of the film BlacKkKlansman, Stewart removed her Louboutins and carried them into the venue.
The act appeared to be a form of protest against the festival's controversial dress code. In 2015, Cannes came under fire for allegedly implementing a heels-only policy. At the time, ScreenDaily reported that women in their 50s were being turned away from the screening because they wore flats. While the festival declined to comment on the industry newspaper's reports, it did confirm that women were required to wear high-heels to red carpet screenings. However, festival director Thierry Frémaux tweeted that the claim was a "rumor" and "unfounded."
Stewart has spoken out about the dress code before.
"There's definitely, like, a distinct dress code, right? People get very upset at you if you, like, don't wear heels or something—whatever," she told The Hollywood Reporter in 2017. "But I feel like you can't ask people that anymore. It's just kind of a given. Like, if you're not asking guys to wear heels and a dress, you cannot ask me either, which is nice 'cause that's different. Even, like, four years ago, it was, like, not even a question. You have to wear a dress….But now, it's awesome. You can't do that anymore."
The Twilight star is a jury member for this year's film festival.