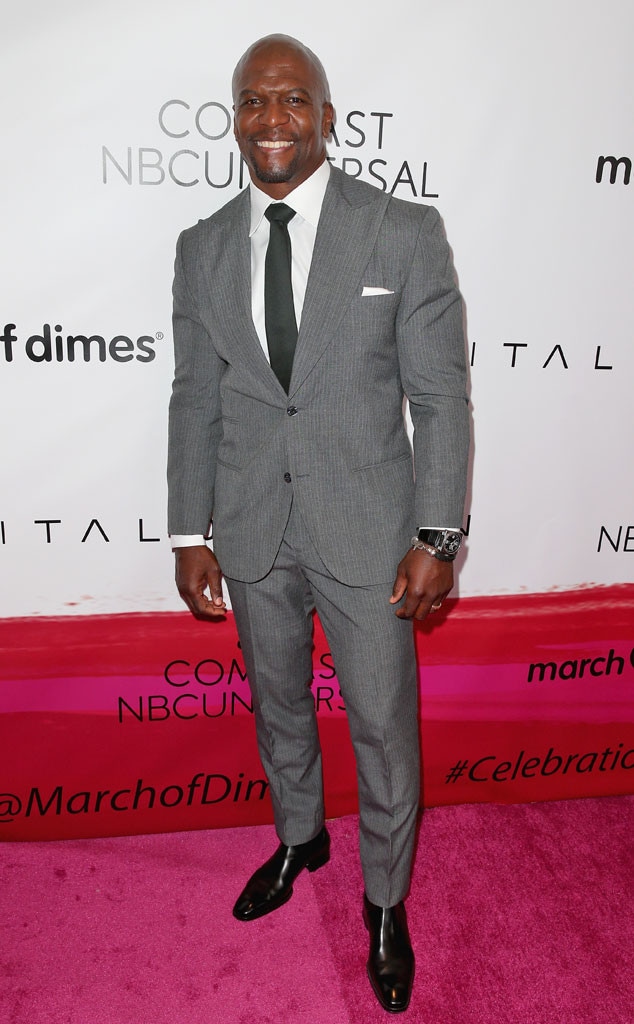 Joe Scarnici/Getty Images for March Of Dimes
We all know the force is strong with him...
Terry Crews is thanking Mark Hamill for his help resurrecting Brooklyn Nine-Nine just hours after NBC announced that it would be taking on the sixth season of the comedy just one day after FOX cancelled it.
 On Saturday morning, the actor, who stars as  Sgt. Terry Jeffords on the series, wrote, "@HamillHimself I want to personally THANK YOU Mark for using the power of the force to save Brooklyn Nine Nine! *Wipes dirt off shoulder*."
On Thursday, the Stars Wars actor used his social media superstardom to express his displeasure at the show's untimely end. 
Mr. Skywalker tweeted, "Oh NOOOOOOOOO!!!!!! I'm SO not ready to say #ByeBye99. Be forewarned @FOXTV-when networks dump shows I love, I'm known for holding grudges a long, L-O-N-G time. I'm still mad @CBS didn't renew #SquarePegs! #EverythingILikeGetsCancelled."
Looks like NBC took notice!
Hamill responded to Crews' words by writing, '"Thanks @terrycrews, the pleasure was all mine!' he said, accepting full-credit while ignoring the 99 gazillion other fans who love this show & collectively really made it happen. #99IsSoFine."
But Crews didn't stop the thank yous at Hamill. He also gave a shout out to some other celebs, like Sean Astin and Lin-Manuel Miranda, who used their star status to tweet about the show's unjust demise.
Robert Greenblatt, Chairman, NBC Entertainment, in a statement on Friday, "Ever since we sold this show to Fox I've regretted letting it get away, and it's high time it came back to its rightful home."
He continued, "Mike Schur, Dan Goor, and Andy Samberg grew up on NBC and we're all thrilled that one of the smartest, funniest, and best cast comedies in a long time will take its place in our comedy line-up. I speak for everyone at NBC, here's to the Nine-Nine!"
Brooklyn Nine-Nine, which was created by Dan Goor and Michael Schur, premiered on Fox in September 2013.
(NBC and E! are both part of the NBCUniversal family.)