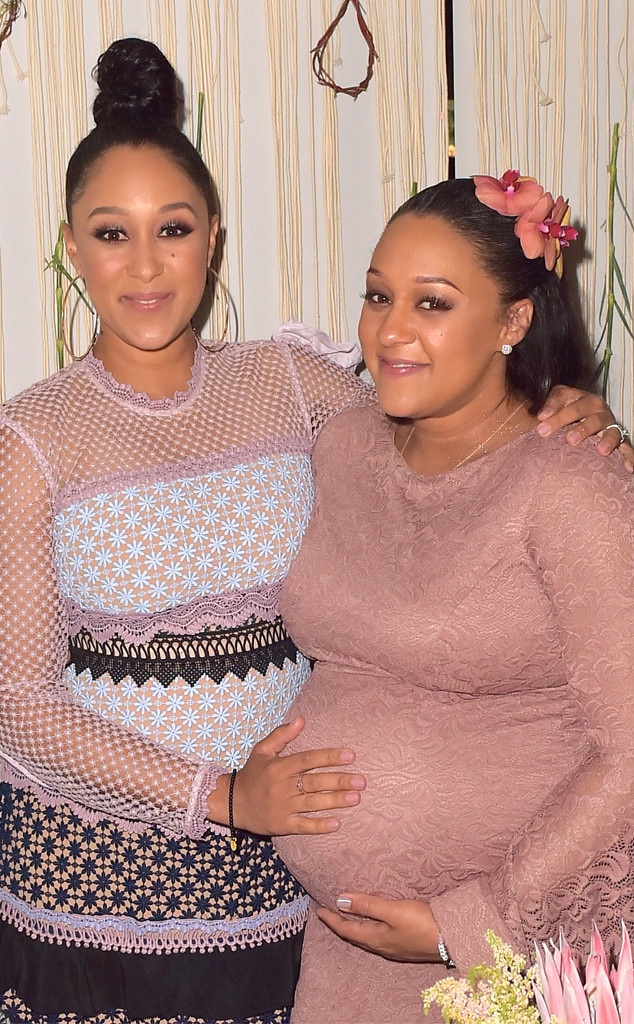 Faye Sadou/Media Punch/INSTARimages.com
Tamera Mowry can't stop gushing over her new niece. 
After her sister Tia Mowry gave birth to a baby girl on Saturday, Tamera spoke about the new family member on Monday's episode of The Real.
"You guys she is absolutely stunning and perfect in every way," the proud aunt told her co-hosts. "She was 6 pounds, 4 ounces. She is very petite. But she is so girly! Everything symmetrically is, like, perfect." 
It sounds like Tamera's son Aden is already looking out for his little cousin, too. 
"And Aden already had this sense to be protective," Tamera continued. "We were talking and she was sleeping and Aden was like, 'Shhh, shhh.'"
While her daughter Ariah has yet to meet the new family member, Tamera said she's going to introduce the cousins this week. In fact, the host said she's going to see her new niece again today.
"They have a beautiful boy and now a beautiful girl, and I'm just so excited," Tamera continued. "I'm actually going to see her again today because I miss her. She is precious, you guys."
Tamera also said the baby girl is a "perfect mix" of her sister and Tia's husband Cory Hardrict.
This isn't the first time Tamera has raved about the little one. On Sunday, the Sister, Sister star wrote, "She's here!! Can't wait for the world to see her! She's beautiful!"
Tia announced the birth of her second child on Sunday via Instagram.
"Feeling grateful and blessed as we welcome our little baby girl into the world!" Tia wrote alongside a photo of her cradling the newborn. "Born May 5th at 10:29 am at 6 pounds and 4 Oz 19.8 inches. We are in heaven."
This is the second child for Tia and her husband. The proud parents welcomed their son, Cree, in June 2011.
Tia announced the pregnancy news in November 2017. Tamera told viewers this pregnancy was "completely different" and "harder" for her sister than the last. 
In an interview with Women's Health, Tia told the magazine she had gotten pregnant with both of her children while battling endometriosis, a disease in which abnormal tissue grows outside the uterus and which can cause infertility. The now-mother-of-two said she underwent two surgeries and changed her diet as a result.
"I don't think I could have gotten through this process without the support of my husband," she told the outlet earlier this year. "I think it's really important that someone is there encouraging you, rooting you on, saying you're not alone, helping you feel stronger and more powerful." 
"I find when you go through some kind of struggle, the reward is just so much greater," she added. "Now, I'm so overjoyed!"
Congratulations to the happy family!