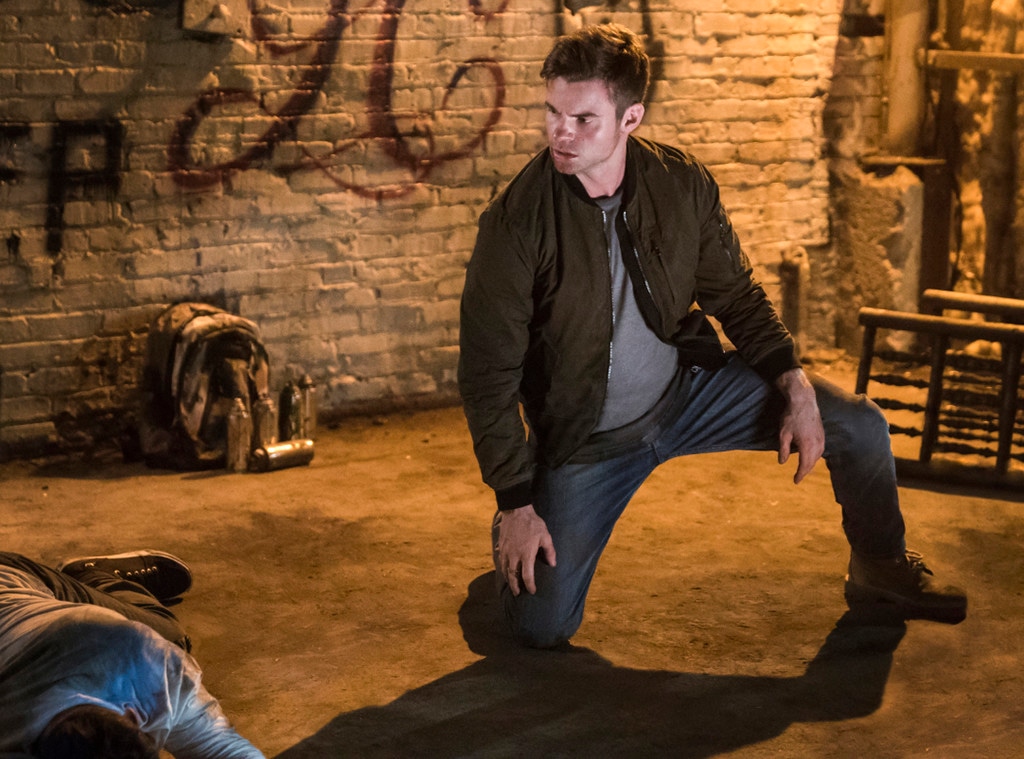 The CW
Elijah Mikaelson is no more. 
OK, he's not dead since he's really hard to kill, but he is gone in the sense that he's rejected his old life for a new, Mikaelson-free life. He also set himself on fire, but again, he's really hard to kill, so that sunlight fire was really more of a symbol of starting anew. 
The Originals spent an entire episode tonight exploring the journey Elijah (Daniel Gillies) has taken since he asked Marcel (Charles Michael Davis) to compel him at the end of season four, allowing him to forget his entire life as a vampire and the vow he made to stick with his family forever. But even while Elijah seems happy and it's important for a lot of reasons that the Mikaelsons stay apart, Klaus (Joseph Morgan) just couldn't resist paying his brother a few rather threatening visits. 
In the end, Elijah chose to stay with new fiancee Antoinette (Jaime Murray) and to build a new life, completely separate from his family, and Klaus headed back home alone to deal with the situation in New Orleans. 
It was a beautiful yet somewhat heartbreaking end to a beautiful and heartbreaking episode, made all the more poignant by the fact that Morgan directed it. 
"It was my favorite thing about the show, the family dynamic and certainly my relationship with Daniel and the relationship of Elijah and Klaus was very important to me," Morgan tells E! News. "So it felt really great to have someone I would regard as one of the best actors on the show was the center of the whole episode, and my good friend and we could kind of talk about it and collaborate on it from the beginning, because we have really similar taste, I think, Daniel and I, in terms of what we want the show to be, when we like it, when we feel it's at its best." 
Gillies has similar compliments for Morgan...eventually.
"It was a nightmare. He was a diva, on and off the set," he jokes. "He's illiterate...cinematically. It was a good thing he wasn't acting so much because I didn't have that feeling of perpetual nausea. To be honest, it's a place I wouldn't wish upon my worst adversary." 
But in reality: 
"Look, I got really lucky that Joe directed it, especially because it required a kind of intimacy with the world and a very very thorough understanding of the character of Elijah, and I think he was truly the perfect director for that episode. And he didn't just do a marvelous job, he directed what I think was the best written episode of the show ever. And it sounds tremendously self-congratulatory because it's an Elijah episode, but I think everybody pretty universally agrees that that episode was its own...it felt like its own pilot." 
It certainly didn't feel like a typical episode of The Originals. 
"It felt like it had its own energy. It was quieter, it was more menacing within its stillness, it was romantic, it was dangerous, it was a study," Gillies continues. "It was kind of what the show had been crying out for, which was a study of these people, rather than just story story story story story, which can be a bombardment. It had an elegant simplicity."
He also credits writers Michelle Paradise and K.C. Perry with the hard work of condensing that story into one gorgeous episode, "the best written episode I've seen," according to Gillies. 
"I feel tremendously blessed that that was an episode I got to before saying goodbye." 
Morgan says that while there were challenges in finding locations (New York and France in Georgia) and having the same actor in every scene and having to work mostly at night, he was "thrilled" to get to direct "Ne Me Quitte Pas." 
"It's sort of a concept episode, a bottle episode. It sort of steps outside the traditional format of the show, so it was a chance to be a little more experimental in the way we shot it," he says. 
To him, the most important thing was that "the episode should serve as a mini arc itself." 
"You could do a whole season about what happened to Elijah over the past seven years, you know," he explains. "When we find him, when he really starts off, he doesn't even know he's a vampire. He doesn't know what he is, or he just has these impulses, these urges, and then he finds love in the most unexpected of places and then he's forced to confront his past and to choose between his past and a possible future." 
"We wanted to create this character that wasn't Elijah, and yet was at its core. It was a rebirth," Morgan continues.
Elijah's decision to stick with his new life is "devastating" for Klaus, says Morgan.
"It affected him utterly, because Elijah has been the constant for Klaus. Even when they've been estranged, it's never been permanent in Klaus' mind. And I think this feels permanent. This feels like a severing of the tie, and I think that's devastating." 
And if this is really the end for Elijah, Klaus is going to have a hard time finding his own happiness. 
"Family is the most important thing to Klaus, so should the rejection continue to the end of the season, I think it would be difficult for Klaus to be truly at peace," Morgan says. "I think he needs his brother by his side to be truly at peace." 
Meanwhile, while Gillies says that he was looking for more of a "satisfying" ending than a happy one, he thinks that Elijah had made a pretty good choice for now. 
"A happy ending for Elijah would probably be to never return to that family ever again." 
(Gillies asked to note here that our interview was interrupted by shouting over the stolen motorhome speeding through Los Angeles on Tuesday.) 
As for what it would take for Elijah to change his mind, it's a lot. 
"What would it take? I would say a battering ram, or extraordinary violence or blackmail of some kind," he says. "I'm sure Klaus could concoct something. Frankly, from where I'm sitting, at this stage in the season, it's pretty difficult, the idea of him turning the ship around." 
Something tells us that ship will have to turn around before the series says goodbye for good, but for now, we might have to get used to the fact that the old Elijah is long gone. 
The Originals airs Wednesdays at 9 p.m. on the CW.