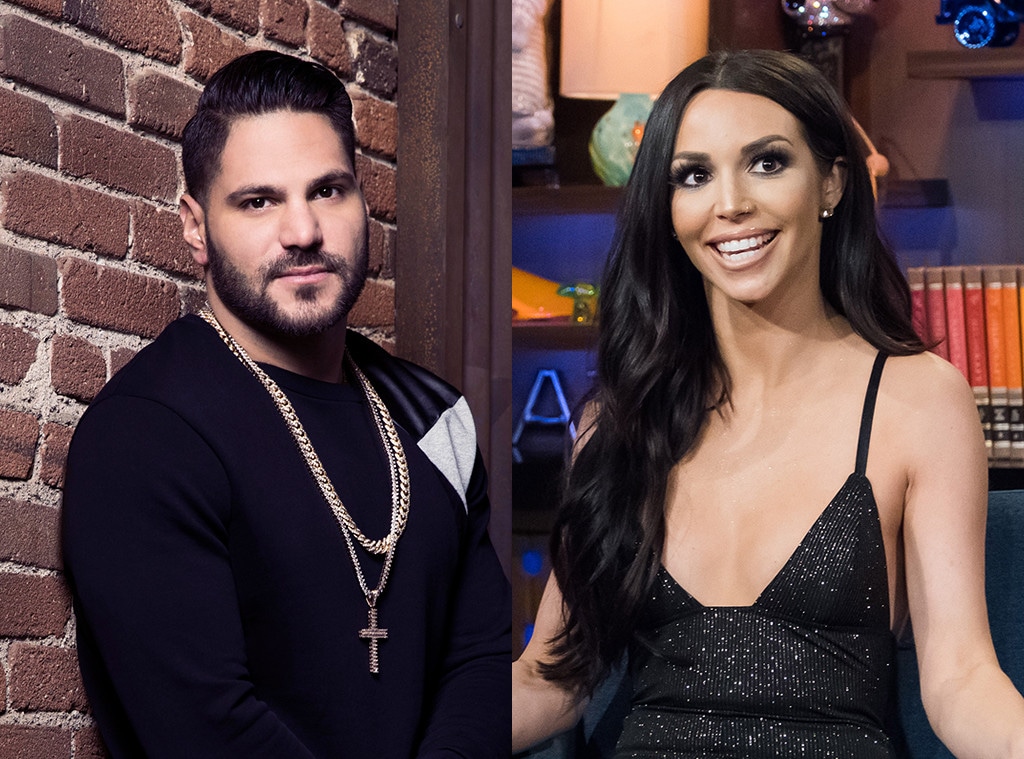 NBC
Scheana Marie is speaking out about the relationship drama surrounding Ronnie Magro-Ortiz and Jen Harley.
One day after hanging out with the Jersey Shore Family Vacation star, the Vanderpump Rules cast member admits that she isn't sure if the couple will reconcile.
"There are a lot of tumultuous reality relationships, so you never know.  I mean, they have a kid together, so hopefully they could work it out. I know that's what he wanted," she shared with E! News exclusively while in Las Vegas. "But not everyone can work, not everyone is compatible."
Scheana continued, "I mean they weren't together very long before she got pregnant, so you never know. But hopefully even if the relationship doesn't work out, I hope they can come together for their daughter and just be good co-parents."
Earlier this week, a source told E! News Ronnie and Jen broke up after a few very public social media fights.
Soon after the split, Ronnie was spotted on social media watching the Vanderpump Rules season finale with Scheana and fellow MTV stars Chester Lockhart and Kailah Casillas.
"He had a rough day yesterday. He was with Mikey P and Mikey and I have been friends and I said, look if [Ronnie] needs a distraction, you guys are welcome to come over and watch the finale with me. He can watch me look like an ass. I'm reality television instead of himself," Scheana explained to us. "Everyone came over and we have so much fun. We played Cards Against Humanity… We had a few good laughs."
And before the romance rumors even start, a source recently told E! News that there is nothing going on romantically between Ronnie and Scheana.
Since the social media fights, Ronnie has apologized for his behavior. "This is a private matter that should have never been made public," he previously shared on Instagram Stories. "I remain focused on my daughter and she is my number one priority."
As for Scheana, she's simply preparing for her final performances in Sex Tips for Straight Women From a Gay Man at Paris Las Vegas.  "I have had an absolute blast. I cannot believe how quickly it went by. I thought four months was going to feel like forever. I thought, oh my gosh I'm going to be so lonely. Then I got here and I fell in love with this city, the people here," she shared with us. "I haven't had any drama. Everyone has been extremely supportive and positive. And coming off of a very difficult breakup, it was the best way to start a new year and a new me, I couldn't have asked for this opportunity at a better time."
And yes, the three-part Vanderpump Rules reunion is kicking off next Monday on Bravo.
Let the good times roll!