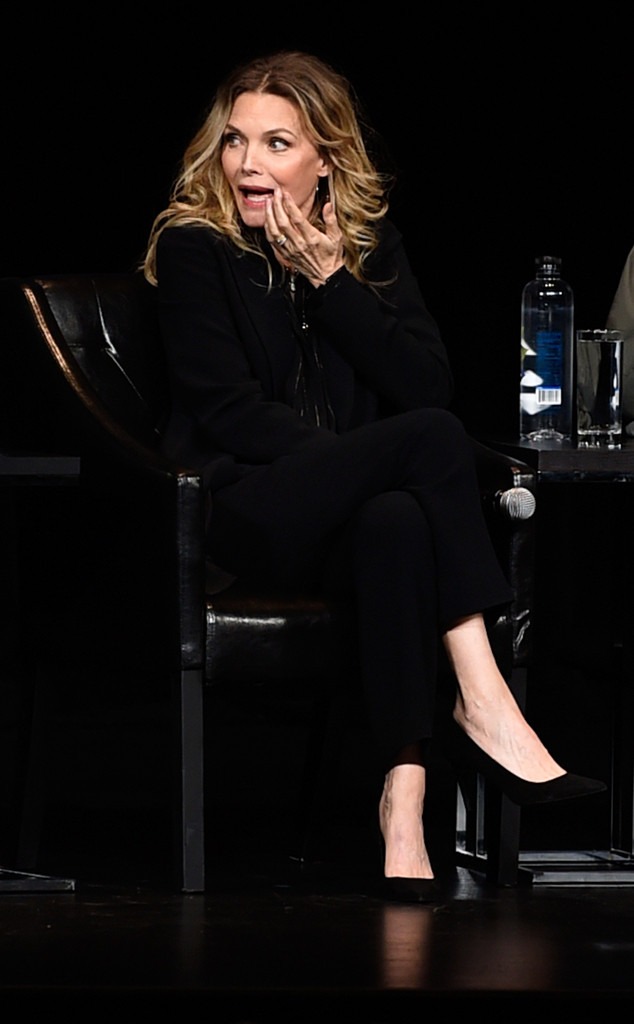 Evan Agostini/Invision/AP
In the words of Michelle Pfeiffer,"Well, okay."
The three-time Oscar nominee joined some of her Scarface co-stars for a panel conversation Thursday night in honor of the film's 35th anniversary after it was screened at the annual Tribeca Film Festival. While seated amongst Al Pacino, Steven Bauer and director Brian De Palma onstage at New York City's Beacon Theatre, moderator Jesse Kornbluth began the talk with a controversial question for Pfeiffer first. 
"As the father of a daughter, I am concerned with body image," he said. "In the preparation for this film, what did you weigh?"
The query was immediately met with vocal backlash from the audience in the forms of grunts, boos and outcries while Pfeiffer appeared to be taken aback by the subject. 
"This is not the question you think it is," Kornbluth added in defense. 
Moviestore/REX/Shutterstock
"I don't know, but I was playing a cocaine addict, so that was part of the physicality of the part, which you have to consider," she said of her iconic character, Elvira Hancock. "You know, the movie was only supposed to be what—a three month, four month [shoot]. Of course, I tried to time it so that as the movie went on, I became thinner and thinner and more emaciated.
"The problem was the movie went six months," Pfeiffer continued to explain. "I was starving by the end of it because the one scene, which was the end of the film, where I needed to be my thinnest, it was next week and then it was next week and then it was next week. I literally had members of the crew bringing me bagels because they were all worried about me and how thin I was getting. I think I was living on tomato soup and Marlboros."
According to Vulture, the other men on stage were never asked about their weight during the filming. Per Vulture associate editor Hunter Harris, Pfeiffer was also asked what she told her kids about all the swear words  in the film and whether she could see a remake of the film where Tony Montana's character is a woman—which was interrupted by the other men on the panel. 
Criticism of Kornbluth's question has continued online, with many wondering why he needed to ask the question and others suggesting many other more relevant and thoughtful questions he could have asked the film icon. 
Kornbluth has since responded to the criticism, telling IndieWire in a statement, "It is true that a gentleman should never ask a woman about her weight. But that was not my question. It is a comment on the knee-jerk political correctness of our time that no one would be shocked if you asked Robert De Niro about the weight gain required for his role in Raging Bull but you get booed—not by many, but by a vocal few—for asking Michelle Pfeiffer about the physical two-dimensionality required for her to play a cocaine freak in Scarface."