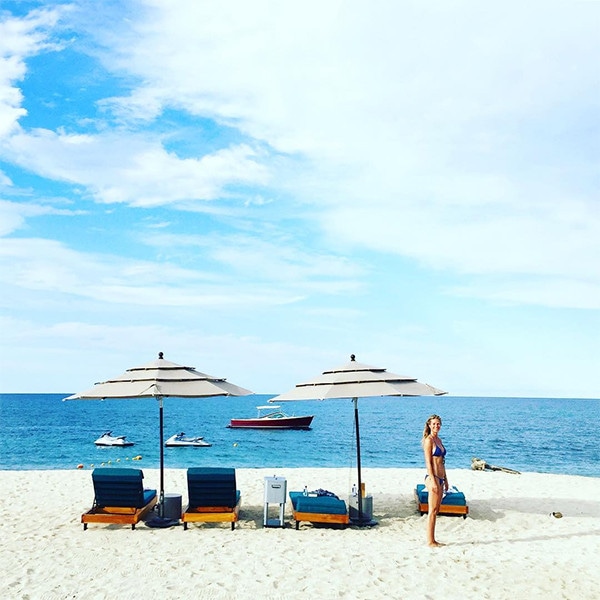 Instagram
It's time to party in the sun for bride-to-be Gwyneth Paltrow, and before her wedding, she's already got something blue!
The 45-year-old Oscar winner is engaged to Glee co-creator Brad Falchuk. Earlier this week, Paltrow and several girlfriends, including fashion designer Stella McCartney and Goop co-workers, flew to Los Cabos, Mexico via private jet for a bachelorette trip, or as the guest of honor called it on Instagram, a hen weekend, using the British term.
Paltrow posted on her page on Friday a photo of herself standing on the beach in a blue bikini.
The group is staying at a luxury beachfront resort.
"Gwyneth and her friends had a private lunch on the beach in front of their hotel," a source told E! News exclusively. "They sat at a long table and toasted with glasses of rosé. Each girl wore a matching long white tunic with their initials on it. Gwyneth's said "GP" and she was twirling around very happy. Each girl also got a straw beach bag with their name embroidered on it. The group was very happy and enjoyed the beach and ocean views."
Another source earlier told E! News the group planned to mostly spend their time in Cabo on the beach and at the hotel spa, and then head back to Los Angeles. During their time away, they will also go off-site for dinner, the source said.
Paltrow and Falchuk have not announced a wedding date.
This will be the second marriage for the actress, who shares two children with ex-husband Chris Martin, and for her fiancé, who also has two kids from his first marriage.