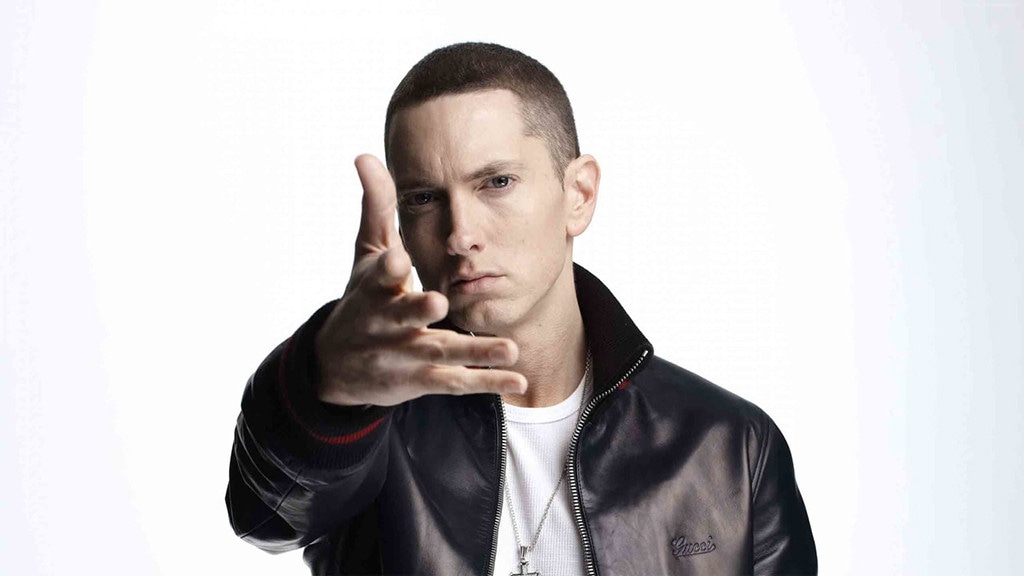 Universal Music Group
There may be only one Eminem but there are many sides to Marshall Bruce Mathers III.
There's the comedic rapper who drops tongue-and-cheek lyrics and the serious artist who writes deep rhymes.
There's the celebrity who's won 15 Grammys and an Oscar, as well as the private man who grapples with the limelight. He's also a father, a recovered drug addict and a man who overcame adversity to become one of the world's biggest hip-hop artists.
Still, two decades later, Eminem isn't always sure who his fans want him to be.
"There's a constant tug-of-war with me inside my head [of] how am I supposed to be," he said during a 2017 interview with Complex. "When I hear people say they miss the old Eminem and then I do the old Eminem, people go 'Oh he's too old to do that. He needs to mature his content. He's growing up as a man'…. And then when I do that, then people go back to 'I miss old Eminem.' What do you do when you get to a certain age but you feel like you haven't lost it?"
In honor of the artist headlining Coachella this weekend, here's a look back at Eminem's personal and professional evolution. 
"My Name Is"
If you want to know who Eminem is, just look at his body of work.
"All my albums, I think for the most part, pretty much tell where I'm at at that time period or whatever," he told Zane Lowe during an interview with BBC Radio 1.
Born in Kansas City, Missouri in 1972, Eminem moved from home to home with his mother Debbie. His father left them when Eminem was just a baby. The family eventually moved to Eight Mile Road on the East side of Detroit. 
Eminem fell in love with rap from an early age. The artist recalled his first rhyme in a 2011 interview with Rolling Stone.
"I was at my great-aunt Edna's house in St. Joseph, Missouri. I was 12, maybe 13 at the most, and I wrote a rhyme that sounded exactly like LL Cool J," he told the magazine. "Something like, '...da da da da, 'cause before you can blink/I'll have a hundred million rhymes and like a ship you will sink!'"
That first lyric led to many more. According to his Rolling Stone biography, the artist dropped out of high school after repeatedly failing ninth grade and started to compete in local freestyle throw-downs.
But his fantasy of making it big was often threatened by his reality. In 1995, Eminem's then girlfriend Kim gave birth to their daughter Hailie. So, he had to focus on more than just making his dreams come true.
Still, he was determined. By 1996, he released his first album Infinite. He then debuted The Slim Shady EP two years later and released The Slim Shady LP in 1999. The album was a hit and earned him his first Grammys for Best Rap Album and Best Rap Solo Performance.
In 2000, he dropped The Marshall Mathers LP album, which included "The Real Slim Shady" and "Stan."
"Till I Collapse" 
But as Eminem's career continued to soar, his personal life continued to crumble. His mother hit him with a $10 million defamation lawsuit in 1999. The family members settled it two years later for $25,000. In addition, Eminem married Kim in 1999. They divorced in 2001. 
Their rocky romance is often referenced in his songs. In 1999, he released "Bonnie & Clyde" and rapped about a man killing his wife. He also debuted "Kim" in 2001 and performed lyrics like. "Sit down b-tch. If you move again, I'll beat the sh-t out of you."
Eminem's dark and violent lyrics, along with his alter ego Slim Shady, drew a lot of attention. Being a white rapper in a predominantly black industry also set him apart. Even Dr. Dre admitted people questioned his decision to bring Eminem onto his label Aftermath.
"I got a couple of questions from people around me," Dre told Rolling Stone in 1999. "You know, 'He's got blue eyes, he's a white kid.' But I don't give a f--k if you're purple: If you can kick it, I'm working with you."
As the years went on, Eminem continued to produce new music and venture into new areas. In 2002, he released The Eminem Show, which contained songs like "Superman", "Hailie's Song" and "Without Me." That same year he starred in 8 Mile—a film inspired by his life. His song for the film, "Lose Yourself" secured him an Oscar for Best Original Song.
Momentum continued with his 2004 album Encore and his 2005 album Curtain Call: The Hits. However, it was around this time he started to get addicted to prescription drugs.
"I was taking so many pills that I wasn't even taking them to get high anymore," he told Rolling Stone in 2011. "I was taking them to feel normal. Not that I didn't get high. I just had to take a ridiculous amount. I want to say in a day I could consume anywhere from 40 to 60 Valium. And Vicodin... maybe 20, 30? I don't know. I was taking a lot of sh-t." 
In 2006, he also re-married and re-divorced Kim. Then, in December 2007, he overdosed and fell in the bathroom of his home.
"If I had gotten to the hospital two hours later, that would have been it," he told Anderson Cooper during a 2011 interview with CBS News' 60 Minutes. "Because my organs, everything, my kidneys, everything, were failing. Everything was shutting down." 
Eminem went to rehab and eventually became sober. 
"Getting clean made me grow up," he told Elton John in an interview for Interview Magazine. "I feel like all the years that I was using, I wasn't growing as a person."
It wasn't until 2009 that Eminem returned to the limelight with his album Relapse. He then followed with Recovery in 2010. It would be another seven years before he released his latest album Revival.
However, the center of the spotlight isn't always where he wants to be.
"It might sound weird, given that I'm always trying to get people's attention with my music, but I'm not an attention-seeker," he told Rolling Stone in 2011. "When I'm not Eminem, and I'm just Marshall–it's hard."
"Not Afraid" 
While everyone loves a good comeback story, not everyone loves Eminem. Over the course of his career, the artist has been accused of being homophobic and misogynistic. He's also been criticized for his violent lyrics. However, the rapper has stood by his art. 
"I felt like I was being attacked. I was being singled out," he told Cooper during the 60 Minutes interview. "Is it because of the color of my skin? Is it because of that you're paying more attention because there are certain rappers that do and say the same things that I'm saying, and I don't hear no-one saying anything about that. I didn't invent saying offensive things." 
Now, at 45 years old, Eminem has been in the business for a lot longer than he thought he would. He once told Rolling Stone he expected to retire at 30. One way he's maintained his creative spark is by collaborating with other artists. Eminem released "Love the Way You Lie" with Rihanna in 2010 and dropped singles with Beyonce, Pink and Ed Sheeran in 2017.
However, while the man Marshall Mathers has changed over the years. His passion for rhyming and rapping has been consistent. 
"The rage might not still be there," he told Lowe in the 2011 BBC interview, "but the passion is the exact same that it's always been."