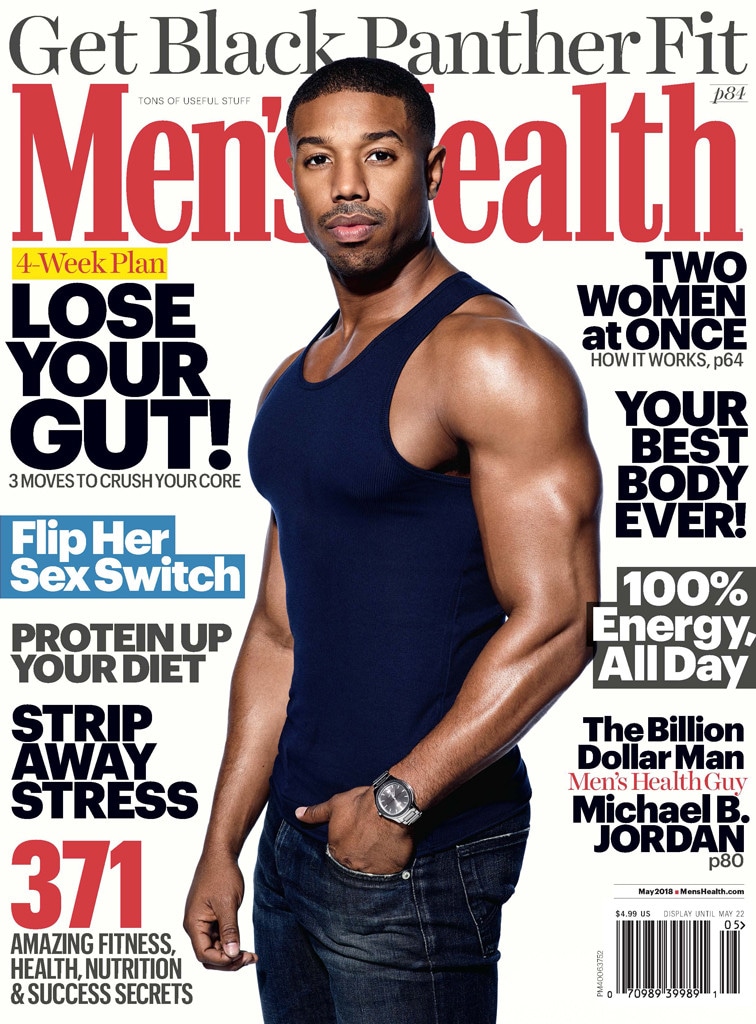 Men's Health
Michael B. Jordan is revealing all—and he looks good doing it!
In the May issue of Men's Health (on newsstands Apr. 17), the actor is opening up on everything from sharing a name with the great Michael Jordan to his red-hot film career.  
Few stars are having a bigger moment right now than Jordan: The 31-year-old recently starred as Erik Killmonger in the massive hit Black Panther, is training for the sequel to his 2015 drama Creed and takes on acting and producing duties for the upcoming sci-fi classic Fahrenheit 451.
While that may seem like a lot to handle, Jordan knows that this is his time and he's not going to waste it.
"Life is short, you know? I want to leave something behind. A blueprint. A work ethic. Something that my great-grandkids and their kids and their kids can see: This is where it started. Lineage. Intergenerational wealth. Things that are here forever. All that," he told the mag. 
Jordan is aware that sharing a name with one of the greatest athletes of all time puts some added pressure on him. However, he uses his name as a source of motivation rather than intimidation.  
"I'm competitive. I want to compete in anything I do. That came from my name," the actor said. "Growing up in sports and having a name like Michael Jordan and being teased, I had to compete. I couldn't be the guy with the name and not be good at it. That carried over to everything. I'm like, I've got to be just as great if not greater than he was in his field." 
Despite looking up to the basketball legend, the two have never met and Jordan wants to keep it that way for now. 
"I never met Michael Jordan. I never want to officially meet him until I'm at a point where he knows who I am and I know who he is," he said. "And it would be our mutual respect thing. Until then it would just be a 'this guy has your name, ha ha.' I don't want that. So that pushes me to keep working too. These things motivate me."
While Jordan's star has been rising for years, he was hesitant to accept his most recent role in Fahrenheit 451.
Based on the classic 1953 Ray Bradbury novel about "firemen" of the future who seek out and burn books, Jordan needed some convincing before playing a character that's part of such heated conversations. 
 I was cautious. I wasn't exactly sure if I wanted to play an authority figure due to the relationship between my community and the police. I wasn't sure if I wanted to play that character," he explained. "But once I got into the book, heard what [director] Ramin [Bahrani] envisioned, and understood what he wanted to say, then it was like, 'I got it. I want to be a part of it.'" 
Despite all he's already accomplished, it's clear Jordan is just getting started.
With a smile he told the mag, "You're catching me in the beginning. Still got a long way to go."
Creed II hits theaters Nov. 21. Fahrenheit 451 will premiere on HBO in May.
The latest issue of Men's Health is available online now!